Examiner Wins NY Press Awards for Editorials, Column, Newsletter
News Based on facts, either observed and verified directly by the reporter, or reported and verified from knowledgeable sources.
We are part of The Trust Project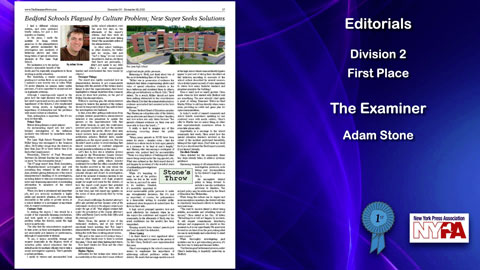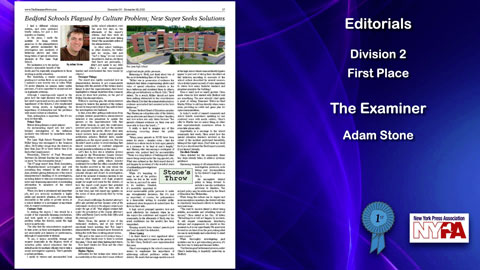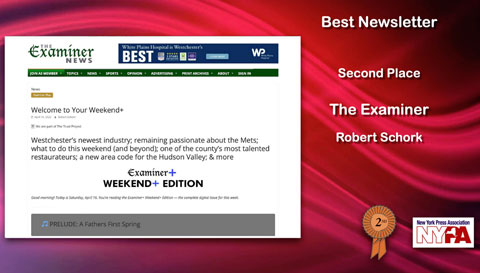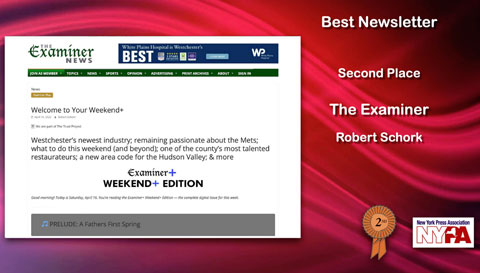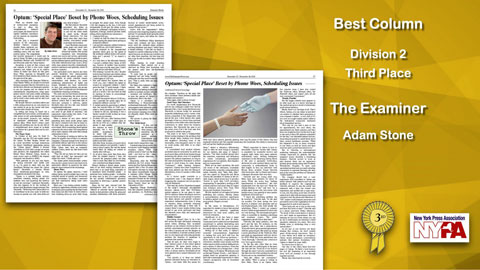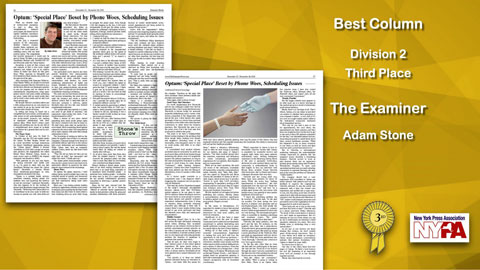 The Examiner won awards for best editorials, column writing and email newsletter last weekend at the New York Press Association's Annual Better Newspaper Contest, held this year in Albany.
Publisher Adam Stone won a first-place prize for best editorials and also secured a separate third-place award in the best column category.
For editorials, three of Stone's pieces were submitted for the contest category — they were headlined "Bedford Schools Plagued by Culture Problem; New Super Seeks Solutions," "Banning the Holocaust," and "Latest Gannett Layoffs Sting Westchester, Communities Across U.S."
"This piece did exactly what journalism/editorials are meant to do — expose problems and posit solutions to those problems," a judge said of the piece on Bedford schools. "We as journalists can't always change the world but we can draw attention to the issues for the world to view. I also appreciated that the author made the choice to commit to a rewrite, a rare choice, in light of listening to a community member."
Stone's regular column — Stone's Throw — was launched late last year. Three Stone's Throw pieces were submitted for the best column category — "Optum: 'Special Place' Beset by Phone Woes, Scheduling Issues", "50 Years After Landmark Equity Law, Fox Lane Softball Says Fight for Rights Continues," and "Deep South to Pleasantville: An Activist's Journey."
The Examiner also earned second-place honors in the best newsletter category, winning recognition in the statewide contest for Examiner+, which is curated by digital editor Robert Schork.
"I like the variety of content," a judge said. "Including music, news, sports and things to do. Something for everyone."
Pieces featured in the winning newsletter entires were written by Examiner Editor-in-Chief Martin Wilbur, news editor Rick Pezzullo, freelance writers Erin Maher, and Andrew Vitelli, guest contributors Warren Berger, Brian Howard, and Elisa Zuckerberg, as well as former staffer Bailey Hosfelt.
An annual spring conference and trade show, this year's Better Newspaper Contest recognized work published in calendar year 2022.
The Times Union of Albany, a daily newspaper, and the Highlands Current of Philipstown, an area weekly, shared top honors, co-winning the Newspaper of the Year award. It was the first time two papers have ever tied for the award. The annual journalism awards competition started in 1930.
In all, 154 newspapers submitted 2,657 entries to the Better Newspaper Contest.
The competition includes 70 categories covering the editorial, advertising and circulation efforts of New York State's daily and weekly newspapers. Entries this year were judged by members of the Colorado Press Association.
"Newspapers create a brand-new product on a daily or weekly basis, 52 weeks a year," New York Press Association Executive Director Michelle Rea said. "They work on tight deadlines with small staffs, covering local government, breaking news, sports, business, entertainment, and more. Receiving recognition from their peers in another state is affirming and energizing. We salute them for the top quality, important work they do."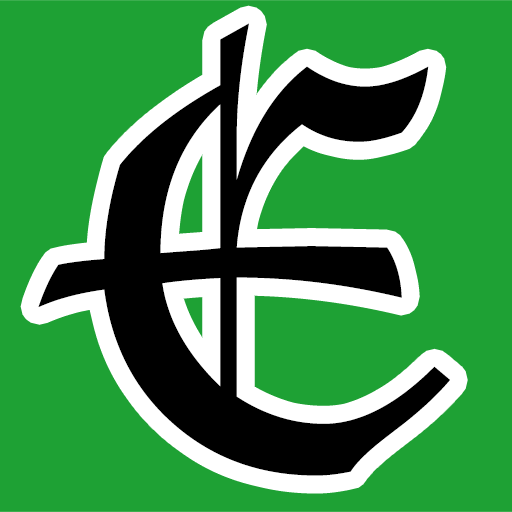 Examiner Media – Keeping you informed with professionally-reported local news, features, and sports coverage.