Committee: Murphy Misled Public on Harckham Double Dipping Charge
We are part of The Trust Project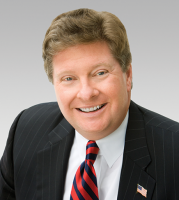 The Westchester County Fair Campaign Practices Committee Sunday night released four findings against state Sen. Terrence Murphy for issuing misleading or unsubstantiated campaign statements, including one that charged Democratic challenger Peter Harckham with having simultaneously worked two state jobs.
Harckham brought the complaints to the bipartisan committee recently after a barrage of Murphy campaign literature also alleged that Harckham acquired his jobs at the Office of Community Renewal and Thruway Authority as a result of his connection with Joseph Percoco, a top state official convicted of bribery earlier this year.
Furthermore, Murphy's campaign stated that while serving on the county Board of Legislators Harckham was conflicted because he voted to give millions of taxpayer dollars to Conifer Realty to build its Chappaqua affordable housing project, and A-HOME, a non-profit organization which Harckham had previously served as its president.
In a statement released Monday morning, Harckham said Murphy has circulated misinformation because he didn't want to address critical issues that the district's constituents care about. He demanded that Murphy, a two-term Republican incumbent, stop spreading falsehoods and issue an apology to 40th State Senate District voters.
"He deliberately made unsubstantiated allegations and spread falsehoods in an attempt to distract the public from the real issues in this race such as women's reproductive health, common sense gun safety, adequate school funding, justice for child abuse victims and other topics," Harckham stated.
In its finding on the state jobs, the committee said "(t)he statement by Mr. Murphy's campaign that Peter Harckham was 'double dipping,' holding 'two full time, low-show jobs' at the same time is misleading and unsubstantiated." The committee offered no further explanation on that complaint.
Last Tuesday, Harckham made his tax returns from 2015 to 2017 available for inspection by the media. His 2015 returns showed he earned $19,761.36 as county legislator until he resigned to become the assistant director for the Housing Trust Fund Corporation's Office of Community Renewal. Harckham said he started the state job in June to oversee the distribution of Community Development Block Grant funds Westchester had recouped from the federal government. He earned $52.785.29 in that capacity in 2015, according to the returns.
Harckham said he left the Housing Trust Fund Corp. job in June 2016, having earned $56,465.80 before switching over to the New York State Thruway Authority, where he took the position of director of intergovernmental affairs for the New New York Bridge Project. His salary for the remainder of 2016 was $55,486.75 with the Thruway Authority.
For the entirety of 2017, Harckham remained in that position earning $123,990.58. He left earlier this year at the end of April to run for state senator.
He said the jobs were successive, not concurrent.
"It's either gross stupidity or gross dishonesty on Sen. Murphy's part," Harckham said on Oct. 16.
Murphy campaign spokeswoman Martha Ruiz Jimenez said the committee didn't issue a finding on whether Harckham double dipped, but focused on whether he drew the entirety of the $311,000 he had earned from the state simultaneously.
Jimenez cited records from the Public Records Reporting Information System that lists annualized base salary and actual salary paid to the individual and used those figures to compute the number of weeks worked at both jobs in 2016. As a result, there would have had to have been a three-week period of overlap, from July 16 to Aug. 4, where Harckham held two positions at the same time.
"His tax returns, and W-2 stubs, do not refute the allegations," Ruiz said last week. "There are no dates on either document which would distinguish whether the jobs are concurrent or consecutive."
On the Conifer matter, the committee called the statements from the Murphy campaign false.
"Mr. Harckham was president of A-HOME, but Allied Community Enterprises, not A-Home, was involved with the Conifer project, and therefore the statement is false," the committee found. "Also, to state that this is 'another conflict of interest scandal regarding State Senate candidate Peter Harckham' is not factual."
But Jimenez cited a public comment at a New Castle Town Board meeting in 2012 by Joan Arnold, executive director of A-Home, that her organization was acting as Conifer's local non-profit partner.
Regarding Harckham's complaint on any connection to Percoco, the committee concluded that "the statement made by Mr. Murphy's campaign about Mr. Harckham's attainment of positions is unsubstantiated as it lacks a factual basis. In addition, the statement is misleading. The statement implies corruption by association and is in violation of two of the Committee's principles."
The committee also found that the Murphy campaign mischaracterized a June committee finding involving the two candidates in two Facebook ads earlier this month. The latest finding stated that Murphy's ad used the word lied to describe Harckham's comments about the senator's role in helping to nominate Donald Trump for president at the 2016 Republican National Convention.
The committee's June finding said Harckham's "statement is inaccurate" regarding Murphy's role at the convention.