Thousands Get Down and Dirty for a Good Cause in Mahopac
We are part of The Trust Project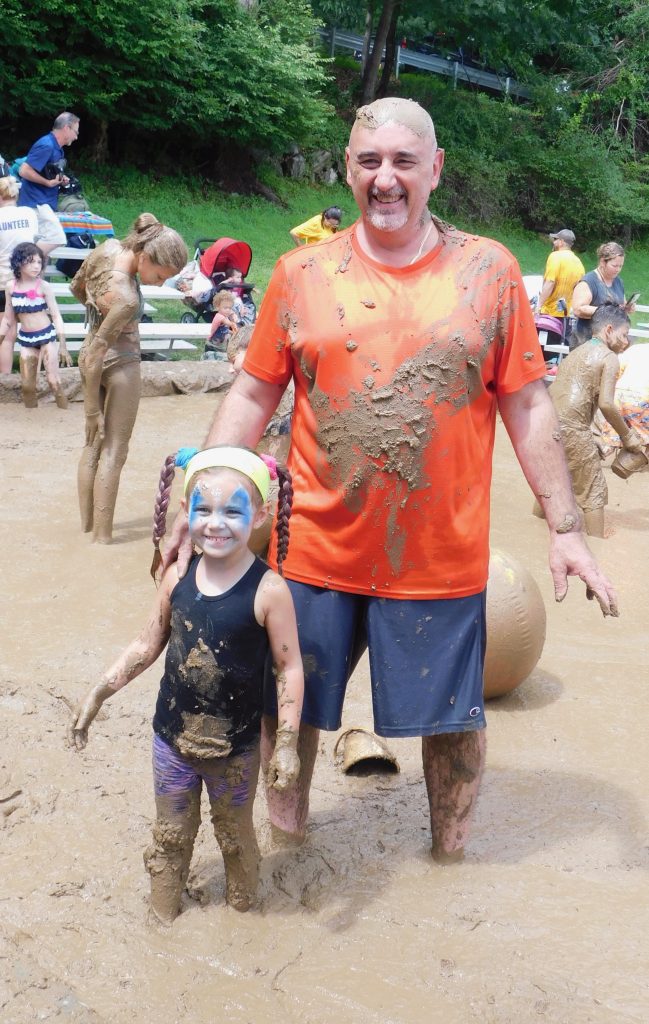 By Anna Young
Thousands of children and families were covered in mud on Saturday as they spent the day raising money for pediatric cancer research during the sixth annual Muddy Puddles Project Mess Fest celebration.
Despite a heavy rainstorm kicking off the five-hour event, several thousand families throughout the tristate area flooded Kiwi Country Day Camp in Mahopac to honor and remember children who have either been diagnosed with cancer or lost their battle to the disease. Event coordinator Ali Stern said parents and kids are encouraged to be carefree in honor of those who can't.
"Today we throw food, jump in the mud, get messy and have fun," Stern said. "It's a wonderful feeling to see people want to honor these kids."
With many activities offered, including a ziplining course, a food fight station, splatter paint, pie tossing, obstacle course, slip-n-slide, swimming, pony rides, magic shows and much more, the pinnacle portion of the day came when Muddy Puddles Project founders Louis and Cindy Campbell took a dive into the events giant mud pit.
"There are a lot of disabled children, children with cancer, and children who otherwise can't jump in muddy puddles or do the things that other kids and their parents take for granted," Cindy Campbell said. "This is a metaphor to just jump in and take chances and embrace life."
The Campbell's founded the Muddy Puddles Project after their five-year-old son, Ty, lost his battle to brain cancer in 2012. While Ty fought a gallant three-year battle against the disease, he dreamed of jumping in a muddy puddle when he was cured, resembling what his cartoon hero Peppa Pig did on television.
While Ty never got the chance to jump in that muddy puddle, the Mess Fest was created in his memory to celebrate childhood, Stern said.
"It's our favorite day of the year," Campbell said. "I hope it never ends and people continue to come out and understand the cause and raise money."
With funds generated from the event benefit the Ty Louis Campbell Foundation, Stern hopes the August 4 event raised close to $100,000. The nonprofit organization funds innovative research and clinical trials specifically geared toward the treatment of the most aggressive and deadly childhood cancers to improve long-term survival rates and minimize side-effects.
They also aim to help care for families with children undergoing treatment by providing financial assistance and uplifting experiences
Somers resident Antigona Gjini attended the event with her family for the first time after friends spoke highly of the Ty Louis Campbell Foundation.
You never know what could happen and you need to support and help in any way possible, she said.
"I think showing up shows that you care about people," said 11-year-old Armonk resident Nikolet Vataj, who recently lost a friend to cancer. "It probably means a lot to the parents of those children."
While the event is no stranger to rain, Stern believes Ty looks down on his family every year making sure the puddles are extra muddy for all to enjoy.
"It has rained the morning of this event ever year and then it clears up," Stern said. "I truly believe Ty is watching us and making sure this a great day."