Peekskill Police Make Second Arrest in Daytime Murder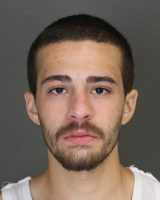 Peekskill Police have made a second arrest in the July shooting of a Bronx man on Park Street.
On Tuesday, police charged Sean Deleon, 23, of Peekskill, with second-degree murder after they determined two males acted in concert in the July 13 homicide of Khalil Lyons, 22. Last week, Demetrius Bogan, 18, of Peekskill, was arrested in the fatal shooting.
On July 13, at approximately 2:30 p.m., Peekskill Police responded to the area of 1245 Park Street for a report of shots fired. Upon arrival, officers discovered Lyons lying on the ground with what proved to be a single, fatal gunshot wound to the chest. A male suspect was reported to have been observed fleeing the scene after arguing with the victim.
Bogan and Deleon have both been remanded to Westchester County Jail.
Anyone who has additional information on this incident is asked to contact Peekskill detectives at (914) 737-8000 or email jgalusha@peekskillpolice.com.  Anonymous tips may also be made at www.cityofpeekskill.com under the crime tips section.