Stone's Throw: COVID-19 Billing Discrepancies Draw CareMount/Optum Under AG's Microscope
Investigative / Enterprise In-depth examination of a single subject requiring extensive research and resources.
Opinion Advocates for ideas and draws conclusions based on the author/producer's interpretation of facts and data.
We are part of The Trust Project
This is the seventh installment in a series about CareMount/Optum and broader local healthcare issues.
By Adam Stone
Just a couple weeks ago, as many of you know, I published a piece about the billing practices of CareMount/Optum, and how the company was being scrutinized by the New York State Attorney General's office, according to documents.
The piece highlighted cases of patients experiencing deeply problematic billing issues and aggressive attempts by the medical group to collect on disputed and questionable debt claims.
In the column, I noted how the AG's degree of apparent interest seemed to suggest the possibility of a bigger investigation, yet I stressed how it's too early to conclude anything more serious is underway.
But after receiving 43 additional pages of documents from the AG's office last week, with more on their way next month, I have to say it's at least appearing increasingly likely that the state's top prosecutor is poking around here with potentially serious intentions. (New documents available here).
Caveats aside, the new documents – secured through a Freedom of Information Law (FOIL) request I filed about nine months ago – show how the medical group's billing related to COVID-19 testing is being reviewed for possible irregularities.
I just personally doubt the AG's office would waste its time asking so many insistent questions of a massive company about $100 here and $100 there involving a handful of individual patients if inspectors didn't hold significantly larger suspicions.
The questions appear to be the precursor of building what could be a larger case, if the smoke leads (or has led) investigators to fire.
Paper Caper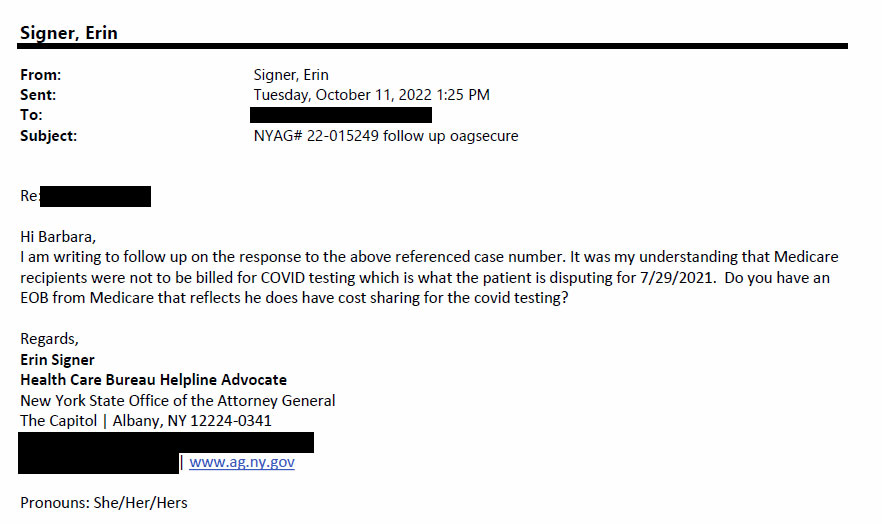 The new documents I obtained address billing issues related to COVID-19 testing, and point to a potential pattern.
Even now, subsequent to the federal COVID-19 Public Health Emergency policy having ended on May 11, "tests for COVID-19 that are ordered by your provider will still be covered with no out-of-pocket costs for people with Medicare," according to the Centers for Medicare & Medicaid Services.
Despite that fact, in a case detailed in the provided paper trail, a CareMount patient received a bill for a COVID-19 test in July 2021 even though Medicare guidelines dictated that recipients shouldn't bear any cost.
The documents show how this patient received a bill of $119.01, even though he'd already made substantial payments for other services totaling $794.73 in March and July 2021, raising questions about why he was still being charged.
By June 15, 2022, responding to the patient's complaint, the AG's office contacted CareMount, providing the medical group with documentation of the office's concerns, along with corresponding questions.
Attorney General Health Care Bureau Helpline Advocate Erin Signer sent a follow-up letter to CareMount on Oct. 11, 2022, seeking clarity on why a patient might be absorbing COVID test charges.
"It was my understanding that Medicare recipients were not to be billed for COVID testing which is what the patient is disputing for 7/29/2021," Signer wrote to CareMount in a portion of the letter.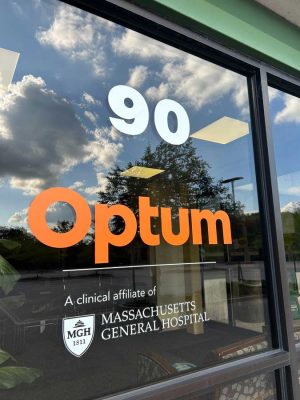 Just over a month later, on Nov. 22, 2022, Signer expressed her dissatisfaction with the nature of one of the healthcare company's replies.
"The email thread does not appear to be addressing our inquiry or the bill, but instead has some information about coding which I am not familiar with," Signer wrote. "Please provide a detailed response which explains if the bill remains valid and why the patient is eligible to be billed for an office visit for a COVID test."
Word Salad 
Earlier this year, on Jan. 6, a patient account manager with CareMount Health Solutions' Chappaqua office replied to Signer with the organization's explanation, although much of it sounded like obfuscation and word salad to me.
The patient account manager said Medicare covered the COVID-19 test cost without any extra payment from the patient because it applied a deductible for a doctor's visit and fully paid for the test.
"As originally advised, the physician used the medical diagnosis of nasal congestion as the primary diagnosis on the claim for [name redacted] appointment on July 29, 2021," the letter said.
Based on the charges billed, Medicare applied the deductible for the office visit and paid for the COVID test in full, the letter from CareMount also stated.
"Medicare denied the corrected claim as a duplicate again," the CareMount patient account manager also wrote. "We are in the process of appealing the denial with Medicare."
But internal communication inside the attorney general's office two days later reveals how Signer and her supervisor remained puzzled and dissatisfied with the correspondence.
"This is extremely confusing to me," Signer wrote to her supervisor, Health Care Bureau Assistant Attorney General Helpline Manager Adrienne Lawston, on Jan. 6.
'Wrongfully Charged'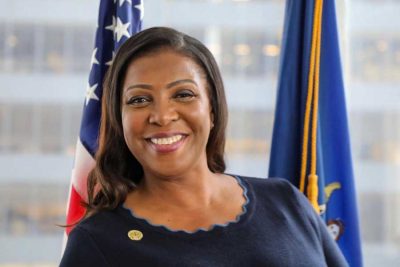 In fact, when I poked around online to learn more about Lawston's role at the AG's office, I stumbled upon possibly relevant detail and context.
Just last month, the attorney general's office secured full refunds plus interest for New Yorkers who were wrongfully charged by CareCube, a health clinic in New York City, for COVID-19 tests.
And guess who was one of the co-assistant AGs who handled the case, helping to capture $300,000 from CareCube? Adrienne Lawston.
"CareCube created unnecessary financial burdens for many New Yorkers who were trying to stay safe and healthy at the height of the pandemic," Attorney General Leticia James stated in a July 27 press release that saluted Lawston and other case colleagues. "This predatory behavior was unjust and illegal, and I am pleased that New Yorkers who were wrongfully charged will get their money back."
In further indication of the office's broader and ongoing effort to crack down in this area, the press release from James asks victims of misleading medical billing practices to contact the Health Care Bureau with any complaints.
CareCube, the press release said, was required to hire an auditor to find patients wrongfully charged, and then send eligible consumers refund checks with nine percent interest on their payments.
But is CareMount/Optum under serious investigation in a way similar to CareCube?
I posed the question to Halimah Elmariaha, a spokesperson for the attorney general. She hasn't yet replied to my requests for comment.
Collect Call
As in my last report, the issue of sending patients into collections under questionable circumstances emerged in this latest batch of documents.
On Oct. 11, 2022, the AG's office contacted ICR Solutions, a collections agency for CareMount.
"The NY Attorney General's Health Care Bureau received a request from [name redacted from records] regarding a collection notice he received for services he states he already paid for," Signer's letter said. "He states CareMount Medical seems to be applying his payments to various dates of service instead of the service date he is paying for. This creates difficulty in maintaining accounting records to ensure no overpayments are made."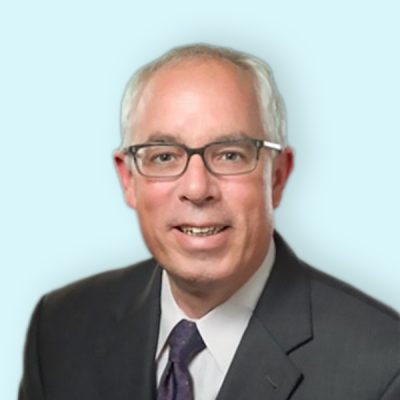 On Jan. 13, 2023, Signer again wrote to the CareMount patient account manager along with a member of Optum's Regulatory and Consumer Affairs department.
"I'm not sure if I already requested this or not, but can we please remove the account from collection if it hasn't been already?" Signer wrote, referring to the patient. "I need to go over the response in detail as, at a glance, payments were not applied oldest to newest or any other method that is recognizable."
Signer also noted how the medical group's system was "confusing from a consumer standpoint," and requested that the patient's account "remain outside of collection activity until it can be fully sorted out with my supervisor."
Cracking the Code
The correspondence between Signer and CareMount also details concerns by the AG's office about the billing codes used by the medical group for COVID-related office visits. The codes are pivotal in determining the nature of medical services provided and the corresponding billing.
"I spoke with my supervising attorney who looked at the benefit statement you provided and states it appears there is not a COVID modifier for the 'office visit,'" Signer wrote in a Nov. 17, 2022, e-mail to the medical group's patient account manager. "Would you please review and advise as to the required codes CareMount normally submits for Medicare Covid-19 related office visits, and whether the submission differed for this patient?"
Were the correct billing codes employed, and did they differ in this specific case?
That's a question an investigator would want answered, to review coding accuracy and decipher whether the billed charges align with the services received by patients.
In a separate letter also Nov. 17, 2022, Signer asked CareMount to provide a detailed breakdown of how the organization handled the payments made by the patient.
The patient had made payments, but it seemed like these payments were not accurately applied to the services they had received.
Signer wanted to understand how these payments were used, what services they covered and if there were any missing or unaccounted-for payments.
She also requested up-to-date records of the patient's financial transactions with CareMount Medical.
"We seek a detailed review and accounting which addresses how [name redacted from documents] payments were applied to balances for which he had not been billed at the time of payment," Signer wrote.
Mergers and Acquisitions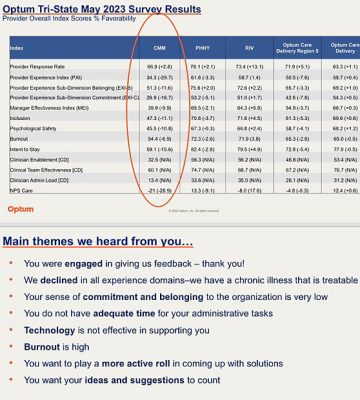 The latest documents also highlight a murky aspect of the case, involving the merger between CareMount Medical and Optum, a subsidiary of UnitedHealth Group, and how the integration could have complicated billing practices and patient interactions.
A regulatory affairs advocate for Optum was included in Signer's letters. The representative mentioned in a Jan. 6, 2023, letter to Signer how she helps CareMount respond to complaints.
"CareMount Medical Center is owned by Optum and is currently in the process of integrating to Optum Medical care," the Optum employee noted.
While the seriousness of the CareMount case remains unclear – patients have complained for years about the organization's disastrous billing system from a clarity standpoint – the broader issue of healthcare fraud related to the pandemic has captured federal attention.
For example, on Apr. 20, 2022, the Department of Justice filed criminal charges against 21 defendants in nine federal districts, accusing them of participating in plots that exploited the pandemic.
The alleged schemes led to more than $149 million in false COVID-19-related billings to federal programs and theft from federally-funded pandemic assistance programs, resulting in the seizure of more than $8 million in cash.
"The Department of Justice's Health Care Fraud Unit and our partners are dedicated to rooting out schemes that have exploited the pandemic," Assistant Attorney General Kenneth A. Polite Jr. of the Justice Department's Criminal Division stated in a press release at the time.
'Liability for Optum'
The documents released to me by the attorney general's office last week also spotlight a separate patient complaint from 2022, a dispute that underscores the growing concerns around the company's billing practices.
A patient received care for mental health issues in a series of appointments spanning from early 2021 to February 2022.
But the patient reported not getting reimbursed for the covered treatment.
"Optum has asked [the doctor] to submit his full records which he will not do based on their sensitive nature," the Manhattan-based patient said in a Dec. 7, 2022, letter sent to Optum, his doctor and the attorney general's office.
The patient then alerted his letter's recipients how he was prepared to put the company on blast, stressing how he unbendingly agreed with his doctor's insistence on keeping the delicate records entirely private.
"I fully support this as if any of these notes be accidentally disclosed they could do me and my firm significant professional harm and create millions of dollars in liability for Optum," the patient warned.
About five months earlier, on July 29, 2022, the patient had seemingly already filed a formal complaint with the AG's office, with documents showing how the dispute was over $550.90 in service fees.
The patient, in the complaint from last July, mentions his health insurance is provided through his employer and is in the form of a Preferred Provider Organization, or PPO.
Anonymous Source
One of the nice aspects of reporting out a story through an ongoing series is that information tends to start dribbling in unsolicited.
About two weeks ago I heard from a new source, a CareMount technician for the past decade who is also a longtime patient of the medical group, offering a unique perspective. The source said they are experiencing the billing issues firsthand as a patient.
The source's insurance coverage is through their spouse's company, which funds a Health Savings Account (HSA). When the insurance company pays its portion, an explanation of benefits is sent to the HSA, which is supposed to pay what the patient is responsible for.
However, the source discovered they were continually receiving bills for services that the HSA had already covered.
The patient/medical group employee had to engage in an extensive back-and-forth with CareMount, providing proof of payment and canceled checks to resolve these billing issues, a process that often took up to a year.
"I've been getting billed since last year for it's probably over $2,000 worth of stuff that the HSA has paid," the source told me in an interview. "I've sent multiple copies of checks provided by the HSA showing that it's been paid. And the sad part is, the HSA told me that when they send this check, it's not just a payment for me. It's a payment for 10, 15, 20 other patients."
'Way Up at the Top'
The veteran technician's experience continued even after their spouse's insurance switched to a different company and HSA group.
It was more of the same: the insurance company paid, the HSA paid and the source received bills for the services.
I asked if they believe the billing issues are intentional or the result of incompetence and profoundly flawed systems.
"When I talk to billers that try to help me, like billers on the phone or billers in our office, they all seem to see my side of it, and they seem to understand what I'm trying to say, and they try to help me," the source replied. "I don't know. My theory is that this comes from way up at the top."
But that's not all.
The medical technician also believes the medical group has engaged in fraud related to worker's compensation claims.
'Just Fill Out This Report'
The source said they were falsely labeled as having a worker's compensation claim after a minor accident.
"And they went so far as to last year, they told me that they actually created a worker's comp claim on me that does not exist, because I had slipped in the kitchen on the floor, and my boss said, 'Oh, just fill out this report just in case, God forbid, down the road, something happens,'" the source recalled. "Luckily, nothing ever happened. I went to see one of the docs here for my knee. They billed my insurance. My insurance paid."
The technician expressed to management how it was not a worker's comp claim.
"They said, 'Yes, it was," the source recalled. "I said, 'No, it was not.'"
The source said they were very explicit in an effort to make the facts clear to superiors.
"And I said to them, 'Look at the notes,'" the source recalled. "'Not one spot on the notes does this say this injury has occurred at work. It's not documented. When it's not documented, it is not done. That is the golden rule about billing insurance companies.'"
But the source said they were ignored.
"No, documentation did not occur," the source told me. "And I told them that, and they said, 'Well, it happened at work.' I said, 'You guys got to stop. You're fraudulently billing your own compensation carrier.'"
Another Anonymous Source 
A separate interview with a different staff member from CareMount (who is also a patient) focused more on what the source described as an exodus of personnel subsequent to Optum's takeover, causing a strain on the remaining employees who are now required to manage increased workloads.
(Optum Tri-State was formed in 2022 by joining CareMount Medical, Riverside Medical Group and ProHealth Care.)
"As a patient coming here, there's a change," said the CareMount/Optum per diem healthcare worker. "And also, like coworkers, I'll see people try to make appointments and there's no room because there's no doctors. Sometimes it's just so weird."
The source (who also requested anonymity, fearful of reprisal) expressed frustration over the apparent lack of communication from management.
There is a sense of confusion and uncertainty among both employees and patients, the source said, as there seems to be no clear explanation of the mysterious dynamics unfolding inside the organization.
Although the company's warts have existed for many years, those warts have grown in size and morphed in shape since the Optum acquisition.
"There's no one talking to anybody," the source remarked. "And there's a point where people are like, 'This is [expletive]. This new corporation is not what it used to be.'"
'They're Gone, They're Gone'
The CareMount/Optum patient and employee also said attempts to contact management for information or guidance often result in dead ends, creating a sense of detachment and disillusionment.
"It literally feels like we are working with no upper staff direction," the source said in a separate e-mail conversation.
Staff departures sometimes occur without any formal explanation or managerial acknowledgment.
"I try to go into people's office and they're like, 'Oh, they left tonight. They left here, they're gone, they're gone,'" the source explained in our phone interview when detailing the unsettling work environment. "Why is there a hiring stall when there's not enough people working? It doesn't make sense."
The source also highlighted the impact of the staff shortage on patient care and the overall patient experience.
"There's not enough doctors for every single department in the northern part anyway," said the source, who works in a CareMount/Optum office north of Westchester. "And I think the south, if you call to make an appointment, you are a new patient, literally, it's a year from now."
Another One Bites the Dust
The source experienced the problems directly as a longtime patient.
"Even if you have something urgent, it's very hard," the healthcare worker said. "Everyone has to go to the urgent care because it's very hard to get an opening. Even if you need something like an ultrasound to check something that's wrong, it's very hard."
While writing this last Thursday, CareMount/Optum distributed a message signed by local doctor Virna Lisi-DeMartino, chair of the radiology department, announcing how she would be departing the practice in a few weeks, effective Sept. 24.
"I am pleased to have had the opportunity to care for you and to have been part of one of the finest medical practices in the country," the note said.
The company e-mail signed by Lisi-DeMartino notwithstanding, there's undoubtedly wide unrest among clinicians, who are just as frustrated as patients.
An internal survey of Optum Tri-State physicians, shared with me by a source last month, exposes deep fissures between upper management and doctors.
"We declined in all experience domains – we have a chronic illness that is treatable," a summary concludes about the May survey results. "Your sense of commitment and belonging to the organization is very low. You do not have adequate time for your administrative tasks. Technology is not effective in supporting you. Burnout is high. You want to play a more active role in coming up with solutions. You want your ideas and suggestions to count."
Buh-Bye
The challenges at CareMount/Optum, even if particularly pronounced, are broadly symptomatic of much deeper issues infecting our entire healthcare system, here locally and across the country.
About two weeks ago I spoke with a former CareMount patient, who also wished to remain anonymous. The source shared perspective on their time with CareMount and the subsequent decision to seek medical care elsewhere.
In their 80s, the patient recounted various challenges faced during their time at CareMount, including extended wait times, difficulties in accessing appointments with primary care physicians and concerns about communication.
A 50-year area resident, the patient was often unable to see their primary care physician and was instead scheduled with physician assistants. While the source acknowledged the capability of the physician assistants, they noted the obvious importance of having access to designated doctors for more comprehensive care.
The patient pointed to difficulty in reaching a real person for billing-related inquiries. They said when able to connect, it would often take at least 20 minutes (modest compared to other patient complaints) to speak to a live representative.
This aspect, along with the inability to consistently see their primary care physician, played a significant role in the decision to leave CareMount around the time the pandemic broke in 2020.
Industry Challenges 
Yet the patient discussed challenges related to relocation (for them and their spouse) to doctor's offices within Phelps Hospital/Northwell.
The interviewee cited issues such as the absence of valet parking, inconvenient parking arrangements and the relocation of physicians' offices to satellite locations. But, more to the point, they also observed staffing issues.
"I wonder if this is pervasive throughout the whole industry, because if I've experienced cutbacks at Northwell, are there other groups that are going through the same experience?" the source said.
Becker's Hospital Review, a trade publication, reported last month how at least 81 U.S. hospitals and health systems are cutting jobs.
As for Northwell, it faces increased labor costs related to union activity, CEO Michael Dowling has said. He's discussed the health system's efforts to control expenses, explore reductions and boost revenue across its extensive hospital network of about 21 locations and roughly 83,000 employees.
"We will examine if we have specific programs or initiatives we can curtail without doing any damage to our core mission," Dowling said in an interview also published by Becker's about six months ago, on Mar. 9.
Unique Take
I finalized my reporting last week with a phone call to Bedford's Anne Reid, a longtime patient of Optum/CareMount/MKMG/Mount Kisco Medical Group, dating back to about 1991.
Reid, 68, enjoys deep ties to the medical community through her family. Her father was a doctor, her brother is a doctor and she has many local doctor friends and acquaintances, including several who took very handsome payouts from Optum in 2020, embracing early retirement.
"I think a lot of them knew medicine the old way, when it was about human contact and about taking care of the patient," Reid said. "And it's now being run like a corporation, not like a caring organization."
She lamented how buyouts led to a pretty significant "brain drain" inside the local organization.
"They didn't want to work under the new leadership and be forced to learn new systems and be told when they were supposed to be there," Reid remarked.
When she was growing up in Virginia, watching her father deliver care to his patients, the medical field was fundamentally unlike today.
"My dad used to get paid in chickens once in a while, way back in the day," Reid chuckled. "But anyway, it was a different world."
One of the primary concerns Reid highlighted was the conflict of interest arising from Optum's dual role as both a healthcare provider and an insurance company, given its ownership by UnitedHealth, despite internal silos.
She said her and her family and friends in healthcare worry about the extent to which the profit motive influences medical decisions.
"Why would they not deny a lot of procedures?" Reid said.
'It is Scary'
Striving to be fair, and sympathetic to the business realities of medicine, Reid said most of the issues frustrating local patients at CareMount/Optum aren't local issues at all.
She observed how her brother, a doctor outside of Philadelphia, is intensely frustrated by the fact that a low-level staffer at an insurance company might outflank him in some healthcare decisions.
"And his comment was some [person]…at the insurance company is telling me that my patient, with my years of education, experience, etc. etc., does not need the procedure that I'm requesting," Reid recounted. "To me, it is scary."
Like many CareMount/Optum patients, Reid also observed how getting appointments or even reaching a staff member by phone is often a lengthy and frustrating process.
This hurdle is especially taxing for elderly patients who may not be comfortable with online portals, she said.
"I was trying to call to say that my daughter wasn't going to be going to one of her appointments in about two hours," Reid recalled of a spring encounter. "She ended up having a migraine. She had something scheduled. I was on hold for an hour and 20 minutes before I even got somebody to tell them that we weren't coming."
While some local patients say the troubled phone system has improved in recent months, many others cite lingering and serious issues.
An Examiner colleague called and waited on hold with Optum for 35 minutes last week, asking when the office would be submitting a prescription to an area pharmacy, only to learn that an overworked doctor still hadn't signed off on the renewal.
The colleague asked a friendly CareMount/Optum assistant to help expedite the matter, given the time-sensitive nature of the need for more pills for a relative in their 80s. But the assistant said it might take up to 72 hours for the busy doctor to authorize the renewal.
(She was able to complete a separate prescription renewal for herself in a matter of minutes with her own healthcare provider.)
Friendly Recap
For the uninitiated, let's do a quick recap of my reporting on CareMount/Optum from throughout the year, to put these latest developments into some additional context.
The series of investigative columns have uncovered the company's restrictive employment contract for doctors, unethical treatment of vulnerable patients through discharges, a blistering internal survey, the group's state lobbying on Medicare, as well as physician shortages and related local healthcare fallout with an emergency room crunch at Northern Westchester Hospital last winter, among much else.
An employment contract, which I obtained a key portion of in January, stipulates that doctors (if they resign) are barred from practicing medicine within a 20-mile radius of their primary office location for a startling three years.
Many sources say the problems started to sharpen around 2016.
That's when Mount Kisco Medical Group (referred to as MKMG) became CareMount, with the issues then worsening significantly after CareMount-shareholding doctors sold their ownership stakes in December 2020 to Optum, a subsidiary of UnitedHealth, the massive insurance and healthcare giant.
(The original Mount Kisco Medical Group was founded in 1946 as a small local group.)
Despite United and Optum's massive profits, and despite assurances by CareMount about bolstering care, word leaked on social media recently (via posts from fired employees) that the company is executing significant layoffs.
"We continually review the capabilities and services we offer to meet the growing and evolving needs of our businesses and the people we serve," UnitedHealth acknowledged to Becker's in a statement last month.
Optum employs about 310,000 people worldwide, with roughly 70,000 physicians in the U.S. across about 2,200 locations.
FOIL Frenzy 
Although many details remain unclear from the 128 pages of digital documents I received in July and the 43 more that rolled in last week, hopefully a clearer picture (if still incomplete) will emerge in about three weeks.
Assistant Attorney General Abisola Fatade estimated for me that, by Oct. 5, the office "will be able to produce to you the next installment of responsive records."
"We intend to continue producing records to you on a rolling basis until we have provided all additional, responsive and non-exempt records and issued our final determination of your FOIL request," Fatade stated in a form e-mail last week.
Coincidentally enough, just last Thursday I also received an update from the state Department of Health on a related FOIL I'd submitted more than seven months ago, noting how the agency is unable to accommodate the request by the Sept. 7 date previously provided "because a diligent search for responsive documents is still being conducted."
"We estimate that this office will complete its process by November 13, 2023," Records Access Officer David Harvey stated in a boilerplate letter.
As for CareMount/Optum/United, representatives continue not to reply to my requests for comment.
While declining press requests is fair game and standard stuff, resisting demands by the state attorney general's office resides in an entirely different department.
And one last observation: in my recent interviews, I've started to hear rumblings from civic leaders about the possibility of organizing efforts to demand change, at least here on the local level.
There's no reason to trust that this massive enterprise will fix its billing issues, or anything else, unless compelled.
Stay seriously tuned.
Click here to review all 43 pages of the new documents obtained from New York State Attorney General Leticia James' office last week about CareMount/Optum. (11.9 MB, PDF)
Click here to review the 128 pages of documents obtained in July. (147 MB, PDF)