Greeley, Yorktown Atop Class B; Class D Pleasantville Still Undefeated
News Based on facts, either observed and verified directly by the reporter, or reported and verified from knowledgeable sources.
We are part of The Trust Project
By Ray Gallagher, Examiner Sports Editor @Directrays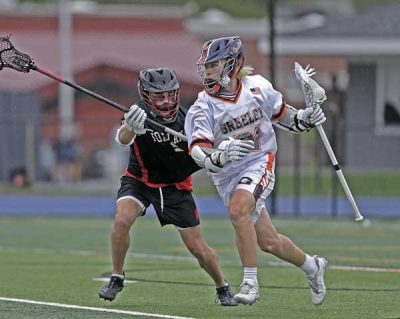 Give HORACE GREELEY a ton credit for its 8-6 win over Somers, but the state-ranked (No.11) Quakers (9-0 vs. Sect. 1, 9-1 overall, ) would need to post some additional quality wins down the stretch before we proclaim them as truly legitimate challengers to the upper crust of Class B, state-ranked (No.6) YORKTOWN (5-0, 5-5) and No.20 MAHOPAC (4-3, 4-5). We won't know for sure going into the postseason because Greeley doesn't have either Yorktown or Mahopac on its schedule, nor a whole lot of championship challengers either, but they will soon see Class C power John Jay – CR, ranked No.9 in NYS, and Byram Hills, each of which should pose a the kind of tests the Quakers will need before the postseason begins.
If Greeley can pass both those tests, the Quakers might emerge as the top challenger to Yorktown, given Mahopac's 6-5 overtime loss to the Wolves Saturday night. If the current seeds hold true, Greeley would be No.2, meaning they would square off with No.3 Mahopac in the semis.
Top-seeded Yorktown worked an unofficial 7-1 win over visiting SOMERS Saturday; unofficial because the Tuskers (5-3, 5-5) left the field midway through the third quarter after senior Nick Newman was carted off the field on a stretcher. Reports are he is recovering quite well, but the hit he took from Husker pole Chris Contantine was scary and drew the ire of the Tuskers.
Somers A.D. Marc Hattem could not confirm the next step until Yorktown A.D. Rob Barrett returned to town.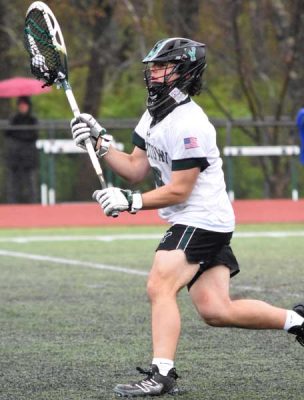 "Rob's away so we haven't discussed it yet," Hattem said Saturday night, regarding the game's outcome; though Yorktown did post a victory on its Twitter feed. "The end of the game was pretty chaotic as you can imagine. We'll have more information on Monday.
The Huskers were led by Jack Duncan (1G, 1A), Drew Weissman (2G) and Connor Fastigi (2G).
In Yorktown's 14-4 win over Arlington, Duncan (6G, 1A) was one goal shy of matching his career-high and Weissman added four more while Fastiggi notched the hatty. Defensemen Chris Constantine dished three assists for the Huskers, who were also defeated, 11-6, by CT power Darien.
In Somers' 9-4 loss to CT powerhouse Ridgefield, Luke Kennedy scored twice for the Tuskers (5-4, 5-6 if the loss to Yorktown sticks), the current No.4 seed in Class B, who had best find their way to the Final 4 of a dubious 10-team field. Tusker G Landon Pepe made 15 saves. Miguel Iglesias and Mac Sullivan each found the back of the net.
MAHOPAC G Tommy Jacobellis made six of his 11 saves in the second quarter of the Indians' 9-2 rout of host North Rockland. Koch crushed a hat trick while Degnan and Viglucci each scored twice and set up another. Rettberg scored once and Liam  Dodd closed out the scoring with his patented pole push up field. Ryan Geohgagan (3A) found guys open all night.
The Indians also blew a woulda, coulda, shoulda game at John Jay – CR where the host Wolves worked a 6-5 OT triumph when Andrew Kiefer's man-up beat Jacobellis (13 saves), who gave the Indians a chance down the stretch with several game-saving stuffs.
"The penalty was a killer," Mahopac Coach Jon Bota admitted. "We were still able to get possession going into OT, though. We had a shot to win and came up short.  The penalty call was a slash. It's hard to see on film. I don't understand it but we play on.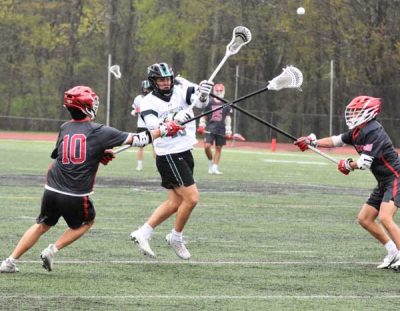 "Down the stretch we made a couple mistakes that could have helped close things out," Bota added. "Our two-minute drill was sub-par and execution goes on me as the coach. I Thought we got to our spots and hit a lot of our looks. Shot placement against a good goalie is what I think made the difference, we let him get hot. I think (Danny) Koch played very hard on both sides of the ball, but his shot wasn't falling, same as (Jake) Degnan. Our defense held on. We just need to close out with composure and that's on me to set the tone."
Rettberg (2G, 1A), Gavin Viglucci (1G), Geoghegan (1G), John Kearney (1A), Jake Degnan (1A), Danny Koch (1A) and Nolan Keenan (1A) were hoping for more but conditions were awful Mahopac M Chris Morris (1G, 10 of 15 at the X) had one of his best games.
LAKELAND/PANAS ventured north to Albany for some serious competition and lost by a 17-5 count to state-ranked (No.2) Class B power Niskayuna of Section 2 after Rebel sophomore Oban Rader bagged a hat trick in L/P's 10-4 league win over OSSINING. Thomas Kuney (2G), Michael Pisacreta (1G, 3A), Will Moore (1G, 1A), Riley Sand (1G, 1A), Vin Savastano (2A), Jack Jiminez (1G) and Kyle Gallagher (1G, 2A) also triggered the victory while M Anthony Farroni won 14 of 18 faceoffs for the youthful Rebels (3-4, 4-6), who certainly have the pedigree to reach the semis and bust up one side of the bracket as the current No.6 seed.
Just ask Wappingers, who came up shy in a 14-8 Rebel win earlier in the week when Justin Stabile (4G, 1A) triggered the Rebels. Moore (3G, 2A) and Rader (2G, 2A) aided the battle-tested Rebels.
GREELEY left little doubt in a 13-3 thumping of FOX LANE behind five points from Tighe Dolan (3G, 2A). The surging Quakers, winners of seven in a row, saw Matthew Byrne (2G, 4A) and Jameson Blakeslee (3G, 1A) were sensational against the Foxes (3-6, 4-6), the current No.9 seed, which did fare better in a 14-4 win over Westlake when Jack Cicchielli and Tate Morrow scored eight points apiece (5G, 3A). Owen Baker (1G, 1A) chipped in. Chase Sorby (2G, 1A) led the Wildcats.
Greeley G Toby Moscow recorded his 300th career save against Somers where he was supported by Blakeslee (3G, 1A), Jack Holub (3G), Dolan (1G, 2A), Dylan Zarr (1G) and Byrne (4A), the playmaker.
The Foxes salvaged the week with a 14-4 trouncing of Westlake. Cicchelli (5G, 3A),
Morrow (5G, 3A), Owen Baker (1G, 1A), Declan Connors (1G), Jack Fabry (1G), and Mike Zinzi (1G) all scored for the Foxes.
CLASS D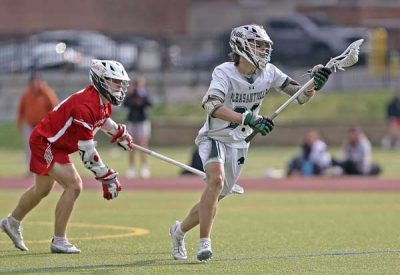 Ranked No.1 in NYS and No.16 nationally by Nike/USA Lacrosse, Coach Chris Kear's PLEASANTVILLE Panthers have shown zero weaknesses en route to a 10-0 start, 7-0 in Section 1 where they are sure-fire top seeds in the upcoming tournament, ahead on No.2 HALDANE (8-2, 9-2), No.3 WESTLAKE (7-3, 7-2), No.4 Rye Neck (8-3) and the battle-tested, reigning champion BRIARCLIFF Bears (4-2, 4-6), who can and likely will advance to the Final 4 where Coach AL Meola's Bears just might meet neighboring Pleasantville in late May should the current seeds hold true #OnLikeDonkeyKong!
Panther Nick Reich had four goals and set up another in the P'Ville's 12-3 win over Fox Lane while Michael Hundzynki (3G, 3A) added six points. Emmet McDermott added a hat trick and Daniel Picart (1G, 3A) picked the Foxes apart with a combination of speed and power few have in Section 1. Tate Morrow scored twice for the Foxes, who are having some issues on the back half of the field of late.
Erik Coleman (3G, 2A) paced the Panthers in a 10-5 win over Class A Arlington, who trailed 10-1 before P'Ville dumped some bench. Hank McCourtney (2G) and McDermott (2G) were big to support G Andrew Nessel (12 saves), who has anchored a stout defense all season. As good as the Offense has been, the defense has made its mark and looks the part of a unit that might enable the Panthers to make a deep, deep run into the state tourney #CartB4theHorse.
Coleman (4G, 2A) Picart (3G, 3A) each put up six points in an 18-7 rout of Tappan Zee while McCourtney went for three goals and two assists and the playmaking Reich (2G, 5A) quarterbacked the attack.
Folks have been quick to discount BRIARCLIFF but not on our watch, despite a 5-4 overtime loss to battle-tested Bronxville (2-3, 3-6), which is about the best three-win team around, ranked No.3 in NYS. Lucas Proctor scored twice for the state-ranked (No.6) Bears while Alex Kirshenbaum (1G),  Winger and Shane Dean (1A) supported the defense and stout G Jameson Wong (23 saves), who kept the Bears afloat.
"It was a tough loss but a great character game," Briarcliff Coach Al Meola said about the two-time reigning sectional champs. "We see lots of growth the past few weeks. It's not our most talented group, but it's a tenacious group that won't go away or ever quit."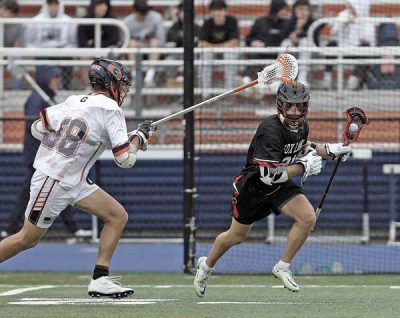 Outside of the vexing loss to Fox Lane, WESTLAKE has reeled off wins in six of the last seven.
Wildcat A Isaiah Rivera (4G) was cranking off the left wing in Westlake's 10-7 win over host PUTNAM VALLEY last Wednesday when he tickled the twine  for four goals. Nicholas DiNapoli (2G) scored, Brayden Lingeza (1G, 2A) and D Michael Pagan (1G) had the Wildcats assuming a big first-half lead before the Tigers (4-6) struck back behind four goals from Chris DeGiorgio to make it close.
Westlake's Tyler Howard (3G, 1A), DiNapoli (2G, 3A), Rivera (2G) and Stephen DiNapoli (2G) came up strong in a 12-8 win over North Salem.
The Wildcats also posted a 13-11 win over Class A OSSINING (4-5) when Howard (7G, 2A) was unstoppable for the Wildcats, who are winning without the services of star junior Chris Kalle (broken arm bone). DiNapoli had a hatty and a pair of assists.
Put Valley's Trevor Wendol (4G, 1A) helped the Tigers rebound in a 15-2 win over Ardsley. DeDeGiorgio and Andrew Grippo each bagged a hatty and set up two more goals while sophomore Caden Glenn placed three between the pipes.
State-ranked (No.13) HALDANE busted out the whipping sticks on Section 4's Chenango Forks on the campus of West Point Saturday, doling out a 9-5 setback to the visitors behind four tallies from Fallou Faye and three goals and an assist from Evan Giachinta. Liam Gaugler, who hung six goals on Croton-Harmon in a 19-7 win earlier in the week, added a goal, as did Dylan Rucker. Giachinta (4G, 2A) and Faye (5G) were unstoppable in the win over Croton, which did post a solid 12-6 win over New Rochelle where Noah Bovone (3G, 2A), Trevor Weisz (2G, 2A, 10 GBs), Carter Schmidt (4G), and Sean Grimes (2A, 8 GBs, 15/20 faceoffs) and D John Clerkin (6 takeaways) led the Tigers.
Haldane should not lose the rest of the way and should hold firm to the No.2 seed in Class D, seeking their third trip to the Final 4 since 2015 and what would be their first finals appearance in school history should they find a route through the upper crust: P'Ville, Briarcliff and Bronxville.
CLASS C
Dean Hiltsley helped the Sailors gain a 7-0 lead, notching four goals and two assists in HEN HUD's 11-4 win over BREWSTER. Dylan Lennox and Logan Moore added two goals each for the Sailors (4-4, 5-4) while Joey Connolly made 13 saves. Josh Walsh and Joe Anfuso each scored twice for the Bears (1-7), who notched their first win of the season, 16-9, over Harrison behind Anfuso (4G, 2A), Andrew Tyndall (4G) and Walsh (3G, 1A).
Hen Hud added an 11-6 win over BYRAM HILLS Saturday,
"We got a nice team W today," Sailor Coach Troy Lepore said. "Our best players were out there making the best plays."
Thomas Popalizo, an LSM by trade, chalked up his 100th career assists on a day when he added  three goals and two assists.
"Thomas has been outstanding all year," Lepore said. He plays offense because we've needed him to for three years. He's just a gamer and this year he's playing both ways all game as much as he can possibly play."
Hiltsley had four goals and three assists and continued to be the lead playmaker.
"These two are just gamers," the coach said. "They love it, practice hard every day and enjoy the games even more. Our D played better, and our goalie Joey Connolly (15 saves) was terrific."
James McManus (4G, 1A) was superb while Dean Pastalove (2G, 1A), Logan Moore (1G) and Ryan Clark (1A) contributed to the attack.
The game was tied 3-3 at half before Hen Hud scored six unanswered. Byram's Zac Pero (1 G), Alex Khan (2G), Reid DuToit (2G), Erik Cipriano (3A), Gavin Javorsky (1G) and G Jack Quinn (13 saves) were solid for the Bobcats, who upended CARMEL, 12-9, when Javorsky and Dutoit went for seven points each. Matt Risley (2G, 1A) led the Rams (6-4).
CLASS A
CARMEL's Thomas Connolly put five between the pipes for the Rams in a 20-10 win over Wappingers Friday. Damian Santiago (3G, 3A), Ryan Aabel (3G, 5A), Adam Boeheim (4G) and Risley (3G) filled the scoresheet.
Risley dumped five more goals and four assists for a career-high nine points in the Rams' 16-5 win over Harrison. Connolly (4G, 1A), Boeheim (3G) and Aabel (2G, 4A) all had their way for the Rams, the current No.4 seed, who will have a tough time holding on to that seed with Greeley, Mahopac and Yorktown upcoming. Nonetheless, those tests will make them stronger for the postseason.
Ricky Strobel and George Snyder combined for four goals and five assists in WHITE PLAINS' 12-7 loss to Suffern. The Tigers had their four-game win streak halted in a 15-2 loss to two-time reigning Class A champion Scarsdale, the current No.2 seed in Class A, ranked No.15 in NYS, behind No.10 Mamaroneck, the current No.3 seed in Class A.
Boys Lax coaches are encouraged to send results and comments to Raygallaghersports@gmail.com for inclusion in our weekly notebook