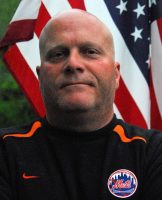 Ray Gallagher, Sports Editor
Ray has 33 years experience covering and photographing local sports in Westchester and Putnam counties, including everything from Little League/Travel Baseball to varsity high school prep sports and collegiate coverage. He has been a sports editor at Examiner Media since its inception in 2007. Prior to that, he spent 12 years as sports editor and five more as assistant sports editor at the former North County News in Yorktown Heights and has also worked for the Putnam County Reporter Dispatch and Bedford Record-Review.
Ray earned a bachelor's degree in Speech Communications and minored in Journalism at SUNY Oneonta. He lives with his wife, Nicole, and two children — Megan and Tyler — in Mahopac.
Ray — known for breaking scoops, witty, pun-filled headlines and strong insider knowledge — has been honored by the New York Press Association with multiple statewide awards, including NYS Sportswriter of the Year for sports features, opinion writing and photography, and he anchored a unit that won 12 consecutive NYPA awards for Best Sports Section, 16 times overall.
Reach Ray by email at rgallagher@theexaminernews.com or connect with him on social media at Twitter.com/directrays or Instagram @directrays.
Read Ray's work here: https://www.theexaminernews.com/author/rgallagher-sport/
and his Direct Rays column here: https://www.theexaminernews.com/category/direct-rays/
Expertise & Demographics: Ray's decades of local boys and girls sports coverage has spanned Northern Westchester and Putnam counties, with particular experience for Examiner Media reporting from Yorktown, Lakeland, Hen Hud, Peekskill, Ossining, Croton, Mahopac, Brewster, Carmel, Putnam Valley and Cold Spring.
Languages: English only.