News Based on facts, either observed and verified directly by the reporter, or reported and verified from knowledgeable sources.
Katonah Man Chosen as Special Olympics Coach of the Year
We are part of The Trust Project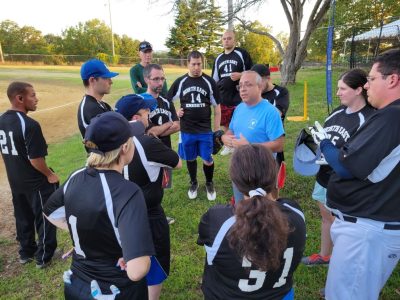 When Joe Bellini took his Special Olympics floor hockey team to the NY State Games this past February in Syracuse, he was appropriately focused on the things any good coach would be – the preparedness, safety and spirit of his team.
The last thing he was thinking about was himself.
So, imagine how off-guard he was when, during the opening ceremonies, the CEO of the Special Olympics announced that Bellini had been selected as the Special Olympics Coach of the Year for all of North America – out of more than 147,000 coaches across the continent.
"I was shocked and humbled," recalled Bellini, 57. "It was great to be with my team while hearing this awesome news. I was blown away. Anyone who knows me knows I am a rather shy, quiet guy. I don't look to be in the spotlight at all. I love what I do, but I also don't look for recognition. I work with some amazing staff and coaches, and what we do, we do together. They all deserve a piece of this award."
He is referring to North East Westchester Special Recreation, a community-based therapeutic recreation agency serving 12 towns in the northeast part of Westchester. They offer programs for children and adults with developmental and intellectual disabilities, including ones to help train athletes for Special Olympics competitions.
Bellini, who lives in Katonah with his wife and stepdaughter, serves as the program coordinator.
"We are one of the largest contingents in the Hudson Valley Special Olympics program," Bellini said. "We routinely bring multiple teams to competitions – including bowling, basketball, volleyball, floor hockey, track and field and softball. We greatly appreciate the efforts of the Hudson Valley Region of Special Olympics to put on competitions for our athletes. Without them, we would be unable to compete in the sports we train against other agencies."
As someone who has coached students with special needs exclusively for his entire career, Bellini said it is much more than teaching a sport.
"It is important to make a connection with each athlete, to understand their abilities as well as their challenges," he said. "You must then make practice plans that allow the athletes to succeed and improve. We make every effort to address the athlete as a whole person. We strive to work on skills that will help our athletes both on and off the field/court. Our motto as coaches with North East is 'good athletes, better people.'"
And, in Bellini's case, even better coaches.
"You don't always get the chance to change a life. I get that opportunity every time I step on the court or field," Bellini added. "It is one of the most rewarding things a person could do. I love coaching the Special Olympics. I met my wife while coaching, and we continue to coach our teams together. I work with amazing people at a great organization with amazing athletes. Every day is different, and I wouldn't want to be anywhere else. We really make a difference and I hope I get to do this a lot longer. After all these years I still feel like I have so much to learn."