We are part of The Trust Project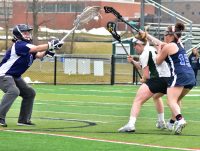 By Tony Pinciaro
PUTNAM VALLEY made its first win of the season a statement victory.
The 2017 Section 1 Class C runner-up Tigers rallied from a two-goal halftime deficit to force overtime and eventually overtake an experienced BREWSTER team in a 9-8 victory at the Bears' den.
Junior Jackie Phillips' second goal of the game, as overtime was winding down, was the difference.
"It was an outstanding effort by the entire team," Putnam Valley Coach Courtney Hyndman said. "Brewster is a great team and that win was huge for us. This win definitely showed the girls that they can compete against these very-skilled teams. I think starting off with the loss to Byram they felt a little defeated, but this win was big in shifting their focus and boosting team morale and confidence."
Putnam Valley trailed 5-3 at halftime and appeared headed for a second-straight loss out of the gate, but a different team emerged after the break.
"Our defense really stepped up in the second half," Hyndman said. "They were determined and held their own, especially against Brewster's very talented Lauren Craft and Meagan Beal. They are excellent players and have good shots so we knew if we tried to prevent them from scoring we may have a chance.
"I wish there were close-ups after Jackie scored that game-winning goal. The excitement on the girls' faces was priceless. They really worked hard for this win and we couldn't be happier for them. It's still only the beginning of the season though so there things we need to work on, but we definitely let these girls celebrate their hard-fought win."
Meredith Conlin and Phillips each scored twice. Kaitlin Cohen, Lindsey Cohen, Maddie Deegan, Jessica Denike and Emma Rippon scored a goal apiece. Kimberly Hyndman made 12 saves.
Prior to its overtime loss with Putnam Valley, Brewster opened the season with wins over Carmel, 15-6, and Nyack, 17-11. Beal erupted for seven goals against Carmel and Marina Souza added four goals and four assists. Craft contributed two goals and two assists. Maggie DePaoli and Haile Ratajack each scored a goal and Dani Regan collected two assists. Danielle Heintz finished with 19 saves.
Craft took the lead against Nyack with a team-leading four goals. DePaoli, Regan and Ratajack each had a hat trick and Regan also had three assists. Beal and Michelle Feighan had one goal apiece. Gillian Cunningham, Sam DeLeo and Souza had assists.
"It was a great first week and we're all glad to be out on the fields," Brewster Coach Sara DiDio said. "We played some great competition to start the season and already had an overtime game.
"Danielle (Heintz) stepped in goal for us and our offense is moving the ball well. The girls are playing smarter and working as a team. We have spring-break week, where we will get to go away and bond for a few days in Boston."
Craft led Brewster with three goals and two assists against Putnam Valley. Beal also scored three goals and also finished with an assist. DeLeo and Souza also had goals.
LAKELAND/PANAS opened its second season under newly-married Coach Rebecca DiSisto-Leslie with a 13-9 victory over Pelham.
"Our win over Pelham was definitely hard-earned," Lakeland/Panas Coach DiSisto-Leslie said. "Our team worked well together both defensively and offensively, however we still have a lot to work on in preparation for our upcoming games. Our transition game definitely helped us earn the win and we had great performances on the offensive end from both Emily Kness and Kelsey McCrudden. Miranda Lopes did an awesome job in goal as well."
McCrudden had a game-high five goals and Kness added four goals. McCrudden and Kness also had assists. Keirra Ettere contributed one goal and one assists and Megan Mucci amd Cara O'Shea each had a goal. Miranda Lopes handled 13 shots.
Following losses to two excellent teams – Brewster and Hen Hud — CARMEL broke into the win column with a 14-10 triumph over New Rochelle.
Junior Margaret Flocco led the Rams with four goals and two assists and senior Emma McSherry also had four goals and added an assist. Junior Katie Taranto registered a hat trick and Kerry Arkins, Allie Dorazio and Mikayla Faudar each had a goal. Julianna Febbraro and Camryn Schilling had one assist apiece.
"We were excited to finally get our first win since we had two very competitive games (Hen Hud and Brewster)," Carmel coach Kerry Heckert said. "We were also happy to see six different players score.
"We're looking forward to getting a lot of practices in this week, then we face Ursuline, Ossining and North Salem."
YORKTOWN and HEN HUD went toe-to-to last Thursday with the Husker eking out an 8-7 victory. The youthful Sailors gave it all they had against the reigning Section 1 Class B champions, but it wasn't enough when Yorktown took a two-goal lead with 3:03 left. Caroline Keenaghan notched a hat trick for the Huskers while Ciara Frawley (1A) and Ellen O'Callahan (2A) each tickled twine twice. Kelsey McDonnell had a goal for the Huskers.
The emergent Sailors were led by Hailey Merchant's hat trick. Kira Varada added two tallies for the Sailors, who were set to do some team bonding in Baltimore. Catherine Warner and Fiona McGovern added a goal apiece.
MAHOPAC defeated Scarsdale 10-8 behind seven goals from sniper Caroline Raymond and some nifty netminding from Jordan Barbagallo. Natalie Scanlon added a goal and two assists.
Ray Gallagher contributed to this story
All girls' lax coaches are encouraged to contact Tony Pinciaro at Tfinch23@optonline.net for inclusion in our weekly notebook… It's just the right thing to do.