Put Valley Tigers Swallowed Whole by 25-0 Warrior Run, Lose to Lourdes in Final 4
There is no way for second-seeded Putnam Valley (18-3) to sugarcoat its scoreless second quarter and the 25-0 run, spanning three quarters  by No.3 Our lady of Lourdes  in last Wednesday's 56-41 Section 1 Class B semifinal loss at the Westchester County Center.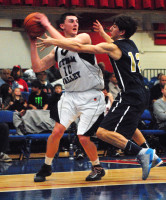 From the 1:19 mark of the first quarter to early in the third, PV Coach Ed Wallach's state-ranked (No.7) Tigers could not solve the Warriors simple yet seemingly sophisticated man-to-man defense on one end, and found the going equally tough on the other end of the court where Warrior F Mike Donnelly (24 points, 12 rebounds) repeatedly torched Putnam Valley, who's first visit to the Mecca was less than memorable.
Donnelly would prove to be the deciding factor in Lourdes' 29-12 halftime lead. The senior posted 18 points and nine rebounds by halftime; the Tigers' interior defense exploited time and time again. Built on spacing, precision passing and crisp ball movement, the Warriors (17-5) went on to face No.4 Dobbs Ferry, whom they defeated, 85-80, in overtime in Saturday's title game to win their first championship since 1980.
What little adjustments the Tigers made at the break were met with equal tenacity, and the crazy County Center environment seemed to engulf the wide-eyed Tigers whole.
"Maybe nerves got the better of us, I don't know," Coach Wallach admitted. "Our nerves and inexperience showed. Lourdes played a very well-orchestrated game. Fourteen (Justin Rhynders) was a great catalyst and we let four (Donnelly) get the ball open underneath. We didn't shoot well. We were a little weak defensively. The second quarter was a killer, 19-0. We played a much better second half, but they were well-coached. They were well-prepared coming in, they knew what they wanted to do and they knew where they wanted to attack and they did attack. They hurt us in the rebounding department, where we hadn't been hurt all year, and not because they were bigger than us, because they were quicker than us."
The Tigers, who won a school record seven games last season before shattering the record this season, had earned their first two playoff wins in securing the boys' first trip to the County Center despite having just one senior starter, F Andre Soto, who took the loss hard but knows the program is in a good place.
"The County Center was a new environment for us," said Soto (2 points), a three-year veteran. "It was just a rough night for us. It happens. You gotta give Lourdes credit, they were good defensively. But we know we could have played much better than we did tonight. I'm not taking a shot at them, it's just the truth. They deserve to be where they are and we wish them good luck in the championship, but we know we could have played better.
"We've got a good group of young guys ready to get back here next year," an emotional Soto added. "I'm going to come back and watch them get back here next year and hopefully go farther.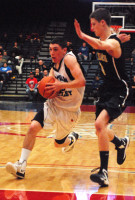 Tiger F Jelani Bell-Isaac scored a team-high 13 points and yanked five boards to garner All-Tournament honors while G Ryan Basso added 12 points, including a pair of 3's. Juniors Bell-Isaac and Zach Coleman (5 points) along with sophomores Basso and Zach Nolan (7 points) will return next season, one year the wiser. The quartet saw what it takes to commit to defense – both on and off the ball — they saw the virtue of precision passing and deft ball movement, they saw crafty interior paint play, they saw superb coaching and prepared players, and they all know they have to raise their game in the off season if they want to be top dogs next season. There are two or three legitimate players on the JV team who can push them in practice, make modest contributions and help prep for a run at a Section 1 title nobody truly professed to be realistic this season. Getting to the County Center was the icing on their cake, next year the Tigers might actually get to taste it if they learned their lessons well.
"This was a magnificent experience for us," Wallach said. "We just ran into a better team. The kids know what it's going to take to get back here and get to the next level. They know what it takes to play here now and you can't underestimate the difference between this place and other places we play. This place is totally different. We've got kids who will work and I'll be there to work with them all summer with both the J.V. and the varsity."
There is a tentative plan in place to bring the Tigers back to the County Center next December as part of the prestigious Slam Dunk Tournament in an effort to wet their appetite and get them better acclimated for the big stage, a platform they plan to return to next March as well.