Boys' Hoops Notebook: Mahopac, Panas, Put Valley, Somers Post Impressive Wins
We are part of The Trust Project
Visiting Carmel High fans chanted "overrated" every time Mahopac senior Brendan Hynes went to the foul line last Saturday at Mahopac High, but there was nothing overrated about 26 points and 10 rebounds in a 60-47 League I-B win over your arch rivals, and certainly nothing overrated about a "will to win" that seems unparalleled at times. Hynes went all out, hitting big 3's early on and defending down the stretch. Mahopac High Coach Kevin Downes and Carmel Coach George Coates orchestrated another chapter in Putnam County's finest rivalry, with the Indians pulling away in the waning moments, turning a three-point game midway through the fourth into a one-sided affair in crunch time when the Rams turned the ball over repeatedly.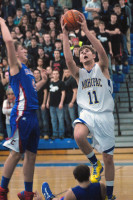 "They're a tough team to rebound against and that was the key to the game," Coates said of the Indians, who improved to 8-3 overall, unbeaten in I-B. "If you don't match up size-wise with them, it's tough to move them, and we don't match up right now. Our problem all season has been our ability to close games against really good teams, and that was part of the problem today. We didn't take care of the ball and that's been our Achilles Heel so far.  We look great in stretches but we have problem areas as well.  But we worked hard and we competed and we took their best shot early on and kept battling.  You gotta expect a team like Mahopac to come out and take their best shot at you early, but we weathered the storm, hung tough and made it a 3-4-point game. I'm proud of the kids despite the poor execution and missed opportunities down the stretch."
Indian G Anthony Lenahan may have played his finest game. In addition to nailing a pair of quick treys out of the gate, "Squints" went for a triple-double; dropping 10 points, grabbing 10 rebounds and dishing 10 assists.
Sharp-shooting G James Loughran shot Carmel back into it, cutting a double-digit deficit to three with 18 points, including a pair of second-half 3's for the Rams (5-4), who simply came unglued down the stretch.
"It's tough with the squad we have right now," Loughran said. "We got the heart, but it just comes down to playing smart in tough situations. It's going to take a lot more, especially in the second half, to come out on top."
The second half was when the whited-out "Mahopac Maniac" fan base had the last laugh in a tit-for-tat exchange with the blacked-out "Rama-lama-ding-dongs" (what was up with that "Carmel Baseball!" chant).
"The best fans in Section 1 came out strong tonight and made this a great place to play," Coach Downes said of the Maniacs, who finally seemed back in force after their brush with Indian hierarchy back in the fall. "We knew they'd take our first shot… it's Mahopac vs. Carmel, and they're a good team. Coach Coates, since he's been there, has always been able to get his team to compete, so we couldn't pull away from them but we kind of expected that. Our size really helped us today. We hit some big shots early and kind of fell in love with the big shot and stopped trying to go inside. On the glass, though, if Carmel didn't make their shot, they were pretty much one-and-done, and we seemed to get some extra opportunities at our end."
Round 2 tips off Saturday at high noon in Carmel.
In SOMERS' buzzer-beater 57-54 win over Brewster last Thursday, Tusker hotshot John Decker nailed a trey as time ran out, his first from beyond the arc. Balanced scoring — Decker and Matt Moros with 17 each and Conor Cousin with 14 – was the difference for Somers. Moros extended the Ram defense, hitting five 3's and Cousin hit four more from downtown on a night when Decker actually struggled.
Still, the fact that Decker was permitted the open look he got is vexing. Brewster opted against the double team, and no one man in this neck of the woods is capable of consistently guarding Decker without help, even on an off night.
"I was off the whole game so I wasn't surprised (they didn't double me)," Decker said. "I was just happy because I knew it gave our team a better opportunity to score."
In Somers' 61-41 win over Carmel last Tuesday, Decker had 24 points and hit bombs from beyond 25 feet. Moros continued to provide with 19 points. Carmel's R.J. Martinez led the way with 14 points for the Rams, who hung around for just over a half.
PANAS' 75-66 win over PEEKSKILL was sparked by senior Vaughn Dweck's 31 points, 12 rebounds and five assists, giving the Panthers (5-5) their first win over the Red Devils since 1996. Panther Tim McCauley had 18 points and six assists while teammate Lylle Ryals had 13 points and eight rebounds.
Jay Cabell, Ramon Searight and Musheed Muhammad each had 12 points for the Red Devils (6-2), who have not been at their best since coming out of the break.
"Dweck was unbelievable, he might have played his best game," Panas Coach Shawn Sullivan said. "We didn't do anything crazy. We sat in our zone and played good defense. I told the kids you are what your record says you are and 3-5 doesn't say much about you. We got our heads right and finally played to our capability."
Perhaps this will be the win the Panthers needed to unleash the beast within.
State-ranked (No.10), Class B PUTNAM VALLEY dispatched of Class AA Yorktown, 64-54. Sophomore G Ryan Basso scored a career-high 23 points and has begun to feel his oats the past few games, providing great poise and hustle at both ends. Basso leads the team in steals and had five against Yorktown and three more in a 61-30 rout of Haldane last Thursday where he led the way with 16 points. Junior Jelani Bell-Isaac added a combined 20 rebounds and 10 blocks in the last two wins, while senior Andre Soto went for a combined 18 boards, five blocks and 15 points.
"Ryan Basso is really starting to come into his own," PV boss Ed Wallach said. "He's just beginning at this level, so the best is yet to come."
Yorktown F Anthony Coutsouros had 11 points and Stephen DiMaria had 10, but the one-win Huskers are in a serious rebuilding mode and lost to PV for the first time.
NWE/Putnam Examiner-area Slick Six Hoop Poll
Clarity was provided while the forecast remained unpredictable at the same time. Thanks to Kevin Devaney Jr. at MSG, this is also the bracketology version, thus pinpointing current playoff status for all as of press time Monday (4:00 pm).
No.1 MAHOPAC – Coach Downes Class AA Indians (8-3) are streaking and peaking (6 straight W's) as we head toward D-Day with Somers and brace for the John Decker invasion. If the playoffs began today Mahopac would be a six seed.
No.2 PEEKSKILL –Coach P's Class A Red Devils (6-2, No.8 in NYS) are bumped from the top spot, courtesy of  the Walter Panas Panthers, who found their unsuspecting souls and dropped a whole lot of Vaughn Dweck on Peekskill, which lost to Panas for the first time since Elton Brand's junior year back in 1996. Seriously, if we didn't know better, we'd drop the Red Devs to No.4 just for looking past Panas. If the playoff began today, Peekskill would be a 6-seed.
No.3 PUTNAM VALLEY – Coach Ed Wallach's state-ranked (No.10) Class B Tigers (10-1) are currently staring at the No.1 seed in the upcoming sectionals, should they hold serve and win; now that Briarcliff was defeated by Class A Nyack. G Ryan Basso's 23-point effort against Yorktown gave PV its fifth different leading scorer this season. We've been warning y'all about this kid for a year or so now.
No.3A SOMERS – It's put up or shut up time for Coach Chris DiCintio, Class A Tuskers (8-1), as they brace for Round 1 with Mahopac and the best access route to the League I-B chip. If the playoff began today, surprisingly good Somers would be the 2-seed.
No.5 PANAS – Coach Sully's Class A Panthers (5-5) were told to take their heads out of their butts and in doing so they found their way back in to the Slick Six after stunning Peekskill for the first time since Shawn Tarkington, Jimmy Gibson, Donnie Ricciardi, Rich Montesarchio and Ian Brownstein did so back in a 1996 holiday tournament game. By the way, how is Tarkington not in the Panas Hall of Fame? Kid studded out in two sports and was drafted by the MLB Twins. If the playoffs began today, Panas would be an 18-seed on the road in an outbracket game. They should be able to crawl out of that unenviable position in the days ahead.
No.6 CROTON – Coach Thom's Class B Tigers (5-3) saw senior G Ian Thom draw 20 points closer to Croton's all-time scoring leader Nick DiMaggio in a 55-45 loss to Briarcliff last Monday. Thom is 16 points away from scoring 1,000 points in his career, which he should get Monday against Westlake. If the playoffs began today, Croton would be a 4-seed.
HM CARMEL – Coach Coates' Class AA Rams (5-4) had their telling week reveal of tale of woe, rather than a week of wonderment after losses to Mahopac and Somers. If the playoffs began today, Carmel would be a 13-seed.