Gashi Moving Ahead with Congressional Bid in Outside District
News Based on facts, either observed and verified directly by the reporter, or reported and verified from knowledgeable sources.
We are part of The Trust Project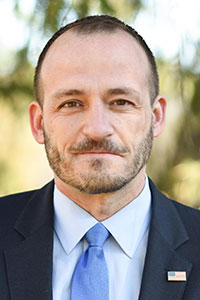 When new congressional district lines were redrawn last month for what will be New York State's 26 seats starting next year, a lot of scrambling took place among incumbent representatives and potential challengers. Westchester County Legislator Vedat Gashi (D-Yorktown) had set his sights on Rep. Jamaal Bowman (D-Yonkers) in the formerly revamped 16th Congressional District.
After state Republicans waged a successful court battle challenging what they charged was extreme gerrymandering, the new boundaries now place Gashi's home in the 17th District, currently represented by Rep. Mondaire Jones.
However, Jones has decided to relocate and run for the 10th Congressional District covering portions of Brooklyn and Manhattan, while Rep. Sean Patrick Maloney, who currently represents the 18th District, is being forced to run in the reconfigured 17th District, which will take in northern Westchester, Putnam County and a small piece of Dutchess County.
Instead of taking on Maloney for the Democratic nomination, Gashi is sticking to his original plan to challenge Bowman in the 16th District on Aug. 23.
Although the U.S. Constitution does not require House members to live in the district they represent, Gashi said last week he would move into the 16th Congressional District if he were elected to the seat in November.
"After reviewing the final maps with my family and team, I'm even more excited about the campaign to win the primary election for New York's 16th Congressional District on Aug. 23," Gashi stated. "The district lines have changed, but my reason for running has not. We're focused on bringing our country together to deliver actual progress for everyday New Yorkers. During the redistricting process I've met with a wide variety of supporters, and we've picked up a number of important endorsements which will be announced soon."
Gashi, an attorney, graduated from Lakeland High School. Born in Kosovo, at the age of four he and his family fled the county for the United States. After passing the New York bar exam, Gashi joined the effort to help draft some of the newly-formed state of Kosovo's foundational legal documents and establish its Ministry of Local Government Administration.
He was elected to a second term on the Board of Legislators last November representing much of Yorktown, a portion of Somers and New Castle.
He said his congressional campaign has raised more than $600,000 to date.
"Meanwhile, I've actively continued serving my constituents across Westchester as county legislator by lowering taxes, improving infrastructure, securing gasoline tax relief, supporting the Reproductive Health Care Facilities Access Act, approving a measure to combat gender and race-based workplace pay inequality and combating gun violence by requiring warning labels to be posted wherever firearms are sold," Gashi said. "My campaign is about ensuring that everyone has a shot at the American dream."
Gashi said he was challenging Bowman, a Yonkers resident, because he disagreed with some of his votes, one being Bowman's opposition to President Joe Biden's $1.5 trillion bipartisan Infrastructure Investment and Jobs Act because he felt it didn't do enough to increase social safety net funding. The bill passed regardless.
Gashi also said he was disappointed when Bowman voted against emergency funding for Capitol police following the Jan. 6, 2021, riot in Washington.
"My family came to the United States as refugees, and I grew up in the Bronx before moving to Westchester to raise my family," he said. "This country gave me a chance, so I will fight to protect working families and expand the middle class."
"This district deserves a representative who supports President Biden's agenda, will put progress before posturing and will work hard to get things done. I look forward to continuing my dialogue with residents of the district to learn more about their concerns and share my vision of how we can strengthen our country and create a fairer nation that works for everyone."
The Aug. 23 Democratic primary will also include Westchester County Legislator Catherine Parker, who represents the Sound Shore communities of Mamaroneck, Rye and Larchmont on the Board of Legislators. Parker had entered the 2020 Democratic scramble for the 17th Congressional District that was won by Jones but exited the race before the primary.
Meanwhile, on the Republican side, Somers Councilman William Faulkner, who announced last March his bid to run in the 16th Congressional District, now finds himself having to run a GOP primary in August against three other candidates in the 17th District. Faulkner will be squaring off against Charles Falciglia, Jack Schrepel and Assemblyman Michael Lawler (R-Pearl River) who represents the 97th Assembly District in Rockland County.