DeChent Raises Bar at Put Valley, Hits 2,000 Points
We are part of The Trust Project
By Ray Gallagher, Examiner Sports Editor @Directrays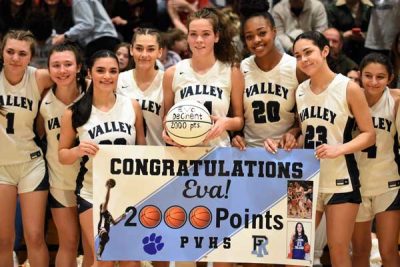 If there's a bar being set for PUTNAM VALLEY athletes, Rhode Island-bound senior Eva DeChent continues to reestablish the level on an weekly basis. Last Tuesday, while chasing a 2,000-point career milestone only 12 prior Section 1 girls had ever achieved, DeChent scored 10 first-quarter points as her state-ranked (No.4) Tigers streaked to a 19-2 lead against visiting Haldane, eventually pulling away for a 55-27 league win to clinch the league title.
She was just five points shy of two-grand now, and a packed house sat tight, knowing full well that history was on their side as they flipped her points on a colorful chart in the front row of the student section.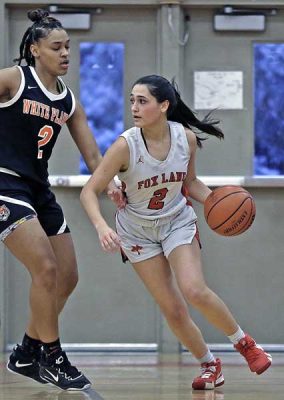 Just 22 seconds into the second quarter, DeChent, the reigning NYS Class B Player of the Year, swished a 3-pointer. Then, just seconds later, she created one of seven steals on the day, and eased her way, uncontested, to two historic points, as easy as any she's ever scored, joining a very select 2,000 point-scoring club.
"It means a lot to me," DeChent said of the milestone. "I have been lucky to have great teammates and great coaches over the years. It's nice when all the work I put in results in 2,000 points, and I'm extremely proud, but more importantly I am looking forward to the chance of winning another section championship. That's what's really important. My teammates and I want to make a deep run into the playoffs and to get a New York State championship would be the ultimate proud moment for me."
DeChent, called up to varsity for the playoffs as a seventh-grader, was in the Tigers' starting lineup as an eighth-grader, and 2,000 points wasn't a realistic consideration after the 2020 season was cut short after first round of the NYSPHSAA tournament and the 2021 season was watered down to 13 games due to the continued COVID fallout. What followed in 2022 was the program's first NYSPHSAA final four appearance and a sense of normalcy, though DeChent was cheated of at least 15/20 extra chances to expand her scoring record.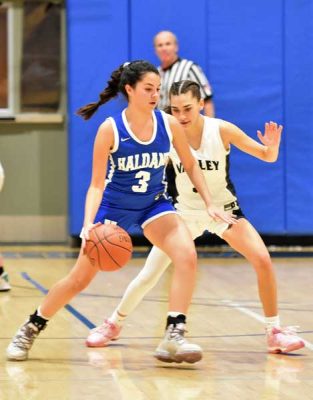 Like every other athlete across the globe, DeChent felt slighted, but her dad, Ed DeChent, a 2019 New England College Basketball Hall of Fame inductee, who scored more than 2,000 points for the University of Bridgeport, found a rim wherever he could. Having played alongside Manute Bol at Bridgeport, Ed DeChent would spend countless hours by Eva's side, perfecting a jump shot that is silkier than most, developing a left hand that is second to none in Section 1 while forging a defensive approach that is unmatched in PV history.
DeChent, who finished with 31 points and four assists against Haldane and ended the night with 2,016 points and counting. By the time she's done, she will hold just about every major record in school history, including points, assists, steals and rebounds.
PV guard Nai Torres added 11 points and five steals while F Simone Gabriel (2 points, 5 blocks) was a presence inside. Blue Devil senior Moretta Pezzullo finished with a team-high six points.
The top-seeded Tigers will enter the Class B tournament as heavy favorites with current No.3 WESTLAKE (16-4), No.6 BRIARCLIFF (13-7), No.7 CROTON (12-8) and No.10 BYRAM HILLS rounding out the top 10 while playing some top-notch hoops.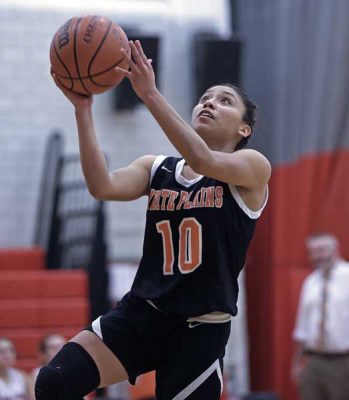 In Class A, MAHOPAC is putting final touches on a superb 15-4 season with the current No.2 seed behind Harrison. The state-ranked (No.20) Indians, winners of four in a row and seven of the last eight, are legit contenders under first-year Coach Mairead Hynes. The Indians are the top-ranked Section 1 team in the state polls. State-ranked (No.26) WALTER PANAS (14-5) is a sneaky No.7 seed that nobody wants to see in these brutal quarterfinals #MarkMyWords. No.9 HEN HUD (13-7), No.10 YORKTOWN (13-7), No.11 LAKELAND (11-9), No.12 GREELEY (11-9), No.13 BREWSTER (9-11), No.14 FOX LANE (8-11) and No.15 SOMERS (7-12)  are all chasing the field and pose as worthy challengers.
In Class AA, WHITE PLAINS is killing it at 16-2 against Section 1, 17-3 overall. The third-seeded Tigers could be playing in their backyard – the Westchester County Center – in the Final 4 if they continue this righteous path, which has earned them a No.21 NYS ranking. The top six teams in Class AA are all lethal with 14 or more wins, making for a potentially brutal run for the gold ball.
Girls' hoops beat writer Tony Pinciaro will return next week to chase down the results of the tournament's initial rounds.