News Based on facts, either observed and verified directly by the reporter, or reported and verified from knowledgeable sources.
Somers Wins 1st League Title Since 1989; Byram, Valhalla Crowned
We are part of The Trust Project
Class A, B Sectional Challengers Emerging as Playoffs Loom
By Ray Gallagher, Examiner Sports Editor @Directrays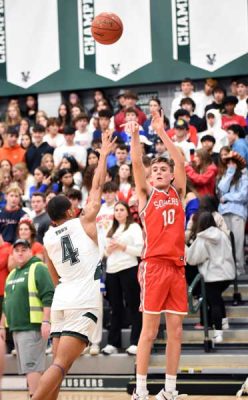 In the 35+ years this scribe has covered Section 1 hoops, it's hard to imagine a year with so many Examiner-area sectional-title challengers north of the White Plains line that are hoping to gain free entrance to the Westchester County Center Final 4 rather than purchasing a ticket this winter.
Class A is chock-full-of local challengers, including state-ranked (No.6) LAKELAND, No.30 PANAS and No.13 SOMERS, which locked up its first league title since 1989 with a 63-57 win over YORKTOWN, yet another local challenger for the gold ball.
In the Class B dog fight, state-ranked (No.9) VALHALLA and No.25 BYRAM HILLS, which locked horns Saturday in a thrilling 69-63 Vikings win, appear to be sure-fire Final 4 challengers in the days ahead. The Vikings should hold the No.1 seed going into the tournament, with the Bobcats settling in around No.3. One would be foolish to discount BRIARCLIFF, the current No.5 seed, in this mix, and No.8 WESTLAKE, No.10. PLEASANTVILLE and No.13 PUTNAM VALLEY will pose as tough outs for the aforementioned.
In Class C, state-ranked (No.17) HALDANE has been on a legit run of late, winning nine a row while settling in as the current No.3 seed, so expect to see the Blue Devils at the County Center.
CLASS A
The game of the week features host YORKTOWN, the No.2 seed on the large school bracket (No.6 overall) after falling to SOMERS (No.1 large school, No.2 overall). If you can't tell, we're still pretty ticked off about the brackets in Class A being split, and we're not alone. As it stands right now (as of press time Monday), if 24 or more teams qualify in Class A, the bracket will be split in half between larger and smaller schools. Otherwise, we'll have one normal, standard bracket, but don't count on it. The fact that it hasn't been decided upon already is outrageous. The fact that it would come down to last night's Saunders vs. Riverside game is not sitting well with Class A coaches, considering the direction entire tournament was to hinge upon two teams with six combined wins, on account of a game that was added to the Class A schedule last Friday. Anyone can understand the ambivalence, even if you LIKE and RESPECT the guys making these decisions.
"It's ridiculous," one Class A coach exclaimed!. "There's no good reason for it, at least I haven't heard one. Even the qualification system is silly. We're having four-win teams go to gold-ball contenders in the outbracket round."
Cut it at 24 teams, one bracket, and be done! Even 24 is a stretch.
Anyways! Somers senior swingman Matt Fitzsimons is cementing his legacy as, perhaps, the finest two-sport star in Tusker history. The 6'-4" Fitz is averaging 24 PPG, 8.1 RPG, three steals and two blocks per game while nailing 45% from behind the arc, putting Somers in the Class A gold ball conversation. Fitzsimons recently hit 1,000 career-point mark week, in total Fitzsimmons fashion, a two-fisted dunk on Senior Night. And football is his No.1 sport. The recent Wesleyan commit wants to end his basketball career with a bang after putting up 26 points and snagging 13 rebounds in the Yorktown win.
"Getting the league title for Coach DiCintio is great and all," Fitzsimons said. "Coach has wanted this for the 11 years he's been here. We all love him as our coach and I couldn't be prouder of this team after bringing home our first league chip in 34 years.
"But we want to continue this momentum into the playoffs," he added. "We'll be ready to see Yorktown again, for sure. We want them again. They play us tough every time. It's a fun rivalry, a great environment. I love playing these guys. But our goal is to win it all."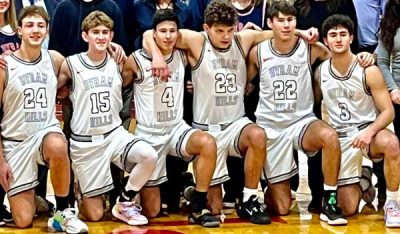 DiCintio changed the culture of an otherwise run-of-the-mill program. Before he arrived at Somers, the Tuskers (18-2) had that one 1992 season when they won their only gold ball, but from 1993 to 2012 Somers was essentially an also-ran program. They were football players and laxers in shorts until DiCintio changed the mentality.
"We did it, pal," DiCintio said after defeating Yorktown and grabbing the League II-E title outright rather than sharing it with the Huskers. "Not to take anything away from state championships or anything else that these boys have accomplished in football, baseball and soccer, but when you look at the amount of years it took to win just a league title in basketball, for these kids to go so many years without a league title in basketball, shows their resolve to win. Again, they've done major things in other sports, but to finally break that spell of not winning a league in basketball is a special accomplishment. We didn't beat weak teams to get here. This Yorktown team is a state-ranked team and to come into their house for the last game of the season in a packed house, with them wanting a share of the league championship, is not an easy task. I'm proud of the fact that the boys rose to the occasion and beat a very, very good team. I'm elated."
Elation will be tough to achieve at the next level with as many as 8/9 challengers in Class A.
"Class A is loaded," DiCintio said. "You have some extremely good teams in Yorktown, Pearl River, Tappan Zee, Fox Lane, Panas, Lakeland. You go right down the line and we're all competitive with one another and capable of doing damage in the playoffs. Every game is a game of chance"
Tusker junior Mac Sullivan added 17 points and seven rebounds, and junior G Andrew Violante added nine for the Tuskers, who may have caught a break at the end of the third quarter when a controversial Fitzsimons 3-ball at the end of of the third quarter was ruled good despite film showing the quarter had ended. Either way, it was a close call that went against Yorktown and trimmed the margin from Yorktown leading 50-43 to 50-46 heading into the fourth.
Yorktown G Justin Price posted 15 points, five rebounds and seven assists in a well-rounded effort. The Huskers (15-5) saw junior swing Brandon Montero drop 15 points and snag nine rebounds and another 12 points and five assists from sophomore G Kaden Gonzalez.
Let's be clear about Yorktown, they may not win a title in 2023, but, man, 2024 is a golden opportunity for Coach Mark Pavella's Huskers, who will not lose a single starter to graduation. Pavella and his staff have a mutually-devoted crew on their hands #DontSleeponYorktown.
Fitzsimons bagged 24 points, Andrew Violante added 23 and Nate Cohen scored 10 in the Tuskers' 72-60 win over BREWSTER, which was led by King's College-bound senior F Conner Griffin and Stephen Switzer, who had 19 and 16 respectively, for the Bears (8-12), the current No.21 seed overall, No.10 in large schools.
And don't snooze on PANAS either after Coach Mike Auerbach's Panthers (15-4), the current No.4 seed overall (No.3 in small school), worked a 55-39 win over HEN HUD, the current No.12 at 10-10 overall.
Against Hen Hud, Panas G Alex Tavarez dropped 23 points for the Panthers Tyler Green added Jerry Smallwood dropped a dime on the Sailors, who were led by. Dean Hiltsley and Michael Gagliardi (12 each) as the Sailors (10-10) dipped to the current No.8 seed in small schools, No.12 overall. Panas also slipped past PEEKSKILL, 64-56, when Tavarez went for 25 and Greene for 17. The Red Devils (7-13) were led by Jaden Chavis (15 points) as they dropped to No.23 overall, No.12 among small schools.
In Yorktown's 60-42 win over  John Jay-CR junior G Billy Feeks was the man (18 points, 3 assists, 3 steals) and Montero added a double-double (17 points, 11 rebounds) while Ryan Duffy scored 11.
In Lakeland's 71-58 win over Hen Hud, Hornet hotshot Chris Whyte-Luciano wasted no time, going for 10 of his game-high 27 in the first quarter as the Hornets split the League II-D title with Panas. Logan Shiland (15) and Grady Leonard (14) chipped in for the Hornets (18-2 overall), the current No.2 seed in small schools, No.3 overall. Michael Gagliardi (16 points) and Jeremy Heady (17) led the Sailors.
Greeley 78, Saunders 43
Zach Boyriven led the Quakers with 17 points and Filip Vujanic scored 12 in the win.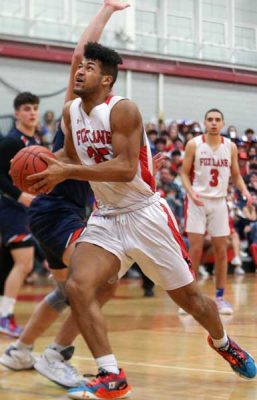 FOX LANE edged GREELEY, 44-41, big Niko Dent pounded out 13 points and seven rebounds while Conrad Hardie added 13 points and four boards to lead the Foxes, thus grabbing a share of the League I-D title, splitting with Ossining. Charlie Shevick finished with eight points and five assists to knock off rival Greeley. Ethan Golub's double-double (20 points, 10 rebounds) was huge for the Quakers (12-8), the current No.13 seed overall, No.5 among large schools.
Greeley G Justin Potack finished with 15 points, eight rebounds and five steals.
In Greeley's 58-45 win over Port Chester, Potack  (24 points, 7 assists) and Golub (23 points, 12 rebounds) were instrumental.
Rugged MAHOPAC will make for a very tough out in the large schools bracket after taking out Class AA CARMEL, 53-46. The INDIANS (notice all caps) are a physical bunch as the No.19 seed overall, No.8 among large schools, and you best pack a lunch when they come to town in the playoffs. Big Liam Scanlon led the Indians (9-11) with 17 points while the youthful Rams saw Jack Salisbury and Aiden White go for 16 points and 14 points, respectively.
P.S. It's okay for the Kansas City Chiefs to go by their moniker on a world-wide Super Bowl stage, but the Mahopac INDIANS are at the mercy of NYS and Mahopac School District powers that be, forced to change their history without so much as a whimper from the new regime. Mahopac has always championed the indigenous people, shame it can't no more. If anyone in this current administration had the forethought, they would have included the "Lancers" as a potential rebrand, so the taxpayers wouldn't have to spend hundreds of thousands of dollars to change its current displays, which is simple lance through a capital M. Even the Mahopac Lakers or Patriots would have been better than the choices they put on paper.
The Mahopac school board, which did not vote on schools Superintendent Christine Tona's plan, will ratify the new mascot, once it gets selected.
"It's important to involve the students in selecting a mascot we can be proud of," Tona said, as if Mahopac was never proud of the Indians. "It will be nice to have a mascot name they can say out loud."
Mahopac has been screaming – out loud – proudly on behalf of Indian pride for decades. The Fighting Irish and Yankees are next up, they're coming for all "race-based" monikers. This should be a decision made by each school district and its locally elected school board, not the paper shufflers in Albany, who have put state funding on the line. Sadly Mahopac, once the last bastion, is going down without a fight because the ties to the past have come undone.
CLASS B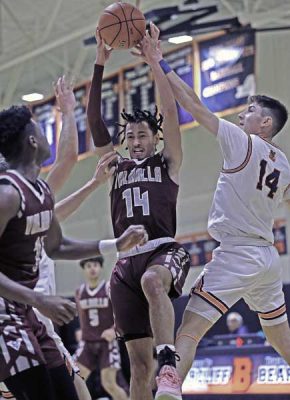 Don't be shocked when we see more of the same from Saturday's potential Class B championship prelude when state-ranked host VALHALLA spit out a 69-63 non-league win over state-ranked BYRAM HILLS. There's a lot of evidence that speaks to a rematch, whether it be in the sectional semis, or God willing, the County Center finals.
Coach Rich Clinchy's Vikings (18-1) and Coach Ted Repa's Bobcats (15-5), should they match their potential, should be alive an well for a Final 4 berth and them some after Saturday's showdown, which may have turned on the dime when Valhalla senior hotshot Basiaka Butcher blocked a shot and then drew a charge with 19.3 left in a 65-63 game.
"I had to step up for my team after I had let them down all game. It felt good when I got the block," said Butcher, the team's leading scorer, who has big dreams for the Vikings. "It would mean the world to win it all. We worked our butts off this year after losing to Briarcliff last year. The way we lost, we knew that if we wanted to win the big games, something had to change, and our defense is getting better each game. Guys stepped up tonight. I didn't put forth my best game, but it didn't matter because my teammate had my back the entire way."
Apparently, when you come into the Butcher Shop, they're gonna carve you up; the lone blemish being a 63-60 loss to BRIARCLIFF in the middle of Jan. The Vikings have now won 11 in a row heading into last night's regular season finale.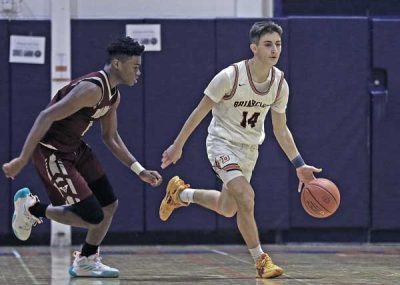 Valhalla's Chris Purchia came up strong when Butcher rolled into early foul trouble. His career-high 24 points was the deciding factor for the Vikings. Devan Cooper added 14 points to offset Bobcat sniper Tyson Repa (23 points, 7 rebounds, 8 assists), who pulled up clutch in all facets while Tyler Lynch came off the bench with 14 points. Luke Berliner was solid all around (6 points, 6 assists, 14 boards).
Valhalla also cruised to a 67-43 win over WESTLAKE, the current No.8 seed at 11-9, when Butcher sliced and diced for 21 points on Senior Night while Devan Cooper complimented with 17 points. Nick Castellano scored eight to lead the wildly inconsistent Wildcats (11-9), who need to figure things out down the stretch as the current No. 8 seed. Since Dec. 29, Westlake has lost six, won four and then lost three of the last four, including a 49-41 loss to Blind Brook where Jack Neglia scored 10.
Valhalla avenged its lone loss of the season in a convincing 74-48 win over Briarcliff  when Butcher oozed through the B-Cliff defesne for a season-high 33 points. Devan Cooper and Purchia scored 13 and 12 points, respectively,in a resounding win. Jordan Kratz (13 points) and Jason Rosenbaum (10) led the Bears (10-8).
Butcher was all over Ardsley in a 72-66 win over Ardsley, going 28 points while Mikaele Martinez went for 13, all in the second half.
Ryen Neck limited Briarcliff offensively in a 49-41 win over the Bears, who were led by Jason Rosenbaum (17 points).
Byram Hills went to town on Sleppy Hollow in a 68-27 beatdown when Tyler Lynch scored 11 for the Bobcats, who clinched the League II-F title with ease. Big George Gjelaj added nine points and Berliner dropped eight.
PLEASANTVILLE junior Daneil Picart went for 23 points in a 49-45 loss to Rye Neck as the 10th seeded Panthers (9-10) may have lost a home game for the upcoming playoffs.
Class C HALDANE nailed down the League III-D title when senior swingman Matteo Cervone drained and pained PUTNAM VALLEY for 30 points in a 65-61 Haldane win Matt Nachamkin added 11 points and Will Bradley and Ben Bozsik scored 0 apiece. PV sophomore James Apostolico paced the Tigers with 19 points  while senior Sean Holzman posted an impressive double-double (18 points, 12 rebounds) for the Tigers, who edged Croton, 44-39, earlier in the week behind another double-double from Holzman (13 points, 12 rebounds) and 11 points from John Cekaj. Aidan Callahan and Ben Reed each scored 12 for Croton.
CLASS AA
According to the state pollsters, there's only one spot remaining in Class AA Final 4. No.18 Clarkstown South, No.24 Scarsdale and No.26 Mount Vernon. That leaves Mamaroneck and North Rockland as potential suitors for the last spot with Examiner-are clubs WHITE PLAINS, the current No.6 seed, and No.8 OSSINING emerging as potential dark horses.
Ossining tripped up Class A Fox Lane, 55-52, to guarantee a share of the league title when Kris. Singh returned to the lineup and dropped 16 points and provided the missing element for the Pride.
"Kris Sing has brought a new energy to our team," Ossining boss Mike Casey said. "He has the versatility to spread the floor and score the ball, which has made the team to be more of a threat. He suffered a right knee hyperextension and missed the majority of our games, but we're happy to welcome him back.".
Fiery AJ Caparelli (11 points, 4 boards), Dominique Bautista (10 points, 4 boards) and Jaiden Newton (6 points, 8 rebounds) were also key for the surging Pride, winners of five in a row as they seek their first County Center appearance in 40 years.  Niko Dent had 20 points and 11 rebounds for the Foxes.
Singh also dropped 24 points in a 73-50 win over Port Chester. Newton added 12 points and seven rebounds.
WHITE PLAINS secured a much-needed 48-41 win over Fox Lane when Menzy Carden (19 points) and Miles Johnson (10) had just enough to offset Fox Lane's Dent (10 points, 6 rebounds), despite falling behind 22-4 heading into the second quarter. White Plains also defeated Saunders, 84- 48, but lost to Suffern, 64-35, when Carden (17 points) was the only Tiger to finish consistently.
CARMEL owns Poughkeepsie. Nobody ever said that until 2023 when the 15th-seeded Rams (7-13) swept the Pioneers last week in a 48-45 win behind 21 points from Damien Santiago and 11 more from Aiden White. However, Carmel lost its momentum in consecutive losses to Mahopac and Spring Valley to close out the regular season.
CHSAA
Five-star recruit Boogie Fland (19 points, 4 assists. 4 rebounds) did a little bit of everything in STEPINAC's 81-65 win over Scanlan. Braylan Ritvo (18 points, 11 rebounds, 3 blocks), Hassan Koureissi (12 points), big Ben Lyttle (10 points and seven rebounds) and Danny Carbuccia (7 points, 10 assists) came up strong for the state-ranked (No.5) Class AA Crusaders, who ended the week with a tough 44-42 loss to meag-rival Iona Prep, thus ending an eight-game win streak.
Lyttle, who was offered by Pace last week, did his double-double thing (11 points, 10 rebounds, 4 steals). Jordan Gabriel (8 points), Danny Carbuccia (8 points, 4 assists), Hassan Koureissi (7 points, 2 steals) all stepped up as Fland (just two points) was held in check while the Crusaders were abysmal from distance (1-for-18). Blaise New (7 points, 5 steals) sent Iona home a winner with a floater just before the buzzer.
Stepinac (16-7 Overall, 13-3 CHSAA 'AA' League) will host Senior Night today against Cardinal Hayes at 6pm.