County Legislator Colin Smith Launches Reelection Campaign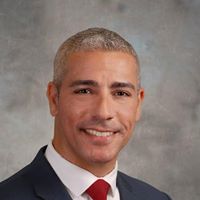 Westchester County Legislator Colin Smith last week kicked off his reelection campaign for a second term representing District 1, which contains parts of Cortlandt, Peekskill, and Yorktown.
Smith, a Democrat, won the seat that had been occupied for decades by Republicans in 2019 after defeating former Peekskill Mayor Frank Catalina. The position had been held by John Testa since 2010.
Smith was serving his first-term on the Peekskill Common Council when he was elected to his current position.
"I'm excited to run for reelection because I'm proud of my record of delivering results for the people of Westchester County," Smith said. "My mission in office has been to focus on policy and getting things done for the people that elected me – not picking partisan fights or grandstanding. The last year has been quite different than I expected when I was sworn in in January 2020, but working together we've made great progress on the big issues that matter."
As chairman of the Public Safety Committee of the Board of Legislators, and as a member of the countywide Police Reform and Reimagining Task Force, Smith maintained he has fostered productive dialogue and sought to build consensus around divisive national issues, ensuring that they are handled respectfully and effectively.
He said has also been active in the county's response to the COVID-19 pandemic, where he and his colleagues on the county board passed Property Tax Relief for struggling homeowners, offered aid to small businesses to help them survive the past year, and secured PPE and testing.
Additionally, Smith said he's helped with food insecurity and childcare for vulnerable communities, addressed rising homelessness due to the pandemic, and has recently worked to bring Westchester County's vaccination system up to speed.
Legislator Catherine Borgia, who represents parts of Peekskill and Cortlandt not served by Smith, pressed that Smith has exhibited through his tireless work for his constituents, his thoughtful legislative agenda, and the skills he brings to the board that he's earned another two years in office.
"Colin is a great advocate for Cortlandt and Peekskill and I have seen firsthand the impact he has made on the big issues facing Northern Westchester," Borgia said. "I can say without a doubt that he's the right choice for District 1 and I look forward to working with him again moving forward."
Also praising Smith was County Executive George Latimer.
"Colin has proven to be a strong advocate for his communities and their residents," Latimer said. "He is always well informed on key issues and he knows how to navigate the process of County government to achieve tangible benefits for his district."
Board of Legislators Chairman Ben Boykin also added his support of Smith, stating that Smith has proven everyday why he was the right choice for the position, especially after being named Chair of the Public Safety Committee. Boykin said the group didn't realize how central that body would eventually become.
"As a member of our countywide Police Reform and Reimagining Task Force, he works together, finding common ground and building consensus, to make a difference in the lives of every Westchester resident," Boykin said. "He has earned the trust of people on all sides of the aisle and he deserves your vote for reelection."
Smith, who currently has no opponent, said he is looking forward to running a respectful and issues-based campaign.