Mayor Rainey, Three Councilmembers Take Office in Peekskill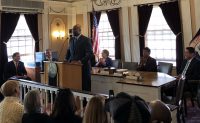 By Anna Young
Former elected officials, family and friends packed Peekskill City Hall on New Year's Day to celebrate the inauguration of Mayor Andre Rainey and the three newest members of the Common Council.
"To know me is to know that I'm a very spiritual person. I'm not so foolish to think and understand why things work the way they do, but I do know as I stand here before you as your new mayor to God be the glory. Without his grace I really don't believe I'd be standing here this afternoon in front of you people," said Rainey. "We have made history. I want to thank the residents and the voters of Peekskill who put their faith in me as their next mayor."
Rainey, 33, a former councilman who was sworn in by his father and great-grandmother, made history in November when he became the youngest mayor in the City of Peekskill when he defeated two-term Republican Mayor Frank Catalina.
He is also the second African-American to serve as mayor in the city, following in the footsteps of Richard Jackson, who was in attendance, along with Catalina, former Mayor Mary Foster and State Senator Terrence Murphy.
Vanessa Agudelo also made history by, at age 25, becoming the youngest person elected to the Common Council.
"We all wouldn't be here without all of you and this is where the work starts," Agudelo said after being sworn in by her father. "It's going to be a tough year and it's time for us to dream dangerously. Let's put Peekskill on the map."
Also joining the Common Council in the Democratic sweep are Colin Smith and Ramon Fernandez.
"It's a very special occasion to see so many people that I know and love here in this room supporting, not just me, but the people behind me," said Smith, a former Peekskill Board of Education president who was sworn in by his brother and mother. "We're going to do our best to serve you and to serve the City of Peekskill and as the oath says uphold the laws of our government, of our state, of our county and our city right here in good ole' Peekskill."
Fernandez was sworn in by Congressman Adriano Espaillat, and had several members of his family join him at the podium.
"I want to say thank you to my wife, to my son, to my two daughters, because when people say sometimes outside, they thank me for what I do, I don't sacrifice my time, I sacrifice their time," Fernandez said. "I want to thank God. He makes anything that looks like it's impossible to be possible."
Former Councilwoman Drew Claxton was also honored for her 16 years of service on the council.
The Common Council flipped in the November election from a 4-3 Democratic majority to 6-0 Democrats, with a seventh Democrat expected to be appointed soon to fill the unexpired term of Rainey.