Chappaqua Solidarity Vigil Draws Large Crowd in Support of Israel
News Based on facts, either observed and verified directly by the reporter, or reported and verified from knowledgeable sources.
We are part of The Trust Project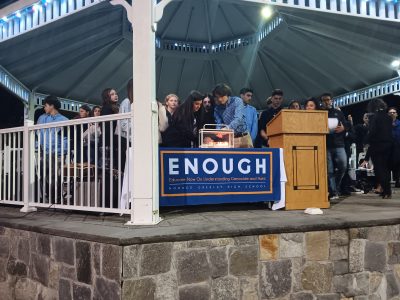 With the atrocities in Israel perpetrated by Hamas painfully fresh in people's minds, an estimated 1,200 people turned out Sunday evening for a solemn vigil in downtown Chappaqua to stand in solidarity with Israel and the Jewish community.
Organized by the members of the Horace Greeley High School student club E.N.O.U.G.H. (Educate Now on Understanding Genocide and Hate) and the Jewish Student Union, clergy and dignitaries, including President Bill Clinton, sought to find words to make sense of the terrorist attacks in Israel on Oct. 7 that killed about 1,300 Israelis, including scores of infants and children.
Rabbi Jonathan Jaffe of Temple Beth El of Northern Westchester in Chappaqua said despite the widespread grief, he was grateful for the outpouring of support from his colleagues in the clergy, elected officials and residents, especially those who are not Jewish or who have no direct connection to Israel. Many community members in the area have friends or family there, making the attacks personal.
As the crowd swelled around the gazebo on South Greeley Avenue and onto Recreation Field, many held small candles and Israeli flags, Jaffe said he was taking pictures of the turnout before he spoke. He planned on forwarding them to people he knows in Israel to show them the support they are receiving in communities in America.
"If Hamas' goal is to crush the spirit of the Jewish people, they've already failed," Jaffe said. "We are more united than ever, the State of Israel, the Jewish community and all of our neighbors here in America. May we respond to Hamas' inhumanity with our own common humanity with acts of love and kindness and charity."
Ben Prober, one of the co-presidents of E.N.O.U.G.H., said the war that the attacks has unleashed is not between Israelis and Palestinians, but against a terrorist organization whose purpose is putting an end to Israel and Jewish life. Meanwhile, the student group's core mission is to educate the next generation about the consequences of hatred, he said.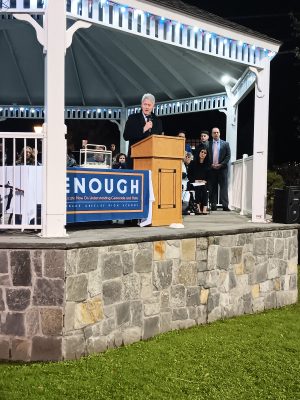 Several speakers mentioned how the terrorist attacks was the worst attack on Jews since the Holocaust. For almost 80 years the cry has been never again.
"It saddens me to say that our fear of having Jewish lives being lost just because of their beliefs is a reality we are forced to live in," Prober said. "Never again is now."
About midway through the program of a little over an hour, President Clinton, who has lived in town since leaving office, addressed the crowd. Clinton said during his eight years in the White House, he sought to keep Israel and the Palestinians safe, and at one point thought that a deal was close at hand.
But the assassination of Israeli Prime Minister Yitzhak Rabin in 1995 and the Palestinians' rejection of obtaining Gaza and 96 percent of the West Bank changed history.
"I can tell you, if there is one thing I have learned, it is that violence begets violence and peace can force people to make a new beginning," Clinton said. "Something has to be done to minimize the continuous threat that Hamas poses in Gaza, and something has to be done to make sure we minimize others getting involved and contemplating it."
Congressman Mike Lawler pledged that the United States will back Israel as its greatest friend and ally. His first piece of legislation that passed in Congress, receiving bipartisan support, was to send a special envoy to the Middle East for the Abraham Accords, which seeks to normalize relations between Israel and its Arab neighbors.
However, Iran, who some believe was behind the attacks, opposes normalizing relations, he said.
"That is a catalyst for why this attack occurred," Lawler said. "They do not want normalized relations between Israel and other Arab nations. It is incumbent on all of us to continue that work, to continue to support those efforts. That is the only way we will be able to stop this anti-Semitism, anti-Zionism at its core."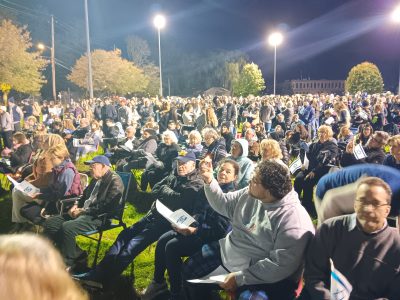 New Castle Supervisor Lisa Katz said as the community and the nation mourn the deaths in Israel, everyone must remain vigilant to prevent the spread of anti-Semitism in the U.S. Reports around the country have highlighted that it has been especially prevalent on college campuses.
The town passed a resolution last week condemning the violence. The Westchester County Board of Legislators is expected to pass a similar resolution Monday night.
"Tonight, in the face of darkness, let our unity be a beacon of hope as we stand together in solidarity with Israel and the Jewish people. In our hearts and in our minds, but most importantly, in our actions," Katz said. "Because never again is now."
The vigil was organized early last week with an initial expectation of about 250 people, said Elliott Saiontz, a co-president of E.N.O.U.G.H. But by the end of the week the group received about 1,200 RSVPs from the community, he said.
"To see all the support here tonight, it really gives me hope, not just for Westchester but for humanity as a whole, seeing such inhumanity in the news every second of the day, but to be able to feel the humanity here with everyone," Saiontz said.