News Based on facts, either observed and verified directly by the reporter, or reported and verified from knowledgeable sources.
A Sweet Tooth Delight: Blondery Dessert Bakery Opens in Peekskill
We are part of The Trust Project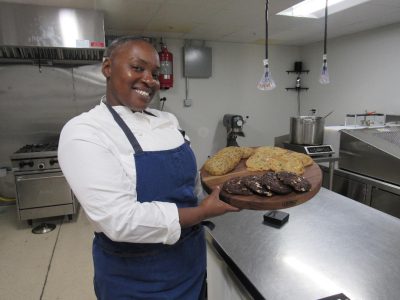 A chocolatey sweet aroma wafted out onto Main Street in Peekskill from Blondery, a newly-opened dessert bakery.
Auzerais Bellamy, founder and CEO of Blondery, has had a growing and dedicated following who crave her scrumptious blondies, savory cookies and 11-layer cake jars via her e-commerce business started in 2018.
Bellamy has taken the plunge and shifted her e-commerce business to a brick-and-mortar retail store as a hub to run her e-commerce business and to sell her goods directly to customers.
Her team of two pastry chefs can be seen baking cookies and blondies in the well-lit and remodeled 2,500-square-foot space with a stainless-steel oven, cookie racks and work table.
"We wanted the oven to face the street because once you see it baking it's beautiful," said Bellamy, who launched the store last week. "It's something people don't typically see."
Bellamy was born in northern California's Bay Area, graduated from Johnson & Wales University's culinary arts program and worked as a chef de partie at Bouchon Bakery in Yountville, Calif. She moved to New York City to become a demi sous chef for Bouchon in Rockefeller Center.
While taking on various jobs, Bellamy made blondies for friends and family. Word of mouth made her delectable dessert bar widely popular, and in 2016 she started Blondery, an online business she operated out of the well-known bakery Ovenly in Greenpoint, Brooklyn.
Blondery blossomed and attracted clients such as JP Morgan, Hulu and Hearst, and more recently, was an item in the Netflix swag bag for Emmy nominees.
But when Hurricane Ida hit last year, Ovenly was flooded and Bellamy was forced to move quickly and re-establish her business for the holiday season.
"We had eight days to move and I cast a wide net to find a new space," she recalled. "First we found a temporary kitchen at the Division Street Grill (in Peekskill) but we were still looking."
Bellamy said she was lucky to find the Main Street storefront, which had previously been a bakery. She was helped by Peekskill's Kecia Palmer-Cousins, CEO of Aero-Ba-Soul Inc., who helped negotiate a lease with the landlord.
"I wasn't sure we would stay in Peekskill but I wanted to because I liked the area," Bellamy said. "I like that there were people who looked like me here."
Bellamy, who lives in Yonkers, was able to purchase high-end bakery equipment by raising $20,000 from supporters.
Fresh-baked cookies and blondies at Blondery use all-natural ingredients. Blondies come in pecan and salted caramel, strawberry rosé, s'mores, cinnamon sugar, red velvet (made with beet juice) and a gluten-free Brooklyn blackout. For Thanksgiving there will be apple pie, peach cobbler, chocolate bottom pecan pie and pumpkin pie blondies.
Blondery cookies will be sold under Bellamy's sister operation Peekskill Cookie Company using DoorDash and UberEats. She carries chocolate chip, snickerdoodle and s'more flavored cookies. Cookies and cake jars are sold at the bakery along with oat milk-based hot chocolate, along with vanilla and strawberry oat milk. The bakery also sells dog treats.
Trying out new tastes and combinations is mandatory for Bellamy. Special blondies include a coquitos blondie created by her Puerto Rican pastry chef, a tamarind blondie and one with guava and cheese, which was created by her other pastry chef, who is from the Dominican Republic.
"Since I'm African American I've come up with a peach cobbler blondie for this month," Bellamy said.
Her staff also includes a personal assistant and she is looking to hire a dishwasher, a cashier and a barista to make the milk drinks.
Prospects on Blondery as a community space is another idea of Bellamy's.
"I've seen that the young people, the teenagers in Peekskill, don't have a lot of activities that don't involve drinking," she said. "We can utilize this creative, fun space for kids' cooking classes after hours, dance classes or artists' presentations. I will listen to the community and see how I can be of service."
Her blondies and cookies sold at the store are less expensive than online: four blondies in a box sell for $35 online but are $15 at the store. The 24-piece box that runs $75 to $125 online costs $65 at the store.
"I'm hoping to either create a new memory you might have or expound on a memory you already have by eating my cookies and blondies," Bellamy said. "That's the nurturing part of being a baker. We bake to see people smile. That's what we do."
Blondery is located at 922 Main St. in Peekskill. It's open Tuesday to Sunday from 7 a.m. to 9 p.m. For more information, call 914-488-6168 or visit www.blondery.com.