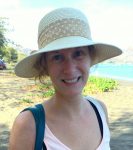 Abby Luby, Reporter
Abby is a local journalist who has reported on breaking news for more than 20 years. She currently covers community issues in The Examiner as a full-time reporter and has written for the paper since its inception in 2007. She's also the outlet's community calendar editor. Her byline has appeared in The New York Daily News, SolveClimateNews, The Villager, The Real Deal, and the Record-Review.
Her articles published in the lower Hudson Valley have focused on the environment, local politics and the arts. Abby is the senior editor for ClimateYou.org, a site promoting the education of climate change. She has penned features in local magazines including Hook Magazine, Valley Table Magazine, Edible Hudson Valley, Roll Magazine, and Living@HomeCT.
Her art reviews have appeared in the Poughkeepsie Journal and The Stamford Advocate/Greenwich Time. Abby began writing creative non-fiction and poetry writing in 2014 and has published two short stories in the online journals Persimmon Tree and Parhelion. Abby earned a bachelor's degree from Indiana University. She lives in Yorktown.
You can reach Abby at aluby@theexaminernews.com or connect with her on Linkedin: https://www.linkedin.com/in/abby-luby-59359347/
Read Abby's work here: https://www.theexaminernews.com/author/ab-lub2019/
Expertise & Demographics: In recent years, most of Abby's beat reporting has been spent covering the Village of Pleasantville but has also reported from dozens of towns across the region. Abby has decades of experience reporting on a broad array of topics with a particular interest in the environment, the arts and local politics.
Languages: English only.