Fantastical, Reimagined Artwork on Exhibit at Mt. Pleasant Library
News Based on facts, either observed and verified directly by the reporter, or reported and verified from knowledgeable sources.
We are part of The Trust Project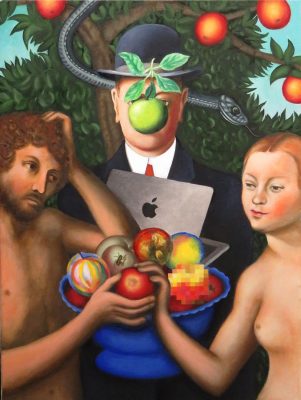 Inspiration springs from many things such as literature, music, nature or travel. Visual artist David November is inspired by all of the above but is especially drawn to work by famous artists. In his comprehensive art exhibit currently at the Mt. Pleasant Public Library in Pleasantville, viewers are treated to his version of lively and lyrical reimagined paintings.
In "500 Years of Apple Paintings," November brings together Rene Magritte's "Son of Man," Paul Cezanne's still life of apples, a colorful striped apple by Sonia Delauney and Steve Jobs' Apple image on computers.
"I also used 'Adam and Eve' by Lucas Cranach the Elder (1526) and Eve is holding an apple in such a way that I could incorporate other apples in a bowl," November explained. "I had so much fun with that painting."
In 2011 November started "tweaking" old masters' works by Matisse, Picasso and Bonnard as springboards.
When he wasn't fantasizing working off of notable artists, November kept busy as a professional graphic designer. November held prestigious positions such as creative director at CBS Television and he was a graphic designer for Esquire magazine in the 1960s. He has lived on Hardscrabble Road in Pleasantville since 1967, where he and his wife Barbara raised their daughter Tania.
Close to 20 years ago November built a studio near his house.
"I continue to work there and I'm still doing design work," November said. "But I wanted to do something in my spare time so I started taking classes at the Katonah Art Center."
When November's wife passed away last year after almost 60 years of marriage, he reflected on the bonds between mother and child.
"I wanted to create something that would capture the feeling of love, so I researched works of Madonna and child," he said.
The resulting piece is "Mother Eternal," which combines the Madonna and child by 16th century Spanish painter Francisco de Zurbaran with an electrifying child image by American artist Keith Haring. It's a striking and intriguing pairing, which only could have come together under November's deft hand.
November takes daily walks around Hardscrabble Lake or near the stream in Mount Kisco's Leonard Park that feed his creative appetite to paint a variety of landscapes, several of which are in the show.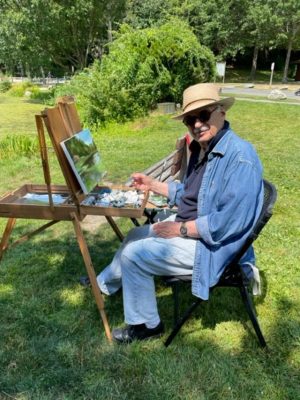 The painting "At Hardscrabble Lake, Pastel" captures a swirl of color in a felt wind that creates angular, mirrored edges.
"It's a grove of trees that's not cubist but it's not realistic either," November pointed out. "If you shatter the space, it becomes more abstract."
November's solo show in the library's downstairs community room is expansive with about 135 paintings and drawings created over the last 14 years. Subjects range from colorful flowers in bloom to captivating portraits and paintings of friends and art class models to highly imaginative landscapes called fruitscapes, shoescapes or pies in the sky.
The month-long show, which runs through Dec. 1, is not only engrossing and enjoyable, but fun for all ages.
The Mount Pleasant Public Library is located at 350 Bedford Rd. in Pleasantville. For more information, call 914-769-0548 or visit
https://www.mountpleasantlibrary.org/index.php/en/