Westlake Students Rally for Teacher, Changes in District
We are part of The Trust Project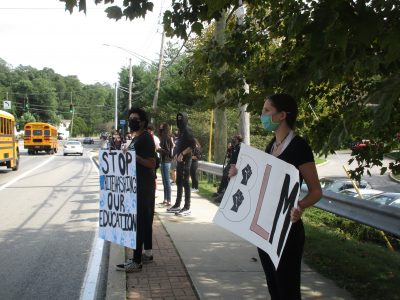 More than 50 students demonstrated last Friday in support of a Westlake High School teacher who touched off a firestorm with a controversial political cartoon but students argued the episode exposed deep divisions within the community.
The rally, held on Columbus Avenue by Carroll Park after classes were dismissed, was organized after a tense Board of Education meeting and a torrent of social media posts last week calling for social studies teacher Christopher Moreno to be terminated. Moreno distributed two political cartoons in a class, one of which showed a KKK member, a slave owner and a police officer on the neck of a Black man.
"I had Mr. Moreno twice and he was a really, really good teacher," said Westlake senior Vada Rios." "People don't understand that a political cartoon is supposed to be exaggerated. It is not supposed to push his opinion on you, it's simply just a handout."
Students of color at the diverse gathering said they have endured racial taunts and microaggressions on social media before this issue arose and little is done by school officials. They are also pressing for change because there are few minority faculty members and the curriculum largely ignores Black historical figures and even Black History Month, said sophomore Rebecca Last.
"I think a lot of older people, they live in a little bubble, and I think what we're here to do today is to kind of break that bubble and say you can't silence us," Last said. "I heard some of them speak (at the board meeting) and some of their perspectives on it were so far from the actual reality for a lot of us in this town."
Giana Rotondi, an eighth-grader at Westlake Middle School, attended the protest because of the paucity of teachers of color in the district and the avoidance of talking about current social issues in class.
"It's an issue and it needs to be brought up," Rotondi said. "I'm really glad that people are here today screaming about something that's important to me, a person of color, and it's important to be here for other people of color."
The demonstrators were met by periodic honking horns signaling solidarity as well as several pickup trucks that repeatedly sped by with large American flags. There were several Mount Pleasant police cars close by the demonstration, which went off without incident.
Mount Pleasant Superintendent Dr. Kurtis Kotes said at last week's board meeting the district has apologized to local law enforcement and community. It is also an educator's job to inspire thinking and learning, but the teacher used material that was disrespectful to some, he said. The district concluded the materials should not have been used.
But Evan O'Brien, a Westlake senior, said much of the reaction to the cartoon and the ensuing discussion in the community was an overreaction.
"The whole point of a social studies class and U.S. history is to learn about the current events that are going on in U.S. history," he said. "It's the most pressing issue we've had in decades and it hasn't been solved since our nation was founded in 1776, so we need to solve it now."
Rios said she found the reaction on social media, mainly from parents who linked their defense of the teacher to an attack on police was "disgusting." She read one post, which hoped that a bear would show up at the rally and ended with "can't they find real causes to support."
Henry Cunniffe, who graduated Pleasantville High School earlier this year, said he came out for the protest because he's found that many white people don't want to hear that racism and bias may exist in their communities.
"There are huge discrepancies between the Westchester that I as a white person know and the Westchester that they've experienced," Cunniffe said. "I think it's very important to elect the people we want to represent us and represent the experiences of everybody, not just the experiences of the few.:
Last said it's wrong for some community members for trying to link the changes she and other students are seeking at school with denigrating the police.
"I want to make it clear that our message has nothing to do with the police at all," she said. "We're here specifically about Westlake. "But we're not here talking about police at all."