Teacher's Political Cartoon Roils Westlake Community Over Race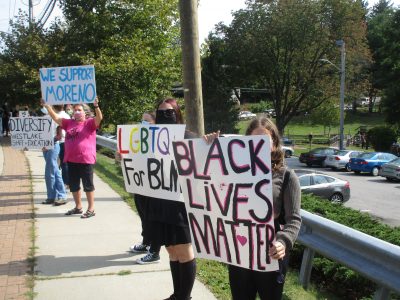 Outraged Westlake High School parents called for disciplinary action against a teacher after a controversial political cartoon was recently used in a history class to discuss the Black Lives Matter movement and racism in America.
While a group of 50 to 60 students stood in solidarity with the 11th-grade teacher, Christopher Moreno, during a demonstration Friday afternoon outside Carroll Park in Thornwood, enraged parents and community members came out in droves during the Sept. 16 Board of Education meeting, calling for the teacher's termination or other action.
Most parents deemed the cartoon as being anti-law enforcement and anti-American, pressing for the school to instead teach students to love their country.
"America is beautiful, it's a great place, and you have to teach pride in our country to these children," said parent Diane Bennett of Valhalla. "That's what you should be teaching in school. What he was teaching was spewing hate."
The cartoon depicted a KKK member, a slave owner and a police officer with their knee on the necks of Black men saying, "I can't breathe." The lesson further discussed the Black Lives Matter movement, other historical racial moments, defined the meaning of racism and included questions that asked students to explain their point of view and opinion about the movement.
A less controversial cartoon was also included in the lesson showing a Black man and a police officer standing in solidarity agreeing that cops' lives and Black lives both matter.
Mount Pleasant School District officials have issued several apologies to the community and local law enforcement.
Parents, most of whom were irked by the cartoon, spoke for nearly two hours during Mount Pleasant's Sept. 16 Board of Education meeting. While many took offense, asserting it was one-sided and inappropriate, others said it was an opportunity to discuss race and history in America.
"The children of color who attend the school and the district, and the conversations that I've seen have felt for some time that there is no discussion or support for them," said parent Judy Whitfield. "With the political climate, your children of color who participate and the community needs to be centered and together because the divide is breaking them down."
Speakers, who were predominately white, issued sentiments about their background growing up in immigrant families or their positive interactions with police, urging that teachers shouldn't be pushing their political views on teenagers. Many added the current political and racial climate is disheartening and shouldn't be addressed in the classroom.
"The worst fear I have is what's going on in this country today," Valhalla resident Frank Arrigo said. "This has no business to be taught to children at this young age like that. It's a disgrace. I don't want my grandchildren, children to be poisoned by this."
Some parents insisted that race isn't an issue in Mount Pleasant, stating that they're raising their children "the right way." They contended they don't need educators portraying history as one-sided with "deplorable" cartoons and lessons. Others explained that parents should be notified before controversial topics are discussed in school.
One parent, who did not identify herself during the public comment portion of the meeting, emphasized that white people shouldn't be made to feel guilty for the problems minorities and Black people face. She further noted that her children don't see race, but this teacher forced them to.
A few speakers, mainly people of color, stood in support of the teacher's decision to tackle current events. They said it gives minority students a voice to issue their own concerns and experience with racism. Those parents also agreed that the students are old enough to think for themselves and have thoughtful discussions about topical issues.
Some students also commented during the meeting, which was held at the Westlake High School gymnasium and live-streamed. While most opted to remain anonymous, some ultimately defended the teacher and assignment, explaining that the lesson wasn't meant to persuade but instead encourage discussion and debate over current events.
Many students also took offense to parents creating Facebook pages and calls for the teacher to be dismissed.
"There's really not much cultural or ethnic diversity at all in the staff at the school, and a lot of racism does go unchecked," said Westlake senior Vada Rios. "We all have a voice and students of color should be able to use it more and talk about things freely, and I just feel like we don't get to do that like we should, or at all really."
District Officials Respond
Mount Pleasant Superintendent of Schools Dr. Kurtis Kotes has since issued several notices and apologies, noting that the school supports the opportunity to have informed discussion and debate, including over controversial topics.
He further explained that while the job of educators is to inspire and provoke thinking and learning, the teacher used material that was disrespectful to some, ultimately losing focus on the lesson. Kotes said an investigation into the situation resulted in officials agreeing the lesson materials should not have been used.
The teacher had also issued an apology to parents and community members last Tuesday over the cartoon. While he agreed the cartoon could be seen as disrespectful to law enforcement, the objective of the lesson was to instruct the students that social, political and racial conflicts have endured throughout American history.
When asked how the district would avoid similar incidents in the future, Kotes added that schools are required under state law to include lessons about diversity in the social studies curriculum, but added that not all lessons are reviewed by the administration.
In response to calls for the teacher to be punished or dismissed, Kotes said that the district isn't lawfully allowed to reveal any information about disciplinary action against a staff member. However, he noted that Westlake administrators have already met with teachers to discuss how controversial assignments would be reviewed in the future.
Board of Education President Colleen Scaglione Neglia said the district has fielded e-mails and phone calls from all over the United States about the cartoon. She agreed the lesson was disrespectful to law enforcement and should have never been used, apologizing on behalf of the district.
"We appreciate and encourage our teachers to challenge students to develop their critical thinking skills, but in this case, the focus and effectiveness of the lesson was negated by the choice of materials used," Neglia said. "Indeed, this was a professional mistake, and to be perfectly candid, it might not be the last time because as professionals and people, none of us are beyond reproach for our ideas, our instincts or our actions."