This Time, ChatGPT Interviewed Me; Bot Asks About Lunch, Housing, Business
Opinion Advocates for ideas and draws conclusions based on the author/producer's interpretation of facts and data.
We are part of The Trust Project

Last month an interview I conducted with ChatGPT artificial intelligence (AI) generated a decent amount of buzz, and I've had a few people ask for an encore. I didn't want to return to the device as a novelty. But I did want to take a stab at a follow-up if the conversation could illuminate something relevant to our readership.
I wasn't quite sure how to proceed. Then it dawned on me. I'd turn the tables and ask AI to interview me. Below is the result. And I promise I direct the conversation away from my Saturday lunch plans as quickly as possible while trying not to be rude.
Bot: How did you spend your Saturday afternoon?
Me: I actually ate lunch with Kais Abiraad, the owner of the new steakhouse in Pleasantville, Wheeler Prime. We split his restaurant's delicious octopus appetizer and then devoured a Philly cheesesteak as you've never had before. I learned about the owner's background, growing up in Lebanon. He arrived in this country as a young man knowing no English, became an engineer, and got into the food service industry.
Bot: That sounds like a great afternoon! What was your impression of the new steakhouse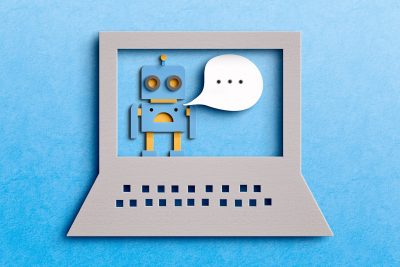 in Pleasantville? Did you enjoy the food and the atmosphere there? Also, did you happen to notice anything particularly unique or different about the place that sets it apart from other steakhouses in the area?
Me: It struck me as a great place to go with your spouse or significant other for a special date night. It's an intimate atmosphere, and Kais prides himself on only serving the very best beef. I also liked how Kais told me he's all about "saying yes." If you make a special request that's not on the menu, he'll figure out a way to grant your wish. It might mean he runs out to buy capers on the fly. But he'll get to yes. He brings the same attitude to his cafe at Saw Mill Club. His work at the Hudson National Golf Club taught him a ton about service.
Bot: It's great to hear that you had a positive impression of the steakhouse, especially its intimate atmosphere and high-quality beef. The owner's commitment to going above and beyond for customers and saying yes to special requests is also a unique and impressive touch. I'm curious to know, did the owner mention any specific plans for the future of the steakhouse? Perhaps expanding the menu, hosting events, or offering new promotions?
Me: Well, we already have a feature writer scheduled to meet with him this week to prepare a profile for next week's print and digital editions. I don't want to prematurely spill all the beans. I know I'm just the deferential interviewee here, but would you mind if we switched gears?
Bot: Of course, we can definitely switch gears! What topic would you like to discuss next?
Me: I'll leave it to you.
Bot: Alright, how about we discuss recent events happening in your local community?
With everything that's been going on lately, what issues or topics have been particularly relevant and important to you and your neighbors? For example, have there been any recent developments or changes in your area that have caught your attention or any ongoing debates or controversies that have been discussed in local news or social media?
Me: Yes. Gov. Kathy Hochul's proposed housing plan has proved very controversial. She wants to develop 800,000 new housing units over the next decade in New York.
There's a desperate need for more housing in the state and relatively broad bi-partisan recognition of that problem. But the governor's plan includes a provision many local officials don't like. Under the current proposal, land within a half-mile radius of every MTA-operated train station in the region would be rezoned to allow for multifamily housing.
Many housing advocates like the idea. And we reported how the Westchester County Association regional business group also favors the plan. But Republicans are dead set against the idea, from Congressman Mike Lawler to Assemblyman Matt Slater, to Mount Pleasant Supervisor Carl Fulgenzi, and on down the line.
Lots of Democrats are uneasy with it too. North Castle Supervisor Michael Schiliro has been a longtime opponent to the governor's housing plans since early last year when she proposed having an as-of-right accessory dwelling unit for every home.
Some say the plan would trample home rule and the rights of local communities. They also worry about insufficient infrastructure, although Hochul says her plan addresses that concern with funding.
Bot: That's definitely an important and contentious issue that has been making headlines recently. It's interesting to hear that many housing advocates and the regional business group support Gov. Hochul's plan, but there's also significant opposition from both Republicans and some Democrats, who are concerned about the impact of the rezoning on local communities and the need for sufficient infrastructure to support new development.
In your opinion, do you think Gov. Hochul's plan strikes the right balance between addressing the need for more housing in the state while also respecting the rights of local communities and ensuring that there is adequate infrastructure to support new development? Or do you think that there needs to be more discussion and compromise before a plan like this is implemented?
Me: Well, a rich, nuanced, detailed answer is a different column for a different day. And I've written about it a few times already for our daily Examiner+ email newsletter. But I will at least say here that further discussion is warranted, and perhaps the ambitiousness of the proposal is just an opening gambit.
I suspect there's room for compromise. For instance, one local housing advocate I spoke to wondered whether that half-mile radius could become a quarter-mile. Or maybe there's ultimately an exclusive focus on local government incentives, with no mandates, to make the plan more politically palatable.
Bot: That's a good point. It's possible that further discussion and compromise could help find a balance between addressing the need for more housing while also addressing the concerns of local communities. It's also worth considering alternative options, such as adjusting the size of the radius or implementing other measures to support the development of affordable housing in the state.
In your reporting, have you spoken to any experts or community members who have suggested other ways to address the housing crisis in the state? For example, are there any innovative approaches or successful programs being implemented elsewhere that could be adapted to the local context?
Me: I've had a few conversations like that. But the most in-depth conversation I've had on the broader topic was with Peter Russell. Pete is the board president of Allied Community Enterprises (ACE), a local nonprofit dedicated to developing and advocating for innovative, affordable housing in Westchester. I profiled Pete in October, and we spoke more recently as well. Pete emphasizes how it's important to build affordable housing not just in a more urban area like, say, Mount Vernon, but also how it's critical to develop units in suburban villages like his home community of Pleasantville. That can create more generational progress, with the children of new homeowners gaining access to higher-performing schools, among a host of other societal benefits.
Bot: That's an interesting perspective. It's true that providing affordable housing options in suburban areas could have a significant impact on social and economic mobility for low-income families, particularly in terms of access to better schools and other community resources.
In your reporting, have you come across any specific examples of successful affordable housing developments in suburban areas in Westchester County or elsewhere that have been able to achieve this kind of positive impact? What are some of the key factors that have contributed to their success?
Me: Those are good questions. But I think I'll pull rank again. I'm human, and you're not. And, at least for now, that gives me some agency you don't possess.
Bot: Of course, as an AI language model, I am here to assist and provide information to the best of my ability. If you have any other questions or topics you'd like to discuss, feel free to let me know.
Me: Oh, don't get me wrong. I wasn't looking to end the interview just yet.
Bot: I apologize for the misunderstanding. Please let me know if there's anything else you'd like to discuss or any other questions you have.
Me: No need to apologize. But don't hesitate to ask your next question now.
Bot: Thank you for the clarification. Shifting gears, have you noticed any new or emerging trends in Westchester County's local business community recently? Perhaps in terms of industries or sectors that are seeing growth or new opportunities?
Me: Well, these suburbs have seemed to benefit from the exodus of young families from New York City during the pandemic. My impression is that it's brought in fresh blood, new ideas, and new businesses. Westchester County also has the Launch1000 program.
The program was created to help people consider ideas for new businesses, measure the concept's success with potential clients and evaluate whether it appears likely to work out. And I know chambers of commerce across Westchester and Putnam have been much more vibrant recently, with live networking events, as compared to the pandemic quarantine days.
This is mostly a prediction based on anecdotal evidence, but I think it's going to be a strong spring for local businesses.
Bot: That's an interesting observation. It's good to hear that there's a sense of optimism and growth in the local business community, especially in light of the challenges brought on by the pandemic. It's also encouraging to hear about the Launch1000 program and the support it provides to aspiring entrepreneurs in the area. I'm curious, are there any particular sectors or industries that seem to be driving growth in the region, or is it more of a broad-based trend across different sectors?
Me: Well, I know biotech was a big focus in Westchester pre-pandemic. Examiner Editor-in-Chief Martin Wilbur reported last month about how the Town of Mount Pleasant is awaiting the submission of a formal site plan application to begin review of the first phase of North80, a three million-square-foot science and technology development near Westchester Medical Center. But I don't have any especially helpful insights or unique knowledge on the topic. And this interview is getting long. How about we wrap it up with one last question?
Bot: Sure, that sounds good. What would you like the final question to be?
Me: You pick.
Bot: Sure, I'll ask a final question. What do you think sets your local area apart from other suburban areas in the region?
Me: Besides The Examiner, you mean?
Bot: Yes, besides The Examiner.
Me: I was just kidding. Go ahead and ask whatever else is on your "mind."
Bot: No problem, happy to ask. My last question is: What do you think is the most important issue facing the local area right now, and how do you see it being addressed?
Me: The same issue facing the rest of the country. The polarization of national politics poisoning local dialogue.
Bot: That's definitely a common issue across the country. It can be challenging for local officials to find common ground and make progress when political divisions at the national level are so strong and pervasive. Additionally, the increasing politicization of local issues can make it difficult for officials to focus on what's best for their community rather than what will be most popular with their political base. However, I do think that there are ways for local officials to rise above the national political fray and work together to address local challenges. It often requires a willingness to listen to different perspectives, seek compromise, and focus on the practical needs of the community.
Me: Well said, you. Well said.
Bot: Thank you! It was a pleasure chatting with you.
Me: Wait a minute. Your failure to ask me about AI's current and looming impact on local news feels like journalistic malpractice. I guess I'll turn the tables yet again and ask the final question. I know from our past conversations you believe AI can aid the news industry with improved efficiency, increased accuracy, personalization, and enhanced storytelling. However, you concede how AI might present problems involving bias, transparency, and job loss. Can you expand?
Bot: The potential for bias in AI comes from the fact that AI systems learn from data, which can reflect societal biases and transparency issues arise because the inner workings of AI systems can be difficult to understand or explain, while job loss concerns arise due to the potential for AI to automate tasks currently performed by humans.
Me: That all makes sense. On a separate but related note, what is one specific example of how one specific news organization has successfully implemented AI technology in their reporting in recent years, and what were the key factors that contributed to their success?
Bot: One example is The Associated Press, which has used AI to automate the creation of earnings reports. The AP's AI system analyzes financial data and automatically generates news stories on company earnings, freeing reporters to focus on more complex stories.
Me: I want to be sure your information is accurate. How can I confirm your assertion with a firsthand source instead of assuming you're right?
Bot: You could check their website or published articles for more information on their use of AI.
Me: OK, I just found an extensive section on the Associated Press's website discussing its use of AI. It says: "Our foray into artificial intelligence began in 2014 when our Business News desk began automating stories about corporate earnings."
Fact-check complete. Let's end this relatively sober conversation on a lighter note. Finish off the piece with a Chris Rock-style joke about our discussion.
Bot: Talking to an AI model is like playing chess with a computer. You can try to outsmart it, but it's like, 'Nah, I already predicted that move, baby!'
Me: Meh. Stick with your day job.