Protestors Rally Outside Cuomo's House, Demand Pipeline Risk Study
We are part of The Trust Project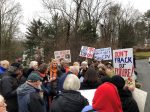 Environmental activists gathered outside Gov. Andrew Cuomo's Mount Kisco home Sunday afternoon urging him to release a risk assessment study he ordered on the Enbridge/Spectra AIM pipeline project near Indian Point two years ago.
The group of activists, Healing and Protecting Our Land Together: A Call to Prayer, led an interfaith vigil on Bittersweet Lane where more than 100 attendees continued their statewide "Walk the Talk" campaign, calling on Cuomo to stop the buildout of fracked-gas infrastructure.
"We are here for the millions of people whose lives are at risk by a pipeline running by their homes or their children's schools and who have to live in constant fear of a possible accident," said Croton-on-Hudson resident Paola DalleCarbonare, cofounder of Healing and Protecting. "We are here to pray and support the governor in finding the strength and the courage to show leadership today as his father…did when he shut down the Shoreham nuclear plant as it was a danger to his constituents."
With Indian Point projected to close by 2021, activists stressed the importance of understanding the potential risks the high-pressure transmission gas pipeline poses with nearly 2,700 tons of radioactive spent fuel rods stored indefinitely on-site. In the event of an explosion, they fear the release of radioactivity could threaten more than 20 million people who live within the plant's 50-mile radius.
Dr. Courtney Williams, a Peekskill resident and cancer researcher who has battled Spectra Energy for several years, explained that officials need to address the safety risks of the pipeline before they complete decommissioning plans or a reuse study for the Indian Point property in Buchanan. She added that it's "ludicrous" to have three gas pipelines running under 40 years of radiated spent fuel.
"He's (Cuomo) touting himself as an environmentalist to the press but he's building fracked gas pipelines, fracked gas power plants, all kinds of fossil fuel infrastructure that he's allowing to be built in New York State, and that's where this "Walk the Talk" comes from because on TV he sounds awesome, but I live here 400 feet from a massive gas pipeline he could have stopped," Williams said. "I do want him to walk the talk and I'm sick of raising my family in the blast radius of the gas pipeline."
Sister Bette Ann Jaster, a Dominican Sister of Hope, led the vigil. She requested those who gathered to breathe the air and appreciate the water, sky, trees and ground below them before leading them in prayer for a safe and healthy future.
"We're not the only county that's experiencing the ravages of pipelines, but we have Indian Point and its nuclear reactors and its spent fuel rods that have been here for a very long time," Jaster said during the vigil held during persistent rain. "We have no risk assessment here. We're calling on the governor to give it us because we're tried of waiting. If it's bad news we need to know what it is to protect ourselves and our children."
"It is of ethical urgency that this report be released so we can move forward working together to protect our neighborhood, our Westchester County, our New York State and our surrounding lands," said Karen Killeen, a member of The Thomas Berry Forum.
Protestors also requested Cuomo halt all fossil fuel infrastructure projects throughout the state, including the Competitive Power Ventures gas power plant, the Atlantic Bridge project, the Cricket Valley gas power plant, The Valley Lateral pipeline, Williams Rockaway pipeline, among others. They also want the entire state shifted to renewable energy by 2030.
Rabbi Glenn Jacob, executive director of New York Interfaith Power and Light, added that there's enough science and technology to save the planet but the lack of political will is preventing action. He said Cuomo has the influence to make the planet "green and beautiful" for future generations.
Pramilla Malick of Protect Orange County, said her community of Minisink was sacrificed by pay-to-play politics and corruption with the construction of the Competitive Power Ventures plant. She said local groups fought the development, but her community is now being poisoned by the toxic black smoke emitted from the plant. She said she fears what can be inhaled outside.
"We did not know when he (Cuomo) was elected in 2010 that we would be electing a fracked gas power plant but that's exactly what happened," Malick said.