Classic Car Storage Facility Proposed in Mount Pleasant
We are part of The Trust Project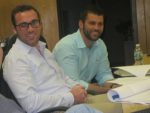 The Mount Pleasant Town Board listened last week to a proposal to convert the site of a former restaurant at 15 Commerce St. into a storage facility for classic and exotic cars.
The proposal was discussed at the Feb. 20 work session by Zappico Real Estate Development's Brian Zappi and his brother, Brandon, both consulting vice presidents of the Hawthorne-based company that owns the property and has proposed the project.
Zappico purchased the site of the former Spadafino's Ristorante, which closed after the firm's acquisition of the parcel. The project, which is currently being reviewed by the Planning Board, would need a zoning text amendment from the Town Board because the land is zoned half-acre, single-family residential.
"Right now, it's a non-conforming use," Brandon Zappi said.
He said the proposal was made because the town asked the company to come up with a different use for the property than a restaurant.
Zappico, which builds single-family homes, condominiums, townhomes and commercial buildings, is seeking to build a three-story building containing about 51,000 square feet that would accommodate about 200 cars, Zappi said. One of the levels would be underground. The company is also planning to plant evergreen trees on the property to provide screening.
The Town Board is required to hold a public hearing before it could vote on a text change.
Supervisor Carl Fulgenzi said he supported the car storage concept.
"It's a good thing for that spot," Fulgenzi said of the proposal.