Planned Peekskill Station Under Fire for Being Too Lavish
We are part of The Trust Project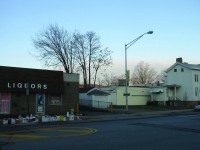 The Central Fire Station planned at the intersection of Main and Broad streets in Peekskill is too grandiose and will cost millions more than projected, according to residents and business owners who voiced their concerns to city officials last week.
Petitions with approximately 1,500 signatures were submitted to the Common Council during a public hearing at City Hall opposing the demolition of part of the Crossroads Plaza that would force several reluctant business owners to relocate.
One of those businesses would be Panio Wines & Liquors, which has been a mainstay at the shopping center for the last 41 years.
"This will be a financial disaster for the city," said David Pacchiana, owner of the liquor store. "The reason the city is threatening eminent domain is because the property owners refuse to cave into the city's low ball offer."
City officials have estimated building the two-story, 36,000-square-foot firehouse will cost $15.7 million. However, with interest over a 25-year period, Pacchiana said the price tag would be at least $25 million if construction costs are accurate.
One speaker compared the proposed layout of the firehouse to the Taj Mahal, while Arne Paglia, owner of Division Street Grill in Peekskill, urged the council to downsize the project.
"Before you go on to waste money and get into litigation, seek alternatives," Paglia said. "It does not have to be this size. It doesn't have to be done with eminent domain and put this type of burden on this community."
Mayor Mary Foster said city officials have been trying to assist business owners at the shopping center.
"We are not demolishing the shopping center. It's not true," she said. "The staff has been actively working with the landlord to come up with a way to voluntarily relocate businesses."
Peekskill has already purchased the building where the boxing gym has temporarily set up and is close to finalizing acquiring the building at 1141 Main Street for $514,000.
The council closed the public hearing last week and will accept written comments until September 20. A Final Environmental Impact Statement for the project is expected to be completed in two months.