Peekskill to Hold Eminent Domain Hearing for Central Firehouse
We are part of The Trust Project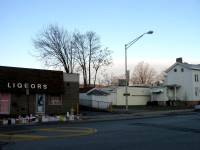 The Peekskill Common Council will hold a public hearing in two weeks on using eminent domain to acquire part of a shopping center for a planned Central Fire Station at the intersection of Main and Broad streets.
The city was able to negotiate purchasing a mixed-use building at 1141 Main St. last month, but has been unable to acquire a portion of Crossroads Plaza, where five businesses would be forced to relocate.
"The other properties have been negotiated for sale prices. This is a path that the owner of the shopping center is amiable to as well," said Mayor Mary Foster. "We are not doing this under protest with any of the owners of the property."
"Nobody is losing their job and nobody is moving out of town," added Planning Director Anthony Ruggiero.
The nearly $16 million project was first proposed three years ago and will result in the consolidation of five firehouses in the city. The Central Fire Station will be a 36,000-square-foot, two-story building.
Last Monday night, the council accepted the Draft Environmental Impact Statement for the firehouse as being complete and will hold a second public hearing on the same night: Monday Aug. 13 at 7:30 p.m., at City Hall.
The council has held five public informational meetings on the firehouse over the last few years. Written comments on the project will be accepted by the city until Monday, Aug. 27.