Mignone Makes History as First Female WP DPW Commissioner
News Article Article pages that do not meet specifications for other Trust Project Type of Work labels and also do not fit within the general news category.
We are part of The Trust Project
By Bailey Hosfelt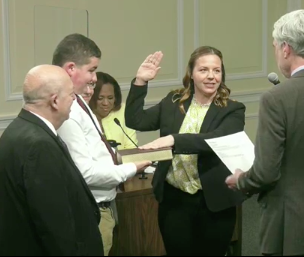 Stefania Mignone was sworn in as the new Commissioner of the White Plains Department of Public Works (DPW) during the Common Council meeting on April 4.
Previously the Deputy Commissioner, Mignone has been with the DPW for 16 years — first coming in as Engineer I before being promoted to Engineer II. Succeeding Commissioner Rick Hope, Mignone will become the first woman to hold the post.
"Thank you, Commissioner Rick Hope for making me your deputy seven years ago, believing in me, teaching me and getting me to the point where I am able to do this job," Mignone said.
White Plains Mayor Tom Roach commended Hope for doing an outstanding job ensuring the DPW has a strong corps of people who can do the job as he moves on.
"Stefania is a great example of that," Roach said.
In her years with the DPW, Mignone has gained experience working with and overseeing all of the department's subdivisions ranging from highways and sanitation to garage and shop.
Roach commended Mignone's work to get the DPW app out, which allows White Plains residents to view their garbage and recycling schedules as well as schedule a pickup time for oversized items like a couch or mattress.
Additionally, Mignone played a large part in the White Plains Public Library plaza repairs, which were completed in 2019.
Previously a barren concrete scape, Roach said Mignone came up with the plan to bring greenery to the plaza to both attract natural pollinators and prevent excess water from getting into the parking garage below.
"Her concept was that not only would we reduce the water that flows in [the garage] because this will absorb it and channel it into the drains like it's supposed to but also that we would make it more beautiful and usable by our residents," Roach said, noting how innovative Mignone has been in her work thus far.
"She has an open mind, wants to work with everyone and is very collegial," Roach added. "She does [everything] with a spirit of positivity and dedication that is a model for all."
Councilmembers Richard Payne, Victoria Presser and Justin Brasch each congratulated Mignone on her new position.
"We're very proud of you," Brasch said. "You're the first woman ever in that role, so it's really a tremendous step in the right direction for our city, for the work that you've done and for the department you'll be leading."
Mignone thanked the entire DPW department for their support, some of whom attended her swearing-in.
"It's all of us together, and you guys really make it easy to want to keep doing stuff for the city," Mignone said. "I'm very excited for this new chapter, and I'm not going to let you down."