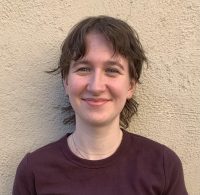 Bailey Hosfelt, Reporter

Bailey has journalism experience covering local news in Westchester and Putnam counties and New York City on topics related to LGBTQ+ issues, women's rights, climate change, the environment, and local politics. They have been a full-time reporter with Examiner Media since July 2021. Prior to Examiner, they worked in nonprofit communications and were a freelance contributor for City Limits in New York City, reporting on climate change and healthcare, while in college.
Bailey received a bachelor's degree in Journalism and Women, Gender, and Sexuality Studies from Fordham University in 2019, where they were Editorial and Multimedia Director of their collegiate newspaper, The Fordham Ram. At Fordham, Bailey was honored with the Sigma Delta Chi Award for Excellence in Journalism. Currently, Bailey lives in Brooklyn with their girlfriend and two cats. Originally from Connecticut, Bailey's maternal side of the family has roots in Rye.
Reach Bailey by email at bhosfelt@theexaminernews.com or connect with them on Twitter: https://twitter.com/baileyhosfelt
Read Bailey's work here: https://www.theexaminernews.com/author/baileyhosfelt/
Expertise & Demographics: In particular, Bailey has an expertise on LGBTQ issues. Bailey covers the City of White Plains for Examiner Media.
Languages: English only.