Renovated White Plains Library Plaza Opens with Ribbon Cutting Ceremony
We are part of The Trust Project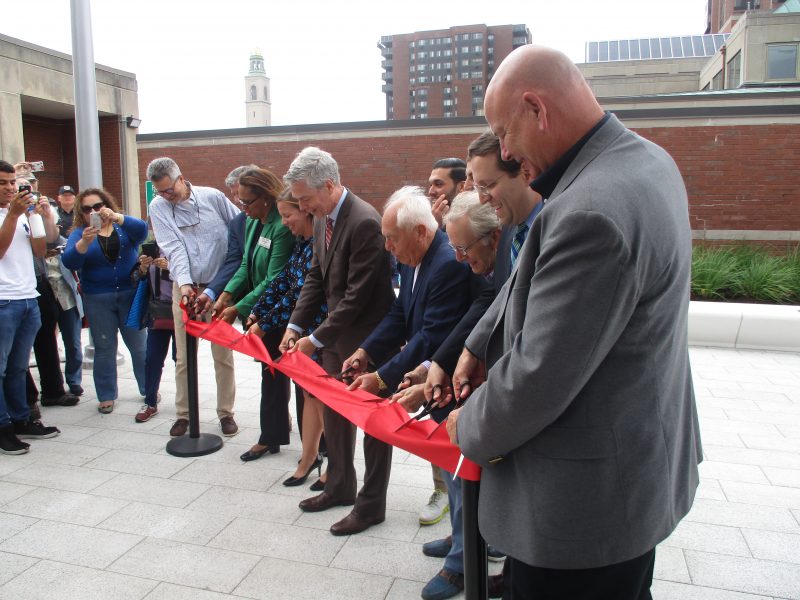 Karen Pasquale, senior advisor to White Plains Mayor Tom Roach, recalled last week what the White Plains Public Library Plaza was previously.
"I would venture that most of you will remember what this plaza looked like for years," she said. "It was all concrete and it was devoid of any distinguishing features. It was open to the public but it wasn't a particularly appealing place to be."
However, after several months of renovations, the refurbished plaza was celebrated during a ribbon cutting ceremony on Sept. 14.
The new plaza features elevated gardens, including an eight-foot high grass-covered knoll, benches, trees and new energy efficient lighting. Other new elements include a Discovery Garden for younger children with herb plantings, wind chimes, talking tubes and other interactive features and a small performance area for concerts and programs. Additional drainage and waterproofing were also part of the project to reduce water infiltration into the library garage below the plaza.
"With the renovation project this space has been completely transformed," Pasquale said. "The city's goal was to enhance this space so that the public, whether they were office workers from nearby buildings, patrons of the library, residents, members of the public, young, old, that anyone would feel welcome and comfortable here."
Mayor Roach said he has been coming to the library for 30 years. The concrete had been aging and water from the plaza was penetrating to the indoor parking lot below, he said. In response, the city's Department of Public Works was charged with renovating the area. The goal was to make the plaza "a space that is more than just functional," Roach said. "It brings warmth and humanity to this vacant space."
"What we have effectively done is bring a park to the middle of our downtown in an area where it wouldn't have been thought possible," Roach said. "I'm very proud of our people for making that happen." Roach added that the project included the county plaza and it became a joint project.
Westchester County, which owns a small piece of the plaza near the court house, contributed $600,000 to the project cost, which totaled approximately $6 million.
Westchester County Executive George Latimer said, "This city is doing an exceptional job of presenting itself in every single way for the residents of this community. And when I travel the state and people talk about Westchester County the first thing they talk about is White Plains. They talk about what a dynamic community it is."
"This is a fabulous plaza and it's next to this terrific institution which I have called the Library of Congress for county government," Latimer said.
"The driving force and vision behind this project was really our Department of Public Works, Commissioner (Rick) Hope and his Deputy Commissioner Stefania Mignone," Pasquale said.
Hope said he was very proud of the new plaza and thanked everyone involved with it. "This project was born out of necessity," he said. "It's beautiful now but it's hard to remember almost how bad it looked a year ago. It was a barren, windblown stark concrete slab."
Pasquale said one of the important features of the renovated plaza is the native plant species placed in the garden. Nancy Giges, a member of Pollinators of White Plains, said the native plants "will bring back the bees, the butterflies, the birds and other pollinators."
"It is so great that this space has been reinvisioned," Library Board of Trustees President Paul Schwarz said. "This was just a wasted space of barren, broken concrete."