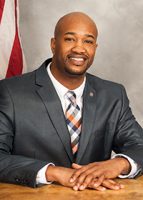 In his first State of the City address, Peekskill Mayor Andre Rainey painted a rosy picture of Westchester's only northern city last week in the packed chambers of City Hall.
"Peekskill is no longer on the rise. We are rising," said Rainey to thunderous applause from friends, family, supporters and city officials. "The City of Peekskill has a lot to look forward to."
Rainey, 33, who became only the second African-American to be elected mayor in Peekskill's history when he ousted two-term Republican Mayor Frank Catalina last November in a Democratic foursome sweep, mentioned Peekskill's diverse population as one of its strengths.
"Peekskill is a wonderful, strong, diverse city that is often underestimated," he said. "Peekskill has become like the pot gold—a destination city. I'm appreciative of the diversity on this (Common) council. They have made me grow. This council works together. We accept each other's differences respectively. We continue to serve as a united team."
Rainey, who answers to the nickname "Noodle," said a few years ago he was just a young rapper in Peekskill. Now, he's in a position to help other young people's dreams come true.
"This is such a blessing. I get excited knowing that I was elected mayor of the City of Peekskill," he said. "My priority has been the youth. Always has been and always will be."
He said plans are in the works to improve programming at the Kiley Youth Center and to extend the trailway on the riverfront. He noted the Lincoln Depot Visitor's Center and the Central Fire Station, two projects that have been talked about for years, are both on schedule to be completed this year.
Rainey listed several projects where shovels went in the ground during the Catalina administration and mentioned he has had discussions with a developer interested in improving the affordable housing stock in Peekskill.
"Developers are very interested in the city. Peekskill is still open for business," he said. "We are raising the bar."
However, Rainey maintained the city needs to do more to market itself and challenged the economic development department to "step up to the plate."
"The city must do more to fully realize its potential," he said.
He said he was recommending the city hire a public information officer to spread the word about all the positive things happening in Peekskill. He also said a Citizens Advisory Board will be established to combat litter.
"We want our city to be clean, refreshing and safe," Rainey said. "This city, once we work together, will be one of the healthiest cities on the planet."