Lawler Announces Bill to Raise SALT Deduction Cap to $20G for Couples
We are part of The Trust Project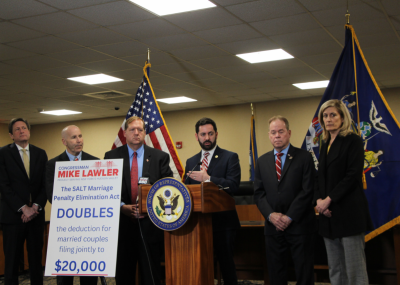 Freshman Congressman Mike Lawler (R-Pearl River) proposed providing Hudson Valley families with property tax relief by announcing Monday legislation that would raise the state and local tax (SALT) deduction to $20,000 for married couples.
The SALT Marriage Penalty Elimination Act, Lawler's first piece of legislation since being sworn in to the House of Representatives earlier this month, would allow married couples who file a joint tax return and own a house to double the allowable deduction. He said it is unfair for single homeowners to be able to get a $10,000 deduction for themselves, but what amounts to only $5,000 per person deduction for married couples.
"I think this is a good step in the right direction to try and provide some relief, especially here in the Hudson Valley," Lawler said. "Married couples are being penalized not just by having a cap, but by having it on at $10,000, which a single person is able to deduct the full $10,000. I think it's very clearly a penalty targeted at married couples, so I want to quickly move to get that fixed."
During last year's Republican primary and general election campaigns, Lawler repeatedly stressed affordability issues and pledged to address the cap on the SALT deduction his first order of business.
Lawler acknowledged that he's pursuing this first incremental step in the fight against the SALT deduction because he believes it is currently the most politically palatable in Congress. Long Island Republican Rep. Anthony D'Esposito and New Jersey Democratic Rep. Mikie Sherrill are co-sponsoring the bill with Lawler in the House.
He said he feels strongly that the bill is an achievable goal, even while he said he would work to fully repeal the cap on the SALT deduction.
"What I'm introducing here is a common-sense, bipartisan piece of legislation that begins to chip away at the cap on SALT in a way that I think we can get it passed," Lawler said.
Limiting the SALT deduction was approved by a Republican-controlled House and Senate and signed into law by former President Donald Trump in 2017. Since then, there has been talk among representatives of both parties in high tax states to have that portion of the tax reform law repealed. However, any halting efforts have been rebuffed by Congress, primarily by legislators from lower tax states.
Lawler was also joined by a bipartisan group of Rockland County town supervisors at his press conference at Clarkstown Town Hall and Republican County Executive Ed Day. Day said he was equally realistic about what can get done in the current environment in Washington. The cap on the SALT deduction should not even exist, he said.
"The notion of taking out the SALT cap may not be viable," Day said. "I know that Mike will try very hard to do that, but he has identified a way that will cut through the political nonsense by identifying members of the Congress of both parties to work with him to try and get this done, to initiate a fair alternative as has been discussed here today."
If this measure fails to get traction, Lawler said he would support letting the cap expire at the end of 2025.
The measure is the first in a series of bills Lawler said he expects to introduce during the current term to address cost-of-living issues, including steps to stabilize taxes and federal government spending, controlling energy costs and fighting the congestion pricing plan for New York City.