Lawler Holds on to Defeat Maloney in 17th Congressional District
News Based on facts, either observed and verified directly by the reporter, or reported and verified from knowledgeable sources.
We are part of The Trust Project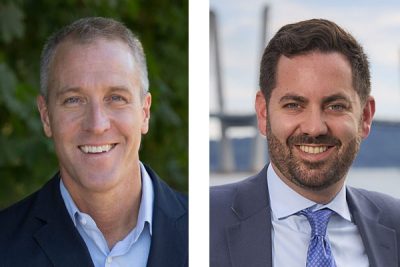 Assemblyman Mike Lawler posted a historic victory last week over five-term congressman and Democratic Congressional Campaign Committee (DCCC) Chairman Sean Patrick Maloney in the 17th Congressional District, a result with national implications.
Lawler hung on to defeat Maloney by a little more than 2,600 votes (141,721-139,082), according to the state Board of Elections. It was the first time since 1980 that the head of the DCCC lost his own re-election bid.
Having spent the last six months on a focused message of fighting inflation and reversing the surging crime rate in areas of the state, the Rockland County Republican reaped the benefits in a district that has about 70,000 more registered Democrats than Republicans.
"Through it all we were able to put forth a message and a vision for the future of this district and this community," Lawler said on Wednesday afternoon, a few hours after Maloney called him to concede the race.
The election was considered a bellwether contest with more than $20 million spent by the two parties combined. The national Republican Party saw an opportunity to defeat a leading Democrat in its quest to reclaim the House of Representatives, while the Democratic Party poured in money when polls indicated the race was tight. As of early Monday, Republicans had clinched 211 House seats to the Democrats' 204 with 20 races nationwide still undecided.
For Lawler, who had served as an adviser to former Westchester County Executive Rob Astorino before winning the 97th Assembly District seat two years ago, the race was about connecting with the people of the district and talking about a 41-year high inflation rate, crime, skyrocketing energy prices and a porous southern border that also was allowing drugs into the country that have killed thousands of Americans.
"That is what this election was about, that is why I ran and that is why we won," Lawler said. "Folks throughout this district, regardless of where they come from, regardless of their race, their ethnicity, their gender, their religion, regardless of their political beliefs, folks understand that we need to restore balance and common sense at every level of government, and I am excited by the opportunity to go to Washington on behalf of this community and this district and stand up for our families."
Throughout Tuesday evening Lawler held a comfortable lead of about eight to 10 points. Shortly after midnight, his camp at the Hilton in Pearl River was preparing to declare victory. But the advantage narrowed dramatically when a large batch of votes came in from Westchester County, the newly-drawn district's Democratic stronghold. The district also includes Rockland, Putnam and a small portion of Dutchess County.
The results put a damper on the evening for Democrats in an otherwise better-than-expected showing in races across the U.S. on Election Day. It also will put a close to the 10-year congressional run by Maloney, who remained in Washington in his role as DCC chair.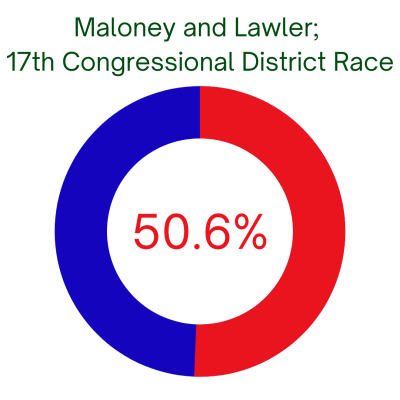 Maloney has been representing the 18th Congressional District but ran this time in the 17th District, which included his Cold Spring home, following redistricting.
Lawler said when he spoke to Maloney, the congressman was "extremely gracious" in his concession.
When asked whether he would support various investigations into Hunter Biden or the FBI raid on Mar-a-Lago if the Republicans secure a House majority, Lawler said an inquiry would have to be warranted.
"I am not looking to immediately commence investigations," he said. "I think at the end of the day, if there are incidents or information that warrant oversight or investigation, that is, of course, the role of the House of Representatives and it should be utilized. But we've seen what happens with these partisan food fights, and I don't think it necessarily serves the country well to just go from one to the other and back and forth, and so my commitment is when warranted, absolutely; if political, I'm not looking to do that."
Lawler said his initial priorities is to rein in spending, which has contributed to high inflation, shore up programs like Social Security, Medicare and Medicaid, look to restore the state and local tax deduction and help the families of the district.
"This is a very humbling experience, but it is also a responsibility, and I will live up to that responsibility and do everything I can to serve all of you the best way I can," Lawler said.
Bowman Easily Wins 16th District
Freshman Rep. Jamaal Bowman (D-Yonkers) won his first re-election bid last week over former Scarsdale mayor and pediatrician Dr. Miriam Flisser.
With 99 percent of the totals in, Bowman collected 131,185 votes to Flisser's 72,238.
The district includes the northern Bronx and the southern half of Westchester, up to White Plains.