Iona College Student's Killer Arraigned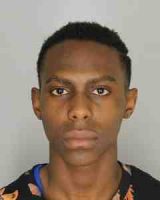 Stivenson Desir (DOB 11/12/96) of New Rochelle was arraigned last week on an indictment charging him with the murder of Brandon Lawrence.
On April 3, 2016 at approximately 3:23 a.m., the New Rochelle Police Department received several 911 calls reporting that shots had been fired in Lincoln Park. When they arrived on the scene, they found the victim lying face down in the center field area of the ball field. The victim was pronounced dead at the scene.
An intensive investigation carried out by the New Rochelle Police Department and the Westchester County District Attorney's Office revealed that both the victim and the defendant had attended a party hours earlier at an apartment in the city described as off campus housing used by Iona College.
Following the party, a group of five male attendees including the victim and the defendant, went to Lincoln Park. While at the park, two of the men engaged in a pre-arranged fist-fight.
As they were watching, the defendant pulled a handgun and fired at the victim, hitting him once in the torso resulting in his death.
Later that day, the defendant was located at his apartment by New Rochelle Police and placed under arrest.
Stivenson plead not guilty to the charges. Defendant was remanded. His next court date is July 26, 2016.
The defendant faces an indeterminate sentence of imprisonment, the maximum term must be life, and the minimum term may be not less than 15 years nor more than 25 years. Thus, the least sentence is 15 years to life, and the greatest sentence is 25 years to life.