Water Issues Debated as Sunshine Children's Home Hearing Closes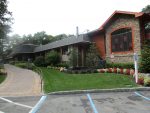 The New Castle Zoning Board of Appeals made no determination last week on Sunshine Children's Home and Rehab Center's application for an amended special use permit and variances that would allow a major expansion of its facility.
Following a sometimes contentious three-hour public hearing last Wednesday at town hall that was confined to discussion of wetlands and hydrology issues, the board voted to close the hearing. It is likely to discuss the application at its next meeting later this month but did not reveal if it would reach a decision on whether to issue a positive or negative declaration under the state Environmental Quality Review Act (SEQRA).
Many neighbors of the Spring Valley Road facility who have spoken at hearings dating back to last year have strongly criticized Sunshine's proposal. Last week they argued that the water demands for the expanded facility present a potential threat to area wells. Previously, opponents also maintained that a larger Sunshine Children's Home would be out of character with the far western rural end of New Castle, which borders Ossining, and the roads would be unable to handle the increased truck traffic in preparation for and during construction.
They have pressed the ZBA to make a positive declaration under SEQRA, which would force an extensive and lengthy environmental review.
Sunshine Children's Home, which cares for children with medically complex issues, is looking to expand from about 19,000 square feet to 147,000 square feet on its 33-acre property. Its bed count would rise from 54 to 122.
Attorney Mark Weingarten, representing Sunshine Children's Home, told the board that issues that have been raised thus far have been addressed and the project creates no potential adverse environmental impact.
A change announced last week – moving the expanded building 80 feet to the west and entirely out of the wetlands buffer – is a significant improvement, he said. It would eliminate the need to remove fill from the site and reduce truck traffic by about 400 trips before and during construction, Weingarten said.
Sunshine Children's Home is also no longer looking to Ossining for municipal water and would be able to accommodate its own sewage, he said.
"Not a single issue has risen to the level of impact requiring a positive declaration under New York law," Weingarten said.
Thomas Cusack, the applicant's hydrogeologist, said the expanded facility would use less water than it does now. Sunshine currently consumes about 15,000 gallons a day. With a plan to recycle rainwater for irrigation, the project's average daily water use would be just over 12,000 gallons a day, based on a daily consumption rate of 99 gallons per bed. That number has been confirmed by the county Department of Health and the town's hydrology consultant, Cusack said.
"In my professional opinion, the total yield of the wells demonstrates that the existing wells can easily meet the water demands of the proposed project," Cusack said.
The overwhelming majority of speakers disputed the applicant's claims that there would be no potential adverse impact. Dave Wittlinger, a resident of Cedar Lane in Ossining, said there is insufficient data to support the estimates that a larger Sunshine Children's Home would use less water. Under commonly used state guidelines, the facility would use about 175 gallons per day per bed, he said.
Wittlinger argued that Sunshine presented only three to six months of data to the town, far below the five years that was required to be studied.
"It doesn't make sense that you're going to cherry pick this three to six months and make a big decision like that?" Wittlinger said to the board. "It doesn't make any sense. Clearly, you need five years' worth of data if you're going to make a decision."
He also said that they have spoken in private with Sunshine employees that there have been water problems on the site for years.
Before concluding, Wittlinger said Sunshine Children's Home owner Ari Friedman should move his operations to a more appropriate area. He said he has located a property in East Fishkill that is near an assisted living facility and is zoned to handle a facility like Sunshine.
"This allows, obviously, an expansion that serves the business need of the applicant, serves the community need and it's not forcing the neighborhood to become commercial, it has all the municipal resources in order to expand and doesn't have to be forced upon this neighborhood," Wittlinger said.
Weingarten disputed Wittlinger's claims, saying that his client has submitted five years of data upon request of the board. He also slammed the speaker for insinuating there are water problems at the site when there is no evidence to support that claim.
"It's not about water, it's not about wetlands, it's not about traffic, it's about they don't want us in their neighborhood," Weingarten said. "That's it. They want us in Fishkill."
The town's consultant, Bill Canvan, said monitoring of six surrounding wells would be done for up to six months to ensure there is no drawdown. If mitigation measures are needed that would be paid for by the applicant.
However, Spring Valley Road resident Dorothy Buchanan, who has lived in her house for more than 40 years, implored the ZBA to reject the application, emotionally arguing that the project would unnecessarily place too great a risk on the neighborhood. Buchanan said she was frightened by what she called "a monstrosity" of a proposal in order to turn a profit.
"It feels like somebody is going to be drawing our water and then we wake up one day and we won't have any water," she said. "And why are they commercializing an area that has been residential in all the years I've lived here?"