Groups Gear Up in Fight Over Westchester Flavored Tobacco Ban Debate
We are part of The Trust Project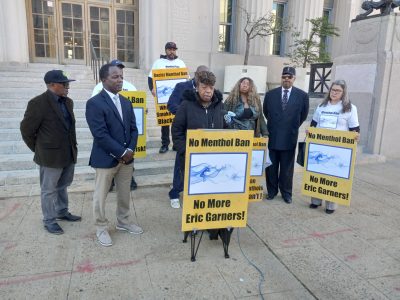 Battle lines have been drawn in the debate over whether Westchester County should enact a flavored tobacco product ban, including menthol cigarettes, in advance of Monday night's public hearing before the Board of Legislators.
Last week, some activists in Westchester's Black community harshly criticized the proposed legislation calling it racially biased because an estimated 80 to 90 percent of Black smokers use menthol cigarettes while only about one-quarter to one-third of White smokers favor those cigarettes.
Damon Jones, the New York representative of Blacks in Law Enforcement of America, said as a result, the black market for cigarettes will grow even larger, negatively impacting communities of color that will be under greater scrutiny and become targeted by police.
Jones and others at a press conference last Thursday outside the county building in White Plains contended that if the proposal became law, it would become the new stop and frisk.
"We're not promoting cigarettes, but we're saying we want fair legislation, and if you're going to pass (legislation), then ban all cigarettes," Jones said. "They're not going to ban it because White people smoke non-menthol. They're not going to have that."
"This is a biased piece of legislation," Jones added. "I don't care if Black legislators put it together. That doesn't give it credibility."
Also attending the press conference was Gwen Carr, the mother of Eric Garner, whose high-profile death at the hands of police in Staten Island in 2014 came after police cracked down on him selling loose cigarettes.
"They target the people in the Black and Brown communities and this will also be a target because all they'd have to do is see you smoking a cigarette now from a distance, a Marlboro or a Newport looks exactly alike," Carr said. "How can you tell which is which?"
She said if those who back the legislation want to help protect the health of communities of color then there should be money spent on education efforts.
Last month, County Legislator Jewel Williams Johnson (D-Greenburgh), the Board of Legislators' Health Committee chair who sponsored the bill, said she backed the prohibition because the tobacco industry tries to entice youngsters to start using their products with fruit, candy and mint-flavored products. Billions of dollars are spent each year in New York State on smoking-related illnesses, Johnson said.
Under her proposal, there would be no enforcement by police, only the county Health Department, she said.
But those who spoke out against the legislation said they don't believe that will be the case. Former Mount Vernon mayor Andre Wallace called it "the new stop and frisk" that puts residents and the police in harm's way.
Instead, officials should concentrate on improving substandard health facilities in Mount Vernon and other minority communities.
"If you really want to save lives in Mount Vernon, fix our hospitals," Wallace said. "If you really want to save lives, help us get the guns off the street."
Kevin O'Flaherty, director of advocacy in the Northeast Region for Tobacco-Free Kids, an organization that educates against the dangers of tobacco use, said Massachusetts approved a similar law in 2020 and California will see its prohibition soon go into effect. About 200 municipalities around the country have also passed legislation.
He said the Westchester law does not criminalize possessing or using flavored tobacco making the fears unfounded.
"There's no basis for any law enforcement officer to stop anyone and ask what are you smoking, where did you get it or anything like that because none of these things are actually violations of the law," O'Flaherty said.
Late Monday afternoon, advocates on both sides of the issue will rally outside the County Building to promote their positions.
At 4 p.m., Johnson along with Board of Legislators Chair Catherine Borgia (D-Ossining), Majority Leader Chris Johnson (D-Yonkers) and Hazel Dukes, president of the NAACP State Conference, will lead those who are in favor of the legislation.
An hour later, the New York Association of Convenience Stores will protest the proposed law, which will impact about 450 retailers in the county, including some near the Bronx, Putnam or Connecticut borders that its members contend will lose customers to those jurisdictions.
The public hearing on Monday evening before the Board of Legislators is scheduled to being at about 7:30 p.m.
Corrections:
An earlier version of this article incorrectly stated that Garner died in 2015. He died in 2014, as the article now states. We regret the error.