News Based on facts, either observed and verified directly by the reporter, or reported and verified from knowledgeable sources.
News Article Article pages that do not meet specifications for other Trust Project Type of Work labels and also do not fit within the general news category.
Developers to Explore Mixed Uses for White Plains Galleria
We are part of The Trust Project
The owners of The Galleria at White Plains are teaming up with two prominent development firms to explore mixed uses for the retail center that has been a downtown draw for the last 42 years.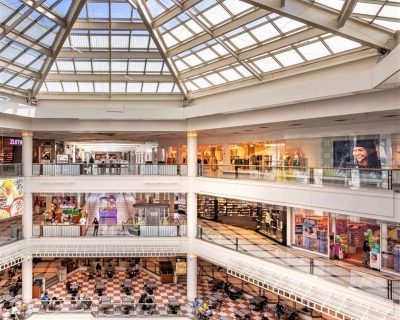 Last week, Pacific Retail Capital Partners (PRCP) and Aareal Bank, owner of The Galleria, announced a joint venture partnership with Cappelli Organization and SL Green Realty Corp.
"We are extremely pleased for the opportunity to join with SL Green, Aareal Bank Group, and Pacific Retail Capital Partners in the redevelopment of The Galleria site," said Louis R. Cappelli, Chief Executive Officer of the Cappelli Organization. "The reimagining of this property is integral to the dramatic transformation of downtown White Plains that is well underway. We are fortunate to be able to play a role in recreating the property with mixed uses which will link the city's transit center with the Mamaroneck Avenue corridor.
The 870,000-square-foot mall is located on approximately 10 acres in a Qualified Opportunity Zone. Steve Plenge, Chief Executive Officer of PRCP, said a portion of the mall would likely close in early 2023. Its two cornerstone stores, Macy's and Sears, both left the Galleria in 2021.
"Working with our new partners, we will reimagine the site as a vibrant mixed-use project that will be centered on residential development and amenity-based retail," Plenge said. "The Galleria at White Plains is an important property in Westchester County and the region. With our experienced real estate partners, the new masterplan and design will build upon the remarkable renaissance underway in Downtown White Plains."
Cappelli has had a presence in White Plains for decades. Twenty years ago, he constructed the City Center, a residential and retail complex. He then built the 46-story Ritz-Carlton towers and is currently planning to develop Hamilton Green, an approved $600 million mixed-use complex on the site of the former Westchester Mall, a few blocks away from The Galleria.
"Together, the two major projects will effectively complete the transformation of the downtown that began as an Urban Renewal project more than 50 years ago," Cappelli said.
On Nov. 1, Cappelli appeared before the White Plains Common Council to discuss small changes to Hamilton Green, which will include 860 dwelling units and 86,000 square feet of commercial space.
The 170,000-square-foot Westchester Mall is being demolished. Mark Weingarten, an attorney for Cappelli, said Hamilton Green will be constructed in two phases. While Phase I work is being completed, an additional one acre of open space will be made available to the public for about 30 months.
"I am intrigued by the idea of a pop-up park," Councilwoman Victoria Presser said.
Cappelli told the council he would be trying to recruit local labor to work on Hamilton Green as is required by the Westchester County Industrial Development Agency.
"It's refreshing for me to hear a developer talk about local labor," Councilwoman Jennifer Puja said.
"A big issue for us is to reach out to local people for jobs," Councilwoman Nadine Hunt-Robinson said. "It really does engender goodwill in terms of development."