Armonk Developer Resists Project Deadline to Reduce Affordable Units
We are part of The Trust Project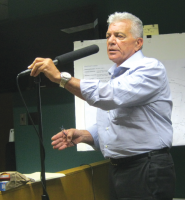 The Armonk developer who has been seeking a lower percentage of affordable units for a revamped condominium project has balked at a town-imposed deadline to complete construction that would enable him to receive the reduction.
During the start of a public hearing last Wednesday on the zoning text change that would reduce affordable units from 20 to 10 percent for the project at 162 Bedford Rd., developer Michael Fareri said rapid changes in the real estate and construction industries caused by the pandemic and a potential six-month approval process for the revised plans will make any timeline unpredictable.
Last September, Fareri and the town appeared to be in agreement that the revised 22-unit project for the former lumberyard site would require just two affordable units, in line with the town's ordinance, if he finished the project by June 30, 2022. If he failed to have at least 75 percent of the construction completed, the affordable unit requirement would revert to 20 percent.
But Fareri estimated last week that every affordable unit would cost him at least an additional $600,000, since the market-rate units would go for $800,000 to $900,000 each while the affordable units would sell for a little more than $200,000. With pandemic-fueled uncertainties, he said he didn't want to take that chance.
"Understand, I'm not a gambler and I'm not willing to take the risk you're putting before me," Fareri said.
More than five years ago, the town approved his 36-unit proposal for the site, which required 20 percent or six affordable units, but the developer never built the project because he contended it was financially unfeasible.
Officials have said the higher affordable requirement was because of the extra density.
Fareri estimated that completing the zoning text change, obtaining site plan and subdivision approval and getting a building permit would delay groundbreaking until at least late summer. He also needs to have Westchester County approve an amended agreement, which is needed because it involves affordable units.
Town officials last Wednesday agreed to adjust the deadline to Dec. 31, 2022, as a way to entice Fareri to build the project. But later in the week, Fareri contended he was being treated unfairly because no other builder in town has been subjected to a completion deadline or the threat of having to construct 20 percent affordable units. He also complained he hasn't been allowed to relocate the affordable units like several other applicants.
Despite spending 47 years as a developer, Fareri said he has never built in a pandemic with so many unknowns and didn't want to agree to a completion date without having a start date.
"The time of construction is unknown because just as you need six feet between people, it's the same way with construction," he said. "So you may be able to have meetings, to have Zoom meetings from home but you can't build a project from home."
He asked for up to two years to complete construction once he has a building permit.
When asked what has changed since September, when he apparently agreed to the June 30, 2022, deadline, Fareri said "they imposed it upon me and they forced it down my throat" if he wanted to have the affordable housing percentage relaxed.
At last week's meeting, the board dismissed his calls for a two-year window once a building permit is issued while some officials appeared exasperated at the latest twist. Supervisor Michael Schiliro said he was puzzled why Fareri, who mutually agreed to the original deadline date, was erecting another obstacle.
"I don't know where we go from here," Schiliro said. "This isn't going to work. This is a very simple concept here to try and move forward on this and I'm just puzzled. I keep scratching my head. I'm scratching my head here because I don't know why you're doing this."
Councilwoman Barbara DiGiacinto said she would be willing to extend the completion deadline to Dec. 31, 2022, and if there are extenuating circumstances, such as weather-related delays or another pandemic-related shutdown, the board would be willing to consider further extensions.
Councilman Jose Berra, who has opposed Fareri on the various changes he has proposed at the site, called last week's episode "more of the same" and saw it as a bad sign based on the applicant's prior history.
"I just foresee real issues, real headaches, no sense of confidence on my part that it will get built," Berra said. "Maybe all that happens is that this adds value to the project, it gets sold to someone, who knows if it gets built then. I'm gobsmacked to believing all these things."
Fareri is scheduled to appear on the Planning Board's Feb. 22 meeting. Last week he said he is considering a reduction from 22 to 20 units and exclude all one-bedroom units because prospective purchasers want more space since many have been working from home during the pandemic.