No. Castle Agrees to Move Affordable Units From Lumberyard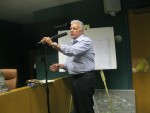 North Castle officials agreed last week to give Armonk developer Michael Fareri the green light to move six affordable housing units from his condominium project at the old lumberyard to a downtown property on Maple Avenue.
The decision, made at the town board's Feb. 24 meeting, comes after several attempts by Fareri in recent months to convince officials that the relocation would be beneficial to the town. He argued that by making the change North Castle would reap greater tax revenue between the two parcels and ease a parking space deficit downtown because of less stringent residential parking requirements. It would also have minimal impact on the schools, he said.
"It's a win financially, it's a win parking-wise and it really doesn't impact the schools in any way, shape or form," Fareri said.
He had argued that it would be difficult for him to obtain financing for a project that had a mixture of market-rate and affordable housing units. There could also be difficulty regarding upkeep because owners of the market-rate condos would likely have the financial wherewithal to spend more on common charges than the affordable unit owners.
Under the plan, Fareri would reduce the density of the lumberyard project at 170 Bedford Rd. from 36 to 30 condominium units while renovating his property at 37-41 Maple Ave. featuring six rental apartments, three one-bedroom units and three with two bedrooms. There would also be 1,000 square feet of retail space on the ground floor at the Maple Avenue site.
Fareri said if he couldn't relocate the affordable residences he would likely sell the lumberyard property to Westchester County or locate a developer on his own to build as many as 48 affordable units. Under that scenario, the number of units would increase because the affordable residences would be smaller.
"I'm a luxury builder. That's what I've done in my life," Fareri said. "I don't want a building where I have market rate and fair and affordable in the same building. That doesn't work for me."
Although the town board had rebuffed similar requests from Fareri dating back to September, last week they were receptive to his plan.
Supervisor Michael Schiliro said the board carefully weighed the benefits and drawbacks of his proposal when making its decision. Board members appealed to Fareri to commit to a deed restriction of 30 units at the old lumberyard and that he would be the developer for the project at both sites.
Despite a sometimes contentious relationship, Schiliro said the board recognizes that his projects are always high quality.
"In the end, I'd like to finally see this project built and I'd like to see you do it," Schiliro said.
Fareri said he would agree to a deed restriction at the lumberyard and that he would build both projects.
A special use permit and a zoning change would be needed for the Maple Avenue site. Fareri would also need to receive approval from the planning board. Officials hope to set a public hearing for the zoning change at their March 9 meeting and hold the hearing at one of the next two subsequent meetings.
Fareri contended that projected total taxes from the current 36-unit project would rise from about $262,000 a year to more than $336,000 by factoring in larger condo units at the lumberyard and the affordable units and retail on Maple Avenue, although Schiliro disputed some of his tax calculations.
Most of the board was open to the change. Councilwoman Barbara DiGiacinto said it was a good plan despite some initial concerns about apartments in the Central Business zone. But she said that similar plans could be put forth by property owners on Main Street with a special use permit.
Councilman Jose Berra said he was less comfortable with the plan because Fareri had already received a series of concessions to increase the density at the lumberyard and it would be condo taxation.
Fareri said he hopes to receive his approvals by late spring in order to build during the upcoming construction season.