White Plains, Westchester's Ideal Place to Live for Young Adults
We are part of The Trust Project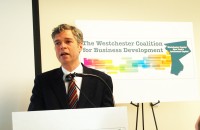 Results of a study initiated by the Westchester Coalition for Business Development (CBD), a task force of the Business Council of Westchester, and conducted by the Research Department at Kraft Foods during a series of focus groups last month with local college upperclassmen, Westchester residents, and young professionals under the age of 35 singled out downtown White Plains as the ideal place to live in Westchester County. White Plains scored high on nightlife, restaurants, family activities, ease of commute to Manhattan, recreation and entertainment, professional networking and diversity.
Other "Hot Spot" communities named in the study are Katonah and Purchase for the arts; Scarsdale and Rye for schools; Yonkers for the waterfront; and Port Chester for restaurant diversity.
At a press conference held Wednesday, March 20, a the Berkeley College Campus on Church Street, White Plains, Marsha Gordon, president and CEO of the Business Council of Westchester, said the focus groups identified White Plains as an excellent walking city that offers young adults a great balance of urban and suburban life. The study was the result of a July 2011 report by the CBD, which identified youth flight as a major problem facing Westchester County. Identifying these young professionals as an extremely important demographic—Westchester's intellectual capital—the coalition determined to create an environment in the county that is attractive for young people to grow their careers and personal lives. Tim Jones, chairman of the CBD and managing director/partner of the Robert Martin Company, said it is important in attracting new business to the county that such a workforce can be identified. The CBD has made job creation its number one goal and has determined legislative change at all levels of government is necessary to create a friendlier atmosphere for business in the county.
The CBD study further noted that while young Westchester residents are largely satisfied with the county's quality of life and amenities, they were dissatisfied with property taxes, school taxes and a generally high cost of living. Other areas in the tri-state region that pose the main competition for attracting youth away from Westchester are those with more affordable housing and lower taxes.
As a result of the youth flight study the Business Council and the CBD determined to implement initiatives to educate the public on the benefits of downtown hubs that incorporate retail office space and residential around transportation hubs. The group will partner with ArtsWestchester to expand its website to communicate additional activities for young adults in the county. They will work with Friends of Westchester Parks to develop more youth focused attractive parkland and continue a partnership with the Workforce Investment Board to create an Internship Clearinghouse connecting local students with internship, mentoring and job opportunities at Westchester businesses. The Village of Ossining will become a pilot community for the study.
Study questions, answers and resulting statistics were not available upon request. Visit westchesterny.org for more information about the Business Council of Westchester.