Boxing Writer, Chappaqua Resident Bert Sugar Dies at 75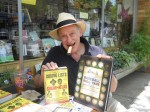 Noted boxing writer and sports historian Bert Sugar passed away Sunday afternoon at Northern Westchester Hospital in Mount Kisco.
Sugar, 75, a Chappaqua resident for the past 48 years, had been battling lung cancer. His passing was confirmed by family members who were with him at the time of his death.
Typically wearing his trademark fedora or Panama hat depending on the season and holding a cigar in his mouth or hand, Sugar authored more than 80 books during his more than 40-year writing career.
Sugar was best known as one of the leading boxing writers–he was inducted into the boxing hall of fame in 2005–but he loved all sports, particularly baseball. Two of his last books were released last year–"Baseball Hall of Fame: A Living History of America's Greatest Game," a virtual tour through the halls of the hallowed museum, and "The Ultimate Book of Boxing Lists," a collaboration with boxing analyst Teddy Atlas.
Family was equally important to Sugar. He was married to his wife, Suzanne, for 50 years. The couple had two grown children and four grandchildren.
"Most boys fall in love with sports before they fall in love with cars and girls or girls and cars, whatever it is, and I've gotten away with this with my girl, my bride of 50 years," Sugar said in a June 2011 interview with The Examiner.
Sugar grew up in Richmond, Va. and Washington, D.C., graduated from the University of Maryland and law school at the University of Michigan, but quickly left the law out of boredom. He returned home and started a magazine, Baseball Monthly, which he later sold to Sports Illustrated.
In the mid-1960s, he moved to New York to become an advertising executive at McCann Erickson. Nestle, headquartered in White Plains, was his first account, and Sugar became familiar with the area. A short time later he and his wife settled in Chappaqua.
By 1969, he embarked on his dream to turn to full-time writing, eventually becoming publisher for Boxing Illustrated and The Ring magazines.
Details about arrangements were not immediately known.