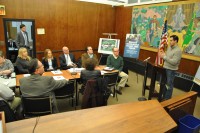 Senator Greg Ball, Chairman of the Senate Veterans, Homeland Security and Military Affairs Committee, hosted a community briefing regarding sustainable energy development, specifically biomass energy, and it's prospects for creating good paying jobs throughout New York State. Supervisor Bob Tendy accommodated the forum on Thursday evening at the Putnam Valley Town Hall.
Biomass energy is an innovative and environmentally friendly technology aimed at adding "recover" to the common environmental lexicon of  "reduce, re-use, recycle." The biomass process involves a revolutionary change in the haul and dump method. While many profess solutions to "going green" and being a piece of our environmental and energy solution, biomass is a holistic approach that limits our carbon footprint while efficiently creating, clean and sustainable energy.
Biomass allows, post sorting, for nearly 97% of our waste to be processed through a zero emission, zero energy used gasification process. Biomass effectively eliminates most of our waste while creating affordable energy. One such biomass plant can be a sustainable energy source for nearly 30,000 residential homes.
"Currently, we are paying folks to transport our waste a great distance away.  This process revolutionizes the entire waste process by creating a real value around our refuse, literally turning our trash into cash. We continue to utilize an outdated process to dispose of garbage and waste that is harmful to the environment and not economically sound," said Ball. "In my eight years in public life, I have never stumbled upon such an amazing opportunity to create jobs and clean up the environment, contemporaneously. This unique process is revolutionary and has been building for some time under the leadership of former Congresswoman Sue Kelly and others. I am organizing this meeting so we can learn how this new innovative and environmentally friendly process can benefit our area with good paying jobs, by turning our waste into energy, while protecting and preserving the environment."
James Taylor Jr, President & CEO of Taylor Biomass Energy located in Montgomery, NY, gave the presentation on Biomass energy. Over the last two decades, Taylor Biomass Energy has developed and refined its proprietary "Taylor Sorting and Separating Process" technology, taking recycling to its best and highest use. Developing new technology to convert biomass into energy for commercial use is the next step in a long tradition of environmental stewardship and innovation.
Developing new technology to convert biomass into energy for commercial use is the next step in a long tradition of environmental stewardship and innovation.
"I am very pleased to share with the people of Putnam County a new and different way of viewing waste. Waste has value and shouldn't just be relegated to the sidelines of our society or underground," said Taylor. "We can no longer afford to keep wasting our waste and I'm excited to show Putnam County the alternatives that exist and the benefits of implementing those alternatives."
Rep. Sean Patrick Maloney said his goal is to work together to make new and innovate energy sources like biomass a reality.
"It is my priority to team up with ventures like Taylor Biomass and folks like Senator Greg Ball to help cut through government red tape and invest in innovative private-public partnerships to make alternative energy sources like biomass a reality, creating hundreds of jobs in the Hudson Valley and developing clean, renewable energy," said Maloney (NY-18).
Legislator Sam Oliverio and Legislator Dini LoBue attended the forum to represent the Putnam County Legislature. Oliverio said he was very excited about the new technology.
"The amazing thing here is that you are getting rid of waste while at the same time creating energy, that has always fascinated me. Using something undesirable and making it into something that is desirable," said Oliverio. "Senator Ball has impressed me over the years with his innovative and future sighted focused. I was very impressed and I thank the Senator for hosting this forum."