Mahopac School Board Approves $3.1 million Technology Grant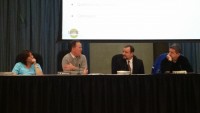 The Mahopac Central School District will move forward with a plan to make significant upgrades to its technology infrastructure and supply Google Chromebooks for hundreds of its students.
Board of education members passed a resolution accepting the New York State Smart Schools Bond Act investment plan at a special Dec. 21 meeting at Mahopac Falls Elementary School.
The state allotment for the Mahopac district is $3.1 million, $200,000 of which will be used to immediately purchase 540 touchscreen Chromebooks, laptops built on Google's chrome operating system that make heavy use of cloud-based programs, and 18 storage and charging carts. The district will use the remaining grant money to upgrade internet capabilities and install new security doors and security cameras over the next two years.
The district is moving toward use of the Google Classroom programs cloud-based programs used by teachers across the country for classroom instruction, testing and communication. Teachers will undergo training for the system in the coming months.
Mahopac Superintendent of Schools Dennis Creedon said the bond would help the district get up to speed with necessary technology, and would not cost the taxpayers anything.
"We do not have certain infrastructure improvements that we need if we're really going to advance technology. If our high school was to have kids use our Wi-Fi all at once, the system would fail. If you're trying to show a video, it will start and stop, depending on how many people are on."
Creedon said the new Google Classroom software will give teachers tools to make teaching to technology-oriented young people easier.
"We're not going to change teaching or learning to the point that we're not going to have great teachers in our schools or have computers teaching our kids. Our goal is to have totally tech-savvy educators who know how to engage young people and turn them on to learning."
Board members approved the bond just prior to a presentation by Galit Price of Southern Westchester BOCES on the district's current technology status and improvement plans for the near future.
Price gave a rundown of current district IT initiatives, such as Infinite Campus, the district's new online help desk system installed this past summer.
Going forward, the district was looking to upgrade the internet speed from 200 megabytes per second to 500 megabytes per second, she said. The three elementary schools and middle school have all been recently upgraded to AC technology, with the high school next on the list.
"They will be upgraded to AC 2, and that will increase the capacity to up to four times what we have right now," Price said.
The Monday meeting, which began more than 45 minutes after the slated 7:30 start time, was scarcely attended. Just three residents showed up for the public hearing, which was help after the resolution was passed.
Residents who spoke voiced concerns over privacy and worried that student data could be shared with third parties, and that the new technology would be used to implement the controversial Common Core testing.
However, board members assured them they had already looked into concerns over privacy and data sharing, and that the closed cloud system kept all information within the district. Board president Michael Sclafani said the bond was focused helping students prepare for a technology-driven workforce.
"I can't think of a job today that doesn't use some level of technology," he said. "We need to get technology into the kids hands as soon as possible."