News Based on facts, either observed and verified directly by the reporter, or reported and verified from knowledgeable sources.
Youth Advocates Rally for Bills to Help Troubled Students
We are part of The Trust Project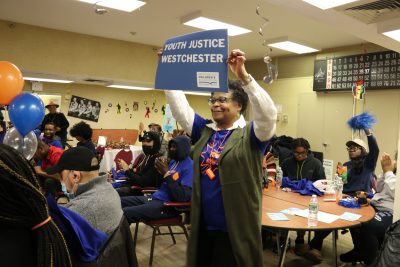 When Thomas was a student in high school, he ran into some trouble that led him to be suspended. Now 22, he was able to rebound from his misstep, obtain a high school diploma and enroll in career programs.
"It was very important for me to get a second chance," he said Feb. 23 at a Youth Justice Rally in White Plains led by the Westchester Children's Association. "We're here to take a stand. We want solutions, not suspensions."
Co-sponsored by the Youth Shelter Program of Westchester, Youth Represent and Children Defense Fund New York, the rally was organized to educate young adults and others about four pending bills in the New York State Legislature that would provide assistance to students who have behavioral issues in school and expand alternatives to incarceration.
Allison Lake, Executive Director of the Westchester Children's Association, a prominent nonprofit child advocacy organization, pointed out Black and Hispanic students were more prone to experience issues in school.
"When our youth see a path to a better life, we all win," Lake said. "It is critical to understand that these four bills not only help our most vulnerable and underserved young people, once enacted they will translate into safer communities for everyone."
"Helping youth find the support they need, expanding alternatives to incarceration, developing solutions that promote positive outcomes, and addressing systemic barriers to jobs, housing and education breaks the horrendous cycle that often leads to lifelong struggles to get ahead and be productive members of society," she added.
One bill, dubbed Solutions Not Suspensions, is sponsored in the Senate by Robert Jackson, who represents a district in Manhattan. That legislation would promote methods in schools that are designed to hold students accountable, while helping them learn from their mistakes, instead of simply imposing suspensions that can keep them out of the classroom for weeks.
"What are we doing that we don't allow second and third chances for some young people?" Lake said, noting post-pandemic the number of students facing disciplinary actions is on the rise, in part to additional stresses placed on them in society.
The Youth Justice and Opportunities Act, sponsored by Senator Zellnor Myrie from Brooklyn and Assemblyman Daniel O'Donnell from Manhattan, would seal criminal records for young people up the age of 25 who have been arrested and charged as adults, allowing them to move forward and pursue housing, employment and education without any potential hurdles.
The Clean Slate Act, sponsored by Myrie and Assemblywoman Catalina Cruz of Queens, would also help lift barriers to the essentials of life.
The Right 2 Remain Silent Youth Interrogation Bill, sponsored by Senator Jamaal Bailey, who represents the Bronx, along with Mount Vernon and parts of Pelham and New Rochelle in Westchester, and Assemblywoman Latoya Joyner of the Bronx, would require a youth to first consult with legal counsel before any police questioning can occur. Current data shows 90 percent of youth waive their Miranda Rights since they lack the understanding of the repercussions of making that decision.
None of the sponsors of the bills nor any elected officials from White Plains were in attendance at the rally.