Yorktown's Popo-Granitto Combo Clicks in OT Win vs. Somers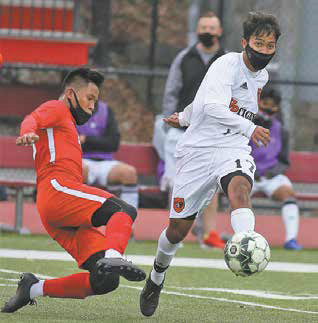 White Plains Clinches 1st League Title Since 2012; Carmel Rising
by Ray Gallagher & Rob Diantonio
Examiner Sports Editor
@Directrays
Section 1 soccer coaches are patiently awaiting a decision from the proverbial bigwigs sometime this week regarding the playoff formats. Unconfirmed reports (aka rumors) seemed to indicate a regional postseason rather than a sectional playoff, one that looks like this: Dutchess bracket (all classes combined); Rockland bracket (all classes combined); 2 Putnam/NorthernWestchester brackets (large school/small schools); 2 Southern Westchester brackets (large school/small school). It's not what we were hoping for when we entered this COVID-19 abbreviated season, but the hope is to crown as many as six regional champions within the section by late November. But it's better than nothing.
CLASS A
Round 2 was much more like the traditional YORKTOWN vs. SOMERS soccer matches we've seen in recent years. Round 1 was sloppy back in the first week of this COVID-19-shortened season, but round 2 was a more polished version with a similar flare to old times last Wednesday, with Yorktown stealing a 2-1 OT triumph from the jaws of defeat.
Yorktown junior F George Popovic forced OT with a late tally in the 76th minute, his seventh goal of the season, before setting up senior M Tony Granitto for the golden goal in overtime. Granitto (4G, 3A on the season) also fed Popovich (7G, 5A) for the equalizer, as the dynamic duo continued to be in sync since the start of the season.
Yorktown (6-0), which celebrated wildly with a small portion of its infamous fan base — #TheCrop — remained undefeated and clinched at least a share of the League II-D title. Many parents of the underclassmen on the team gave their passes (two per family) to the Crop, which showed up in distinctive garb and full throat. It was inspiring to say the least.
"It was great to see, and Tony hustled his butt off all game he deserved to be rewarded on the score sheet," Popovic said after seeing up his fifth goal of the season. "My score came off our will to be in this game,. We wouldn't stop until the ball was in the back of the net. Chris Judge passed it off to Tony, who gave it to me, I tried to flick it over their goalie (Anthony Tucci) and he made a tremendous save. Tony followed it up, passed it back to me and it was a simple finish."
Nothing was simple about the outcome, as Yorktown fought hard and long to overcome a 1-0 deficit. Tusker Brady Leitner, a freshman, who got called up from junior varsity to fill in for one of four quarantining upperclassmen, scored his first varsity goal in the 11th minute, unassisted, scoring just the second goal allowed by Yorktown G Dylan "D-Lo" Lopez this season. Somers (3-2) seemed to have control, despite being short-handed, but much like the magical 2017 Section 1 champion Cornhusker squad, which ended a 27-year sectional title itch, these Huskers have no quit in them. Heck, they even remind me of the 1990 sectional champs. When Yorktown soccer is at its best, they leave a lasting imprint.
"On Tony's game winning goal, there was a lot going through my head," Popovic said. "I was just trying to do everything in my power to get us this win. Chris (Judge) headed the ball up, I brought it down, beat two kids off dribble, and I saw Tony making the run and the rest is history."
Yorktown is hoping to add to that history by continuing its stellar run into the playoffs in the hopes of making its fourth sectional title appearance in seven years. Somers, the 2019 Class A runner-up, which has won two of the last four sectional crowns, is banking on Round 3, anticipating a postseason showdown with the Huskers, which would be epic on many levels.
The Huskers went on to defeat Lakeland Friday night, 1-0, when senior Judge tickled twine with 32 minutes left off a set piece.
CLASS AA
WHITE PLAINS snagged its first league title since 2012 in a 1-0 win over Port Chester behind a game-winning goal from Jair Cano, assisted by Mario Martinez- Jimenez. G Thomas Pisapia made seven saves to preserve the clean sheet for the Tigers. "I'm just so proud of my boys," White Plains Coach Mike Lambert said.
White Plains earned its first league title since 2012. In an uncertain season where the Section 1 playoffs are going to be broken up into smaller regional tournaments, a league title takes on even greater meaning.
"We are obviously happy but not surprised to win the league title this year," Lambert said. "With a strong group returning, we felt we should've been in a position to win it. The talent we have paired with desire to improve each game makes us a dangerous team. The boys are becoming students of the game as well as athletes, which helps us constantly get better. We are happy with the league title but not satisfied on the season. We want to continue winning."
An aggressive White Plains team piled up the opportunities in the second half. The
Tigers finally capitalized against a gritty Rams squad when Martinez-Jimenez sent a through ball to the far post and Cano was there to finish with 26:35 left in the game.
The Tigers blanked host Fox Lane, 3-0, on Oct. 27 behind a pair of goals from senior
midfielder Eric Ramirez. Ramirez gave White Plains a 1-0 edge nine minutes into the contest on a feed from Ruben Collazos.
A stingy Fox Lane defense, led by standout goalie Charles Della Penna (8 saves), held the Tigers in check after that until the final 10 minutes. Cano finished to make it 2-0 with 8:27 to go then Ramirez scored again on another assist from Collazos two minutes later. The two late goals provided White Plains with some much needed breathing room.
"It was nice and it gave us a sigh of relief," Lambert said. "It took the pressure off a little
bit mentally and let us enjoy the game a little bit more. We came out in the second half
strong and I was happy we finally found the back of the net. Their keeper is top notch.
Anything you can get by him is good."
Carlos Mendez, a senior, notched the shutout in net for the Tigers, making five saves. White Plains, which boasts a 5-0-2 record, tied both Fox Lane (1-1) and Port Chester (2-2) earlier in the season.
"Today, we were way more clinical," Ramirez said of what changed from the first
meeting to the second game with Fox Lane. "When we saw the chances we hit it and
our strikers were on point. It was nothing different. We play excellent every single game
and I believe in this group every single minute."
Lambert said the Tigers possessed the ball better and switched fields through the middle more than the first meeting with the Foxes.
"We kept our composure a little more," said Lambert, whose Tigers have outscored their opponents 8-2 in their latest three wins. "I think we were a little frustrated the first time not finding the back of the net early. We're a more mature team now than we were a couple weeks ago to be honest."
CARMEL is shocking the section with little to no notice. The Rams (4-0) have now knocked off two Dutchess County powers in Arlington, over a week ago, and John Jay EF, 2-1, Saturday. The upstart Rams lost leading scorer Nick Fernandes to graduation and many expected another ho-hum campaign out of Carmel, but lo' and behold the Rams are 4-0, leading the pack in Class AA North.
"The boys brought their energy and played with a purpose," Carmel Coach Vasiliy Shevelchinsky said.
Ram Simon Douglas got things started in the first ten minutes of the game assisted by Brian Blaser. Ram Tayte Wong then set up senior JD Vargas, who finished one-on-one against the Jay keeper.
"Our defense played a solid game, anchored by juniors Dwyant Suazo and Jack Curtis," Shevelchinsky said. "We have been stressing positional play and everyone is just doing their job. They were able to execute that today."
Examiner Area Top 10 Boys' Soccer Poll
No.1 YORKTOWN — Coach Polchinski's Class A Huskers (7-0) saw G Dylan Lopez notch his 5th shutout at Lakeland, who will be a tough out for anyone come playoffs.
No.2 SOMERS — Coach Lanzetta's Class A Tuskers (4-2) were without several key quarantined players in 2-1 OT loss to Yorktown, but excuses are for losers and Somers won't have none of that when they get everyone healthy. Somers beat Brewster 4-0. Zane Branson scored in the 10th minute and again in the 30th minute .Jacques Verard scored with one minute left in the half to make it 3-0 and scored again in the 70th minute. Derek Marques and Justin Luks provided assists for Somers. Bear G Louis Likens had eight saves and Anthony Tucci recorded three saves for the win .
No.3 WHITE PLAINS — Coach Lambert's Class AA Tigers (5-0-2) are probably gonna have to be good enough to beat Mamaroneck and New Ro' for a regional title.
No.4 CARMEL — After a 2-0 win over John Jay EF and Arlington, Coach Vasily Shevelchinsky's Class AA Rams (4-0) are on everybody's radar.
No.5 BYRAM HILLS — Coach Allen's Class A Bobcats (4-0-1) did not play this week but still looks like a legit title contender once school gets back in session sometime next week. Gotta feel for these guys. Junior Nico Bisgaier (3G-5A) really had it going.
No.6 OSSINING — Coach Scamarone's Class AA Pride (4-4) are struggling to score goals, thus the sub-par record, but they will be a tough out in the playoffs.
No.7 PLEASANTVILLE — Coach Morki's Class B Panthers (4-1-1) knocked off North Salem, 4-0 when Will Peacock and Arjun Singh fed Patrick Panek for a pair of goals in the first half. Peacock and Ryan Scardina added goals in the blowout. Weston Coleman made seven saves for the shutout.
No.8 HORACE GREELEY — Coach Camp's Class A Quakers (4-3) are setting to right the ship with three-straight wins over John Jay CR, 3-0, Edgemont, 3-0, and Ardsley, 2-1. Against Jay, the Quakers got goals by Bennett Shropshire (from Justin Miller), Matty Burack (from Zach Eichenberg) and Eichenberg (from Josh Tochner). G Joe Lamb (9 saves) posted the clean sheet. Against Edgemont, Eichenberg got the Quakers on the board initially off a Josh Tochner feed, and senior D Owen Parsons added a pair of insurance markers. Diego Weiss and Justin Miller each had an assist for the Quakers, who saw G Jeffrey Lungen (nine saves) post a clean sheet. Against Ardsley, Parsons was a monster once again, netting the game-winning goal off a Bennett Shropshire corner. Matt Burack also scored for the Quakers, who are better than their record says they are. Greeley finished the week up with a 3-0 win over Jay CR when Bennett Shropshire and Matt Barack scored within a minute apart. Justin Miller and Eichenberg (1G) set them up. Quaker G Joe Lamb (6 saves) notched the shutout.
No.9 MAHOPAC — Coach Mully's Class AA Indians (2-5-1) snapped a 4-game slide and saw Nick Biagini bag himself a hat trick to lead 'PAC to a 3-2 league win over RCK.
No.10 PANAS — Coach Pryschlak's Class A Panthers (2-2-1) knocked off arch rival Lakeland for the first time in a decade (nearly 25 tries), according to reports. Panther Juan Gonzalez scored a first-half goal and G Kyle Rizzo (7 saves) shutout the Hornets for the first time in many, many moons. Panas added a 5-1 win Brewster when Kyle Arraiano scored twice and Tristan Phillips added one goal and two feeds. Panthers Paul Ronga and Alex Ramirez scored and Eddie Chicaiza (three assists) was the main playmaker. G Kyle Rizzo made five saves.
HM PEEKSKILL — Coach Iasillo's Class A Red Devs (4-2) have now netted 16 goals in three recent wins, including a 7-4 win over Haldane, 4-0 win over Woodlands and 5-1 over Hen Hud. Against Woodlands, Red Dev Bryan Vidal scored twice and Johnny Morocho added a goal and an assist. Joshua Aguilar scored once and G Christian Lopez (eight saves) chalked up the shutout. Eric Guinansaca had two goals and one assist in win over Hen Hud.Against Haldane, Peekskill broke open a 3-2 halftime game with five different scorers: Liony Polonia (2), Johnny Morocho, Josh Aguilar, Alex Sapatanga and Kevin Mendez (2). Ryan Eng-Wong scored twice for the Blue Devs.
HM LAKELAND — Coach Hourahan's Class A Hornets (1-4-1) are not the team you wanna see in the opening round of the playoffs, just ask Yorktown who struggled to get a 1-0 win.
HM BRIARCLIFF — Coach Beck's Class B Bears (2-2-2) got a Nico Santucci goal off a feed from Kevin Callahan, but they could not hold that lead in a 1-1 tie with Rye Neck.
HM HEN HUD — Coach Cassidy's Class A Sailors (1-6) have hit a rough patch.
HM CROTON — Class B Tigers (2-4) took a 2-1 decision over Putnam Valley when Colin Grace scored the game-winner 3:12 into overtime. Liam Stapeton gave the Tigers a lead early in the second half.
HM PUTNAM VALLEY — Coach Weir's Class B Tigers (2-5) are making strides after 2-0 win over Hen Hud. Tiger Alex Penske scored his first two varsity goals for the Tigers' second win of the season. PV also saw Alben Dedvukaj score with 10 minutes remaining in 2-1 OT loss to Croton.
HM BREWSTER — Coach Frieri's Class A Bears (1-5) knocked off an undermanned John Jay CR club 2-1 when the Gulla brothers got it going: Marco and Matteo Gulla both scored. The Bears gave it their all in a 4-1 loss to Yorktown, which was closer than it looked, but Popovic scored first and was answered by Bear Kevin Sagastume (from Rony Olina). Yorktown was in a game from the get-go and went off in the finale 1/4th of the game with goals from Vasyl Olyynch (header), Popovic and David Dippolito.
HM HALDANE — Coach Dwidar's Class C Blue Devils (3-3) dealt Croton a 5-3 setback when
Frank Bentkowski scored twice for a 3-2 lead. Clement Grossman, Andrew Silhavy and Max Westphal also scored for the improving Blue Devs.
Soccer coaches are encouraged, if not begged, to contact raygallaghersports@gmail.com with results, stats and comments to highlight the hard-working student athletes in your programs by 6:00 p.m. every Sunday.
JPEG Captions: RAY GALLAGHER/ROB DIANTONIO PHOTOS