Yorktown Woman Lives Dream of Going to 'The Price is Right'
News Based on facts, either observed and verified directly by the reporter, or reported and verified from knowledgeable sources.
We are part of The Trust Project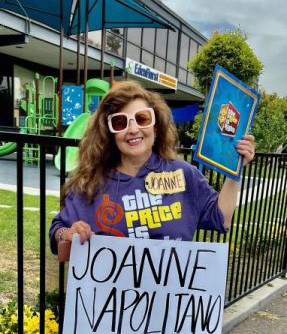 Jefferson Valley resident Joanne Napolitano is living proof that no one should ever give up on their dreams.
For 30 years, Napolitano has been a fan of the popular game show "The Price is Right." More than 10 years ago she filled out an application to be a contestant.
"I wasn't giving up. It was on my bucket list," Napolitano said.
In July, Napolitano received an invitation as a "Super Fan" to attend a taping of the show in Glendale, California with a priority designation guaranteeing she would be one of the potential contestants in an audience of 175.
Traveling with her daughter Juliana on July 29 for a July 31 taping, Napolitano's hopes were high that she would receive an early birthday present (her birthday is Aug. 2). Napolitano said she had to pay to fly to California and cover hotel and other expenses, which she estimated to be about $3,000.
Napolitano and her daughter had to endure six hours of humidity and high temperatures outside during a heatwave before being allowed in the studio and getting a chance to meet host Drew Carey.
Napolitano is prohibited from revealing if she heard the words "Joanne Napolitano, Come on Down" until after the episode airs on September 28 on Channel 2 at 11 a.m.
However, she said the experience of being on television was exhilarating.
"The level of excitement was so overwhelming. I never felt like that before," Napolitano said. "It was really a wow factor for me. That's the best way I can describe it."
Napolitano worked for Clairol for more than 30 years and now helps organize people's lives. She also enjoys shopping, which she always felt would give her a good chance on "The Price is Right."
"I do go shopping a lot. I'm a bargain hunter. I'm a coupon person," she said. "People know me for my organizational skills."
Was the trip everything she imagined?
"I would do it again. Being with my daughter, we made the best of it," Napolitano said. "This was something I always wanted to do."