Yorktown Scars Lakeland, Cops Sorrentino Cup; Panas Tops Somers
Carmel Suffers Walk-Off Loss to RCK, Fox Lane Rallies to Beat Jay EF
By Ray Gallagher, Examiner Sports Editor @directrays
& Rob DiAntonio @RJD_Photos
The last time we checked in on the Section 1 baseball scene in the Examiner region (Middle-Northern Westchester/Putnam Counties), the diamonds were as hot as ever in Class A and B where both Lakeland and Westlake were crowned champions, respectively. The region did not have a representative in Class AA, which saw Suffern eke out RCK for the title. So, believe it or not, that leaves the Hornets and Wildcats as the reigning Section 1 champions after more than 700 days of inactivity.
Lakeland followed up 2018's state runner-up performance in impressive fashion, going back-to-back for the first time ever and were poised to three-peat when the COVID-19 pandemic initially introduced itself to us and put a permanent halt on the 2020 spring seasons.
So, we essentially missed out on what might have been an historical run by the Joe Vetrano- Even Berta-led Hornets, who went 24-3 in 2019 with a dynamic cast of seniors. But Lakeland, like most teams, will be introducing a new cast of characters for the 2021 campaign, which opened up late last week.
Only teams like Class AA Carmel and Fox Lane and Class A Panas and Yorktown, which were youthfully infused with talent back in 2018, are returning varsity-tested players in 2021, but the early returns indicate that baseball is as hot as it was when we were forced to cancel spring sports last year.
Examiner area baseball coaches are encouraged to hit us up at — raygallaghersports.com and/or robertdiantonio@yahoo.com — with game-by-game or weekly results (Sunday deadline) for inclusion in our weekly Baseball Notebook. Here's a look at some of what went down in Week 1.
CLASS AA
CARMEL opened the season with a loss that could be coined a moral victory for Coach Joe Hackert's Rams, who suffered a 5-4 walk-off loss to host Roy C. Ketcham, arguably the top program in Section 1 the past 25 years. Tied 1-1 in the fifth, Carmel senior and Iona-bound C Anthony Febo, a kid to keep an eye on, crushed a two-run bomb to spark the Rams.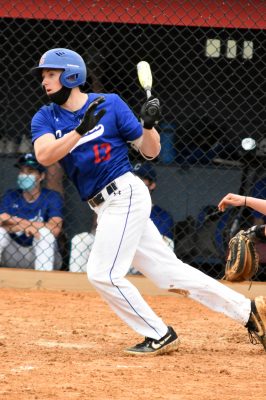 "It was a great high school baseball game," Hackert said. "I'm very pleased and impressed with my guys and how positive they were immediately after the game. They said they can't wait to play them again in sectionals. After over 700 days off, that was some game played by both squads."
RCK P Xavier Kolhosser vs. Carmel P Jack Sullivan, a pair of highly-touted aces, was everything it was billed to be — a 1-1 stalemate — before both starters yielded to their respective relievers. The Rams went up 4-1 when Ronnie Shofi smashed a solo home run to deep left-center field, going back-to-back with Febo. The heart of this Carmel order looks like it can mash.
FOX LANE started its season with a bang, rallying with a 10-run seventh inning to break open the game and defeat host John Jay-East Fishkill 14-7 on Thursday.
"This is the grittiest team in Section 1," Fox Lane junior Michael Lombardi said. "We are never out of a game and we always bring great energy no matter the situation. Even after a rough sixth inning where we gave up the lead, we were able to stay calm and pick up our teammates to grind out the win."
Lombardi led the way both at the plate and on the mound. He was 4 for 4 at the dish with a home run and a double. He also tossed 5.1 innings and struck out 12.
"Having good plate discipline was huge for me," Lombardi said of his success offensively. "I was able to be aggressive without expanding the zone and I capitalized when they left the ball over the plate. On the mound, getting ahead of hitters was the key. Getting ahead 0-1 allows us to be creative on the mound with pitch calling and always keeps the opposing team on their heels."
Aidan Hicks (4 for 5), Bruno Spadafora (3 for 4, RBI), Logan Matson (RBI single to break tie) and Luke Torre (big hit in the seventh) also did the job at the plate for a Foxes squad that is just happy to be playing high school baseball again in 2021.
"It meant a lot to be back on the field with my teammates again," said Lombardi, who is committed to Tulane. "Losing our season last year really put things in perspective for us. It reminded us how short our high school careers really are and how we can never take it for granted. It definitely brought us closer together as a team."
CLASS A
Folks are going to want to keep tabs on YORKTOWN this season. While under the radar coming in, Coach C.J. Riefenhauser's club has set its sights on the top prize, a sectional title, and a 16-0 Sorrentino Cup win over LAKELAND has set the wheels in motion. The 39th annual Sorrentino Cup game was the first win for first-year Husker Coach Riefenhauser, the former Mahopac grad and MLB hurler.
WALTER PANAS is another club that is going to surprise folks this spring. Veteran Coach Anthony Fata has some table setters and the heart of the order can flat-out rake, including St. John's-bound junior Aidan Cohall and sophomore slugger Sammy Stafura, who cracked a three-run dinger and two-run double off the top of the fence in Saturday's 12-1 win over visiting Somers. Cohall, the ace of the staff, earned the win.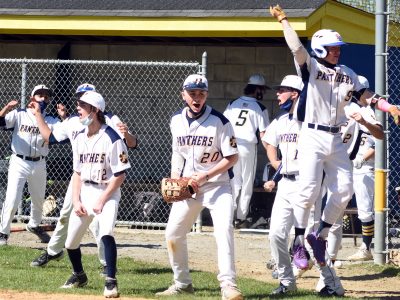 Most of the team has played together at a high level since their Cortlandt American Little League days and travel baseball. They are stoked to make a run.
"We feel that this Panas team can be something very special," Stafura said. "We are very young and basically all of us have played together since a very young age. We have been looking forward to this Panas team for many years already."
And he wasted no time in spotting the Panthers a 3-0 first-inning lead.
"I just had a lot of confidence in my swing from all of the work that I put in during the off season," Stafura added. "I know that if I just put the barrel on the ball good things will happen. I also have gotten a lot stronger, so that definitely helps as well."
The Panthers suffered an 11-1 loss to John Jay EF later in the day, blowing a chance in the sixth inning of a 1-1 game when they left the bases full with none out and three cracks to take the lead. The Patriots then went off for 10 in the seventh.
SOMERS came out strong in a 12-1 win over GREELEY the day before. P Dan Turner earned the win, fanning seven over four frames. Evan Carway hit a two-run home run for Somers, which earned first-year Coach Anthony Nappi his first win.
BYRAM HILLS scored four runs in the seventh without a hit to pull out a 5-1 win over host BREWSTER in the Bobcats' opener. Michael Ascanio hurled 2.1 innings of hitless relief to pick up the win. Bobby Chicoine got the nod for the start and went 4.2 innings of two-hit ball while striking out nine Bears and giving up one earned run. John Gerfen struck out seven over four innings for Brewster.
BREWSTER rebounded from its 5-1 opening-day setback to Byram Hills with an 8-1 trouncing of Lourdes behind A.J. McBride, who struck out seven in the complete game victory. Connor Brooks and Max Palmieri each drove home two runs.
"We are very young and inexperienced having only one returning varsity player," Bears Coach Matt Cunningham said. "That said, we have a quality group of seniors led by our captains Max Palmieri and Jason Cardone. The underclass group is led by junior captain Shane McLaughlin, Matt Salvo, John Gerfen and A.J. McBride. We also have some really promising sophomores in Jason McGill, Collin Brennan and Antonio Galizia."
The Bears' pitching staff is led by junior John Gerfen, who will certainly be a tough out for any team in the section.
"Gerfen could be really good," the coach said of his lefty ace, who fires it in the mid- to upper- 80's with good secondary pitches. "He's inexperienced and needs to be more efficient to keep pitch count down."
The staff also includes Marco Galizia, McBride, Sean Pawlowski, Collin Brennan, John Pawlowski and Justin Skorewicz.
"As always with so many stacked games, we need these guys to pitch well," Cunningham said.
HEN HUD opened its season against two of the tougher clubs in Class A. The Sailors suffered an opening day 9-1 loss to Beacon, and followed that up with a 10-3 setback to Yorktown.
CLASS B
PUTNAM VALLEY junior IF Joe Maloney went 3 for 5 with a home run and four RBI in a 13-2 win over Irvington. Jacob Nachamie went 3 for 4 with two RBI to support winning P Dylan Watson, enabling first-year Coach Ken Santoianni his first career win.
Ben Raphael picked up the win on the mound, striking out seven over three innings in BRIARCLIFF'S 16-0 victory over Hastings. Leading the 1-0 Bears at the plate were Tom Poggi (4 for 5, 3 RBI, 3 runs), Jackson Mauro (4 for 5, 3 runs, RBI, 2 steals), Max Haberman (3 for 4,
3 runs, RBI), Marc Milano (3 for 4, 2 RBI, 2 runs), Zack Diamond (2 for 3, 2 RBI) and Jayden Amador (2 RBI, 2 runs).
VALHALLA began its campaign with a 7-4 win over CROTON-HARMON on Thursday. Jason Rodriguez (2 for 2, 3 RBI) sparked the Vikings at the plate. Christian Rossi earned the win in relief while Jake Sekinski picked up the save. Evan Kurtz (3 for 4, double, run) and Korey DeBeer (2 for 3, RBI) led Croton.
PLEASANTVILLE dropped its opener to host North Salem, 11-5, on Saturday.