Yorktown Resident Publishes Latest Book of Short Stories
News Based on facts, either observed and verified directly by the reporter, or reported and verified from knowledgeable sources.
We are part of The Trust Project
Westchester-based writer Susan Berliner has just published her latest book, "Crash Effect and Other Weird Stories." A London native who has called Yorktown home for the past 50 years, Berliner previews her latest work and explains her evolution from journalism to fictional writing.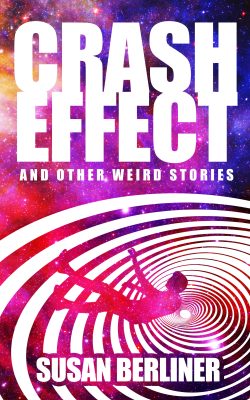 Tell us about "Crash Effect." What's it about?
"Crash Effect and Other Weird Stories" is a collection of 12 strange tales covering various genres. Each is like an episode of "The Twilight Zone," featuring weird people, weird events, and weird objects.
How did you come up with the idea for it?
I first started creating short stories when I was in the middle of writing my two-book dystopian series, "The Touchers," ("After the Bubbles" and "Soldier Girl"), which is told in the first-person by Erin, a 15-year-old. When writing as a teenage girl became tedious, I would take breaks by writing short fiction. Some of the stories were inspired by real-life events. I'll give you some examples:
• "Mr. Perfect." A friend told me about a woman who, after her husband died, discovered he had led a double life: Every time he'd given his wife an expensive gift, he'd given the identical present to his longtime mistress. That concept became a springboard for this story.
• "The Winner." Occasionally, I visit a nearby casino where I play slot machines and – like most of us – dream of hitting a big jackpot. This story expands on that fantasy.
• "Friend-U." Like many people, I own an Alexa. My little machine sits on the kitchen counter and gives me weather forecasts or reminds me to flip the hamburgers. But Alexa also listens to everything I say. What if a tech company created an AI device that did more than just listen?
• "The New Neighbors." I have strange neighbors. They've spent years tearing up and rebuilding a house across the street – and doing the same with an identical home a block away. As in this story, the inhabitants have boarded up many of both homes' windows. At one point, they created a new kitchen window only to remove it weeks later. But the neighbors in my tale are much weirder.
In what ways is 'Crash Effect' similar to, and different from, your previous fictional titles?
I've written two other short story collections ("The Sea Crystal and Other Weird Tales" and "George's Mother and Other Weird Stories") and my stories, as the titles suggest, are all weird and "Twilight Zone"-like, but each is quite different in genre and tone, ranging from horror to humor.
How long did it take you to complete it?
It took me about two years to write and edit these 12 stories, but I was also working on two other books during that time: a quirky memoir ("Doing the Write Thing," published in 2021) and a dystopian thriller ("The Resolve") that I'm still writing.
Did you have the endings figured/mapped out when you began them, or did you figure them out as you wrote them?
I knew the endings of some of the tales, but not all.
For those unfamiliar with your works, what can readers expect from it in terms of a reading experience?
My six novels (supernatural thrillers, including time travel, mind control, and dystopian themes) and my three collections of weird short stories are all page-turners – fun, fast reads suitable for teens through adults. I've had readers as young as 8 and as old as 100.
How and why did you pivot from journalism to fiction?
When I was promotion manager of the Yorktown Pennysaver, I saved a little newspaper article about a dust devil (a miniature tornado) that destroyed an auto body shop and killed the owner. Since the incident happened in Maine, I was sure Stephen King would write a book about strange dust. After I left the Pennysaver and was cleaning out my desk at home, I found the article, realized King never wrote that book, and had an idea, which became my first novel, "DUST."
How can people learn more about your works?
I have a website (www.susanberliner.com) where I blog weekly, describe my books and post photos and information about local book signing events, plus newspaper articles (like this one). I'm also active on TikTok and Facebook. Readers can purchase my paperbacks or ebooks from my website's "Order" page or directly on Amazon.