Yorktown Republicans Unveil Slate for 2017 Election
We are part of The Trust Project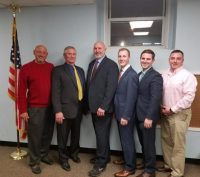 The Yorktown Republican Party this week unveiled its slate of candidates for the 2017 election.
Leading the GOP team is Supervisor Michael Grace, who will be seeking a fourth two-year term after delivering an optimistic State of the Town address earlier this month.
"I am honored to have the support of the Yorktown Republican Party once again," said Grace. "We continue to move Yorktown forward and are doing so without increasing town taxes. With so much on the horizon, we are on the cusp of making history here in Yorktown. I look forward to speaking with the voters and sharing our long list of accomplishments and our plans to continue to reinvigorate Yorktown."
Running for a four-year term on the Town Board is Councilman Greg Bernard, while political newcomer Robert Puff, a financial planner, will be vying to capture the second seat up for grabs in November. That seat is currently occupied by Democrat Vishnu Patel, who is expected to seek reelection. Bernard won a special election in 2015 to finish the unexpired term of Terrence Murphy. He previously served on the Town Board in the 1990s.
"We have accomplished more for our town in the past few years than in the past few decades," Bernard said. "I am committed to Yorktown, to moving us in a positive direction forward and working with all the residents we serve."
"I am eager to tackle the unique challenges our community faces and hope to provide a fresh voice on behalf of the residents of Yorktown," Puff said.
Yorktown Highway Superintendent Dave Paganelli, a former councilman, is running for a second four-year term, while Town Justice Sal Lagonia is seeking a third four-year term.
"We continue to look towards the replacement of our aged infrastructure and with the help of the Town Board are ready to invest millions in road and drainage improvements in the next few years," Paganelli said.
The Republicans also endorsed Westchester County Legislator John Testa and County Executive Rob Astorino and are actively interviewing candidates for the fourth legislative district seat on the county board currently held by board chairman Michael Kaplowitz.
"The Yorktown Republican Party continues to attract incredibly qualified and interested residents who want to advance our pro-business, pro-infrastructure agenda," said GOP Chairman Matt Slater. "Our party is very excited about our slate of candidates and we believe we can once again grow our majority on the Town Board."