News Based on facts, either observed and verified directly by the reporter, or reported and verified from knowledgeable sources.
Yorktown on Hot Seat; Expect Fireworks in Mahopac vs. Somers
We are part of The Trust Project
By Ray Gallagher, Examiner Sports Editor @Directrays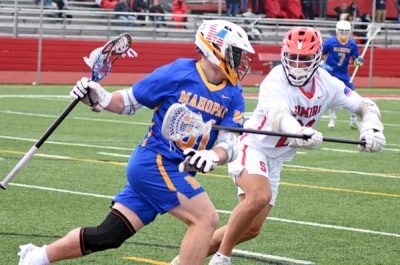 Make no bones, ladies and gents: We are at a pivotal point in Section 1 lacrosse history, a time when the former superpowers – Yorktown, Lakeland/Panas and Mahopac – are all in the same classification (Class B) and none are running as the favorites. Actually, Rye is the clear favorite, especially if the top-seeded, reigning champion Garnets are at full health.
Truth be told, it's been a long time since former juggernaut Mahopac (circa 1992-2004) has been a superpower on the circuit, and the fifth-seeded Indians will test their metal in Thursday's quarterfinal round against a vastly improved No.4 Somers, which had the Indians' number earlier in the season in a 10-7 Tusker triumph. This is must-see lax for the Mahopac Maniacs and Tusker Nation so show out, please.
Meanwhile eighth-seeded Lakeland Panas will face No.9 Clarkstown South with the winner set for a quarterfinal matchup against state-ranked (No.3) Rye. Second-seeded Yorktown will draw the Harrison/Greeley winner, and then be squared up on a collision course with third-seeded John Jay Cross River in an epic quarter final matchup that has oftentimes has had #MuchMoreSauce as a semifinal or final round match. That's the lay of the land in Class B this year; anything but normal.
And anything less than a championship appearance will be disappointing for all the locals, but especially for state-ranked (No.9) Yorktown, the former 40-time Section 1 champion, who has not been crowned since 2017, yet Rye is one again a prohibitive favorite, especially if the Garnets are at full health.
YORKTOWN, which has played the toughest schedule in Section 1, concluded its regular season with a 17-8 win over Arlington, the No.4 seed in Class A, which tells us plenty about the state of Class A lax where state-ranked (No.7) Mamaroneck should/could be a runaway winner this year in what could be an uneventful finale #FingersCrossedItsNot.
Coach Tim Schurr's Yorktown Huskers (8-8) have rode a wave of highs and lows that one would expect from a program searching for the soul of 40 sectional titles, and All-American A Harry Griff (36G, 33A) is shouldering much of that pressure in the hopes that Jack Duncan (35 Points), Drew Weismann (26P) and James Solazzo (27P) can tickle the twine behind him. But one look back at the history of Yorktown lax will tell you that those are some light numbers, so the Cornhusker defense, including senior G Vito DeBellis, and FOGO Jay Fastiggi (61%), will be on the hotseat. Truth be told, the Yorktown coaching staff will need to figure out a way past Rye, which is something totally within the realm of possibility. The formula for opposing coaches is simple: Let anyone but Griff beat us.
MAHOPAC's opponents will have a similar mantra against West Point-bound A Mike Harney (34 points, out for 4 games), who will draw the attention of SOMERS senior D Derek Marcus and All-Section Tusker G Hunter Sullivan (61.5 save %). Harney has some legit explosives behind him, including junior lefty sniper Jake Degnan (46P), plus a bevy of other finishers the Tuskers will need to contain to survive and advance, including Mike Rettberg (32P), Gavin Viglucci (34P) and Danny Koch (27P).
But the Tuskers (11-5) had more pop in their initial meeting behind the likes of T.J. Olifers (48P), Mac Sullivan (47P), Miguel Iglesias (37P), Henry Ellison (41P), Nick Newman (28P) and Ryan Brush (26P), who will all draw the attention of a Sean Massett-led Indian defense that has been sturdy in front of junior G Tommy Jacobellis. For all the high-priced scorers in this quarterfinal, the game could boil down to the draw box where Mahopac's Chris Evans(79% FO wins, 88 GBs) has had his moments this season and Tuskers will counter with a pair of grunts in Aiden Matteo and Anthony Moschides, two very reliable kids on the X.
The game will likely be determined by the guys with the long poles and the grunts who grant possession.
"We've been ready for this game for a long time," Marcus said. "It will be a very intense game, and I think we are up for the test. I can't wait to get on that field Thursday for the last time I will ever play Mahopac."
Massett concurred, agreeing that both offenses have firepower and the better defense will likely prevail.
"Both teams are clearly great teams that had great seasons," the All-Section Massett said. "Nothing is better than playoff lacrosse, especially a rivalry game like this. Both teams will have their hands full with the amount of offensive firepower. We are just going to go out there and be ourselves and play Mahopac lacrosse. This will be fun and I'm looking forward to it."
CLASS C/D
PUTNAM VALLEY Coach Tim Weir is fresh off his 200th career win (majority at Lakeland/Panas) and his fourth-seeded Tigers are set for a quarterfinal collision with No.5 BYRAM HILLS Thursday should the Tigers (11-5) and Bobcats (9-5), as expected, survive their quarterfinal tilts with No.13 Nyack and No.12 Ardsley, respectively.
With Byram Hills wins over Mahopac, Pleasantville, Fox Lane and Somers previously, the state-ranked (No.20) Bobcats have the strength-of-schedule edge on the Tigers, who won their league title last week against HALDANE but have played a less-than-compelling schedule. It would be an upset on their home turf should the Tigers pull it off behind the 1-2 punch of Ryan Denike (78P) and Andrew Dzubak (67P). Others – like Hayden Gumbrecht (45P), Chris DeGiorgio (28P and Davin Porteus (27P, 60% FO wins) – will need monster efforts against the battle-tested Bobcats, who will take runs at Anthony Esposito (53 turnover/takeaways), Logan Porteus (51) and G Roger Raimo (61.3 save %).
"We have improved throughout the season, especially on offense," Coach Weir said. "It's a credit to Coach (Tim) Murph, who has done a great job with the offense. We are a balanced team on the O side of the ball. Our defense has been solid all year, and I believe we are a dangerous team in this upcoming tournament."
With three wins to close out the regular season, No.7 HEN HUD drew 10th-seeded Eastchester and should ease past the Pelicans given the Sailors penchant for big wins (see Put Valley, Byram & L/P). If so lucky, that would put the Sailors on the road against state-ranked (No.13) Tappan Zee, which has had a solid year as the No.2 seed but hasn't posted a ton of quality W's but did beat the Sailors, 8-7, back in early April. The Sailors (9-6) have #BracketBusters written all over them if Dean 'The Dream' Hiltsley and Co. can find their postseason groove.
No.7 Haldane should cruise past No.10 Dobbs Ferry today before the daunting task of No.2 Bronxville in Friday's quarters.
No.11 BREWSTER (6-12) will face No.6 Pelham and hopes to ride the hot hand of Joey Anfuso, who had six goals in a pair of losses against Harrions and Carmel, which saw hotshot Matt Risley compile a game-high seven points in an 11-5 Ram win. Thomas Connolly (4G) and Damian Santiago (3G, 2A) came up huge for the Rams against the Bears, who lost 13-1 against Lakeland/Panas. The Rebels got big games from Justin Stabile (4G, 1A) and Nic Conetta (2G, 3A).
In Class D, the only thing stopping a No.1 BRIARCLIFF vs. No.2 BRONXVILLE championship tilt is No.3 PLEASANTVILLE, which will give the state-ranked (No.7) Broncos a ride in the semis in the hopes of setting the state-ranked (No.8) Panthers (10-6) up against their state-ranked (No.2) arch-rival Bears (12-4). P'Ville lost to both during the regular season but only by a combined six goals, so the Panthers should not be overwhelmed. That said, the Broncos just nipped Briarcliff, 10-9, which blew everyone's minds. The rematch, should it come to fruition as expected, could be the best game in all four sectional finals at Lakeland High next week.
CLASS A
State-ranked (No.7) Mamaroneck is the top seed and clear-cut favorite on one side of the bracket. On the other side is No.6 CARMEL, which has a tough opening round draw against No.3 Scarsdale, the reigning champs. The Rams (10-6) have had a decent season, but they haven't beaten anybody in Class B or Class A that would trigger belief that they can reach the Final 4 after winning their first playoff game a year ago. If the Rams can win the second playoff game in school history against the Raiders, they would see No.2 North Rockland in the semis. It's a tough road to hoe for Coach Matt Caione's Rams to get to Mamaroneck.
#MayTheForceBeWithY'all.